'The Voice' 2020 Top 9 Results and Recap: Who Was Saved and Who Was Eliminated Tonight?
The Voice Season 18's contestants will be narrowed down to the Top 9 during episode 13. Check out our live-blogged recap of every performance, plus predictions for who will stay and who will be eliminated, here.
The competition is narrowing down on the 18th season of The Voice. Now that America's witnessed the live performances of the season's Top 17 artists, it's time to send a few of them home.
Well, technically they're all already at home, considering the live shows are not filmed at The Voice's production studio this year. The show had to nix the live audience and in-person contact in light of the coronavirus pandemic, so the contestants and the coaches are all filming and connecting via web video. However, The Voice's Carson Daly is hosting in a small studio near the coaches' coveted red swivel chairs.
Anyway, a couple of contestants will say their final farewells during the elimination show on Tuesday night, and by the time it's all over, only nine singers will remain in the running. This year, America's votes will determine the Top 4 artists while coaches Blake Shelton, Kelly Clarkson, John Legend and Nick Jonas get the chance to select four artists of their individual choice to move to the next round. After those lucky eight contestants are revealed, the two artists with the next highest overall votes will have to battle it out in the Wildcard Instant Save.
We'll be on hand tracking every moment of tonight's show with our live-blogged coverage. If you missed Monday's show, check out last night's live blog here.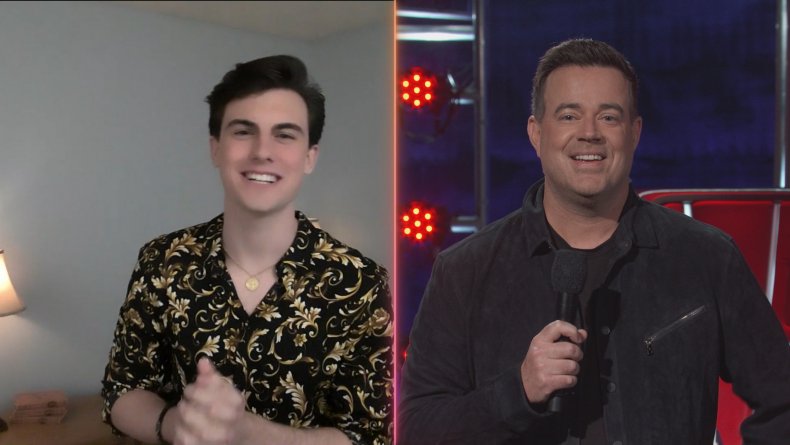 The Voice Season 18, Episode 14 Results Live Show Live Blog
8:00:
It's showtime! Carson Daly is live from a small production studio in Hollywood along with a small camera crew, who are social distancing. The show is being broadcast across 21 live feed feeds across the station, Carson explains. Some of those video feeds are coming from the coaches' homes, and here they are on display in a little video box. Kelly Clarkson's got her glass of wine in her chair at home in Montana while Blake Shelton is sipping something special from his styrofoam cup in Oklahoma. As for Nick Jonas and John Legend, they're chilling at home in Los Angeles.
8:06:
The first round of results are in for Team Blake, which is comprised of Joanna Serenko, Joei Fulco, Toneisha Harris and Todd Tilghman. They're all in their homes across the U.S. with their families right by their sides.
8:07:
Todd Tilghman is the first member of Blake's team to be deemed safe thanks to America's votes. Now Blake has to choose between Toneisha, Joei and Joanna.
8:09:
Blake chooses to keep Toneisha on for the next round. Once we're back from a quick break we'll find out the results for Teams Kelly, Nick and Legend.
8:11:
Team Legend is up next. We'll first find out which of the members—Mandi Castilo, Mike Jerel, CammWess and Zan Fiskum—were saved by America's votes first.
8:12:
America voted to keep CammWess for another round of the show. Now John must pick between the remaining artists. John says it's a difficult choice to make, but in the end, he decides to keep Zan.
8:14:
Moving on to Team Kelly, where Cedrice, Megan Danielle, Micah Iverson and Mandi Thomas are waiting to hear America's votes. It's Micah!
8:15:
Kelly calls this a bittersweet moment. "This is a heavy decision for us. Nobody likes to make a decision like this," Kelly says. "You're all so really great."
Finally, she reveals her choice, and she decides to keep Megan in the race.
8:24:
Before we get to the next phase of the results show—learning which contestant from each team had the next highest amount of votes—Carson treats us to a cute little pre-recorded video of all the coaches and contestants getting their camera equipment for the live shows. Despite all the instructions that came with their camera boxes, it looked like set up was a lot more challenging for some of them, especially Blake.
8:28:
Moving along, we're finally going to find out which member of each team received the second-highest votes from America. Those will be the artists competing for the Wildcard Instant Save tonight. Carson starts with Team Blake and names Joanna as the next safe artist. Mandi Castillo from Team Legend, Cedrice from Team Kelly and Michael Williams from Team Nick will also be competing for the Instant Save.
8:35:
We're back from a quick break, and Carson reveals we're headed straight into the performance. All four artists will sing for their chance to win the Wildcard Instant Save. Viewers will have five minutes to vote for their favorites on The Voice app and NBC's website.
8:36:
Joanna from Team Blake is up first, and she's performing a cover of "Don't Let Me Be Lonely Tonight" by James Taylor.
8:38:
Blake says some final words of encouragement for Joanna. "America! Please! Do the right thing. Put Joanna through!" Blake said.
8:39:
Up next is Team Legend member Mandi. She's singing "True Colors" by Cyndi Lauper.
8:40:
All the coaches enjoyed Mandi's performance, but it was her coach John who loved it most of all. "It was beautiful. It was soulful. It was heartfelt. It was perfectly executed," John praised.
We're headed to a quick commercial break and then the last two artists will perform.
8:45:
Back from break and it's straight to Cedrice's performance. She's singing "Breathin" by Ariana Grande.
8:48:
Kelly says her final words for Cedrice, and she's gushing with love for the artist.
"I love you Cedrice! You are such a star! You're so cool. Your being is awesome," Kelly says before adding, "I can't wait to buy your album."
8:49:
Now it's Michael's turn. He's singing "To Love Somebody" by the Bee Gees.
8:50:
Nick only has two words for Michael: "Wow! Star!"
8:51:
It's time for voting. America, do your thang!
8:56:
Although we're back from break, voters still have a few minutes to get their votes in while the coaches say their final words to each of their team members.
8:59:
The voting window is officially closed. Carson names Team Blake member Joanna as the Wildcard Instant Save.
The Voice Season 18, Episode 14 Results
Team Blake
Todd Tilghman—saved by America's votes
Toneisha Harris—saved by Blake
Joanna Serenko—saved by America in the Wildcard Instant Save round
Joei Fulco—eliminated
Team Legend
CammWess—saved by America's votes
Zan Fiskum—saved by John
Mandi Castilo—eliminated
Mike Jerel—eliminated
Team Kelly
Micah Iverson—saved by America's votes
Megan Danielle—saved by Kelly
Cedrice—eliminated
Mandi Thomas—eliminated
Team Nick
Thunderstorm Artis—saved by America
Allegra Miles—saved by Nick
Michael Williams—eliminated
Aeri Moon—eliminated
Roderick Chambers—eliminated