'The Voice' 2020 Top 17 Performances & Predictions: Who Will Be Saved or Eliminated Tomorrow Night?
The Voice Season 18's Top 17 are set to perform Monday night during episode 13. Check out our live-blogged recap of every performance, plus predictions for who will stay and who will be eliminated, here.
The time has finally come. America will finally get to vote for their favorite artists during the live shows on Season 18 of The Voice.
Seventeen artists from Blake Shelton, Kelly Clarkson, John Legend and Nick Jonas' teams will perform a song of their choosing during when the lives kick off on Monday night.
Although The Voice contestants usually perform live in front of an audience and the coaches, this year will be a bit different. Due to the coronavirus pandemic in the U.S., in-house productions of most TV shows have been indefinitely suspended. So, The Voice is going to the web.
Contestants will pre-record their performances from their homes with state-of-the-art cameras and equipment sent to them by The Voice producers. Check-ins with coaches will also occur via video chat as each coach is bunkered down in their respective work-from-home studios during shelter-in-place orders. While it may not be the most traditional setup, the new format will give viewers an intimate glimpse into the contestants' lives while also giving fans the opportunity to see the coaches' homes as well.
Following the Monday night performances, viewers in the U.S. can vote for their top artists online and through The Voice app. Results will be revealed during the live shows on Tuesday.
As always, we'll be on hand providing updates of each performance in our handy-dandy live blog once The Voice begins on NBC on Monday at 8 p.m. ET. If you need to catch up on Season 18, check out our past coverage here.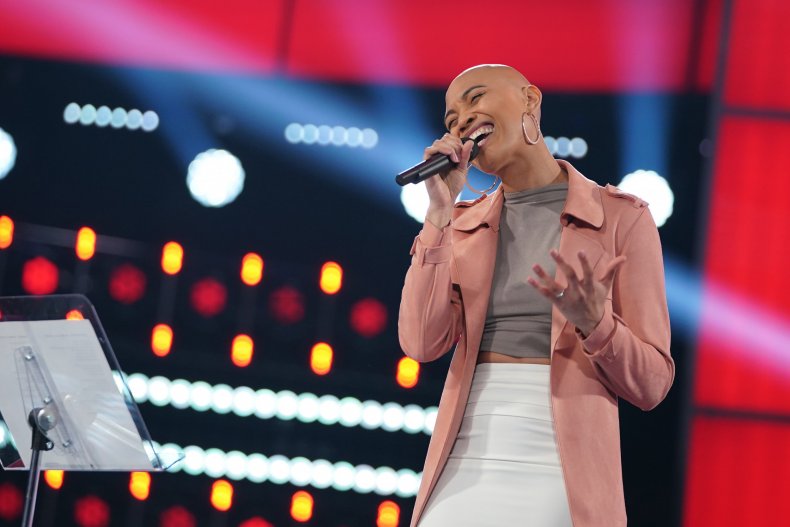 The Voice Season 18 Live Show Par 1 Predictions
Only nine contestants will move forward in the competition, and we'll find out who stays and who goes during Tuesday's Live Results show. Viewers are able to vote for their favorite performances on The Voice's website and app, which will remain open until Tuesday at 7 a.m. ET.
While all the contestants did a stellar job—especially considering the fact that they have to perform from home—there were still a couple that stood out above the rest. Below are the nine contestants we think should have a shot at the next round of live shows.
Team Blake
Toneisha Harris
Joei Fulco
Todd Tilghman
Team Kelly
Megan Danielle
Micah Iverson
Team Legend
Mandi Castillo
CammWess
Team Nick
Thunderstorm Artis
Aeri Moon
The Voice Season 18, Episode 13 Live Shows Part 1 Live Blog
8:00:
Welcome to The Voice, live from home! The show kicks up with a joint performance video of a new original, "We're In This Together," from all our 17 remaining contestants and Season 18's Mega Mentor James Taylor. The sweet video includes clips of all of the contestants and James singing from their homes along with a montage of first responders, medical and essential workers working on the frontlines in the midst of the coronavirus pandemic.
8:04:
Carson Daly introduces coaches Blake Shelton, Kelly Clarkson, John Legend and Nick Jonas, who are filming from the comforts of their homes. Blake still has his drink in his hand sitting cozy from his crib in Oklahoma while both Nick and John are comfy at home in California. Kelly is at her ranch in Montana. Meanwhile, Carson is in a much smaller studio, and he's got the help of a few camera crew members who are working but socially distancing too. There's no live audience, so it's pretty quiet where Carson is.
8:07:
The votes are in for the four-way-Knockouts. Michael Williams from Team Nick is the lucky winner who was voted to stay in the competition by America.
8:09:
A member from Team Nick will be the first to perform, but before they take over the video, a quick recap video plays introducing each of Nick's mentees, Aeri Moon, Roderick Hall, Allegra Miles, Thunderstorm Artis and Michael.
8:11:
Thunderstorm will be the first to perform. On stage with his acoustic guitar, he's singing the classic George Gershwin hit "Summertime" from his current town of residence of Portland, Oregon.
8:14:
Applause all around from the judges. John, Thunderstorm's former coach, called his performance magical and was really impressed by the beautiful whistle he included in the song. Nick was also taken by Thunderstorm's hidden talent, and the Jonas Brothers singer admitted he was pretty jealous he couldn't whistle.
8:16:
Back from a super quick commercial break, and Team Nick performances continue. In her hometown of West Palm Beach, Florida, Allegra Miles is up with a cover of Billy Joel's "New York State of Mind."
8:19:
Carson asks Blake for his opinion on Allegra's performance, and he thought she did an incredible job. Nick thought this was Allegra's best performance so far in the competition.
8:21:
Aeri Moon is up next with a cover of "Finesse" by Bruno Mars.
8:23:
The coaches loved Aeri's energetic performance. Despite the challenges of performing from home, she really made it her own with her flashy red dress and fun flashing lights. She even had Nick sweating from dancing so much during her performance.
"It just felt exactly like what I needed and hopefully everyone at home enjoyed it as much as I did," Nick said before adding, "You killed it!"
8:28:
Performances continue with Roderick. He's singing a jazzy cover of Robin Thicke's "Lost Without You" from his house in Orange, California.
8:31:
John really loved Roderick's song choice, and so did Nick. "Wow. The falsetto aspects of that vocal performance required you to know what you were doing every step of the way," Nick said, adding that he was very excited to see how fans react to Roderick's performance on social media.
8:33:
Live from his home in Mason, Ohio, Michael Williams is up next with a cover of "Sign of the Times" by Harry Styles.
8:35:
Kelly thought Michael's performance was "so rock 'n' roll." Nick was very proud of Michael for making it beyond the four-way-knockout and thought the young singer's performance only solidified why he deserved to be there.
8:42:
We're back from a quick break, and now it's Team Legend's turn to perform. A recap video airs, giving us a quick refresher of how Zan Fiskum, Mandi Castilo, CammWess and Mike Jerel made it to this point in the competition.
8:43:
The first performance is from Zan. She's at her home in Maple Valley, Washington singing "Blowin' in the Wind" by Joan Baez.
8:46:
John was thoroughly pleased with his mentee, telling her she has "such artistry, such a gift" and really took him on a journey with her performance. Kelly was also moved by Zan's cover and decided to disregard the time limit to let Zan know that was the "best cover of that song" she's ever heard.
8:51:
Mike Jerel is up next. He's performing K-Ci & JoJo's "All My Life" from a stage in his hometown of Columbus, Georgia.
8:53:
Mike's coach thought he delivered an electric performance.
"I just love your creativity. I love how you took this song that we've all heard a thousand, million times and made it your own," John said.
8:54:
Mandi is singing a Spanish ballad, Jesse & Joy's "¡Corre!," from her house in Carlsbad, California.
8:57:
Blake joked he "had no idea" what exactly Mandi was singing about, but she had him in the palm of her hand throughout her whole performance nonetheless. John thought Mandi gave a powerful and passionate performance.
"You make me so proud. Every time you perform, Mandi, you just do it so well," John said.
9:02:
CammWess is the last member of Team Legend to perform tonight. He's performing "Ain't No Sunshine" by Bill Withers from his home in Blythewood, South Carolina.
9:06:
Kelly is totally bummed she had to give CammWess up during the Knockouts, but she was glad John was able to steal him back to his team. "You nailed it. You knocked it out of the park," John said.
9:13:
Megan Danielle is up first from her hometown of Winston, Georgia. She's singing "Anyone" by Demi Lovato.
9:15:
The coaches were full of praise for Megan, especially Kelly.
"You're so special. Literally, that's the word to say," Kelly said. "Your tone, how you can float through different genres. I would be shocked if you weren't in the finale."
9:16:
Mandi Thomas is up next from her hometown of Memphis, Tennessee. She belts out a cover of "I Hope You Dance" by Lee Ann Womack.
9:19:
Kelly was very proud of Mandi and thought she had the perfect voice for such a heart-wrenching ballad.
9:24:
Micah Iverson is performing the Elton John classic "Your Song" from his home in Atlanta, Georgia.
9:27:
Carson asks Blake his thoughts on Micah's performance, and the country crooner couldn't help but be impressed with the way Micah never seems to run out of breath.
"You're one of the best vocalists in this competition. You are so incredibly gifted," Kelly said.
9:28
Cedrice is the last member of Team Kelly to perform from her home in San Diego, California. She's singing "Everything I Wanted" by Billie Eilish.
9:31:
Kelly was so proud to have Cedrice on her team and had nothing but praise for the contestant.
"You're so crazy cool, man. I love what this show does for people, but you do not need a show. You are such a stand-out human being," Kelly said.
9:36:
It's Team Blake's turn to perform. A quick recap video shows how contestants Todd Tilghman, Joei Fulco, Joanna Serenko and Toneisha Harris got here.
9:38:
Toneisha is up first with an energetic cover of Clarkson's hit single, "What Doesn't Kill You Makes You Stronger."
9:40
John thought very few singers had the chops to pull off one of Kelly's songs, but Toneisha did it. Kelly joked if Toniesha needed a background singer to give her a call.
"I think that' the best vocal performance of the night so far," Blake said.
9:41:
Performing from home in Lancaster, California, it's Joei with her cover of Bonnie Raitt's "Runaway."
9:44:
Blake said he was still "just so happy" Nick wasn't able to get Joei on his team. We're pretty sure Blake's move to block his fellow coach had something to do with it.
9:49:
Joanna is up next with a cover of "Rich Girl" by Hall & Oates.
9:52:
Kelly thought Joanna's performance was "so fabulous and so fun," and Blake agreed. He was smiling from ear-to-ear during his mentee's entire performance.
"Your voice is so different from anybody else's," Blake said. "You killed it sis."
9:57:
The performance of the night is from Todd Tilghman, who's singing "Glory of Love" from his church in Meridian, Mississippi.
9:59:
Blake loved Todd's performance and said the singer was his favorite contestant on the show.