'The Voice' 2020 Blind Auditions Night 2: Who Made The Teams So Far?
The Voice Season 18 blind auditions night 2 airs Tuesday evening. Check out our recap and results including who made it onto a team, here.
It's the second night of The Voice's Season 18 premiere and coaches Blake Shelton, Kelly Clarkson, John Legend and Nick Jonas are filling out their teams as the blind auditions continue. During Monday night's show, the coaches got to meet 11 aspiring artists but only eight contestants advanced to the next round including three of whom received a four-chair turn during their audition.
The coaches will meet contestants for a few more rounds of blind auditions, and then it's off to the battles where teammates will sing their way for a chance to the live show performances.
As more contestants take the stage during tonight's show, we'll be doing a live recap of their performances and results, which you can keep up with here. In the meantime, if you missed last night's show, catch up with our full live-blogged recap here.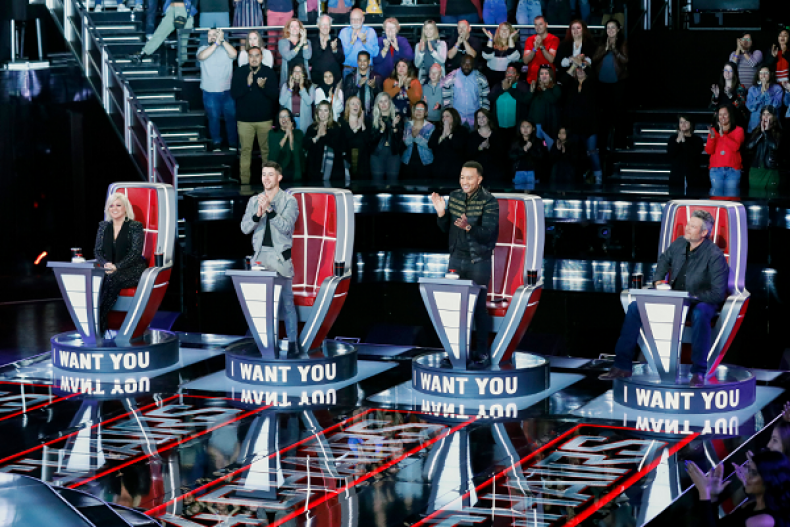 The Voice Season 18, Episode 2 Recap: Who Made the Teams?
Team Blake: Levi Watkins, Toneisha Harris
Team Kelly: Chelle
Team John: Zach Day
Team Nick: Aeri Moon
The Voice Season 18, Episode 1 Live Blog
8:01:
Aeri Moon is first to take the stage and she sings a Kelly Clarkson classic—a live version of Kelly's "Miss Independent." Kelly turned her chair for Aeri straight out the gate but unfortunately, Nick, who was first to turn for Aeri, blocked Kelly.
"Wow what a voice. I'm inspired," Nick said.
He later told The Voice producers that he was "blown away by her voice" two notes in, which is why he had to block Kelly.
8:10:
Next up is Levi Watkins with an acoustic cover of Train's "Hey, Soul Sister." He blows it out the park, but Blake is the first and only chair turn. The country star admits he had to try to not react when he first heard Levi singing. Everyone thought he was a much older woman singing, not a 14-year-old boy.
"I don't want this to turn into, 'I can't believe you're 14,' because that was an incredible vocal," Blake said.
8:17:
Cassidy Lee hits the stage with Fleetwood Mac's "Gold Dust Woman," but unfortunately receives no chair turns. The coaches explain that she needed a better storytelling song that showcased her vocal and guitar abilities, but encouraged her to keep striving for her dreams
8:28:
Kentucky native Zach Day belts out a cover of SWV's "Weak," and gets a chair turn from John and Kelly.
"I loved your voice, man. Your runs were really cool. If I had to pick one word to describe you I would say, 'impressive,'" Kelly said.
In an attempt to win Zach over, John gives a list of more expressive words he'd used to describe the singer, including "mindblowing," "otherworldly," "amazing" and "stunning."
8:40:
Chelle can barely get a word out before Blake turns his seat. She's singing a soulfully sweet cover of Billie Eilish's, "I Don't Wanna Be You Anymore." Nick bangs his buzzer for just moments after Blake, and then Kelly turns her chair for the 18-year-old singer.
John greets Chelle and says that he's a fool for not turning his chair for her while Kelly says she wants to help the young singer flourish on this show. As for Nick, he showers her with compliments.
"You're tone's sticky and it actually made me feel emotional," Nick said before adding, "You're the kind of singer that I would die to write songs for."
Blake says Chelle has "perfect pitch" that he hasn't heard on the show before unless he was the one singing. He's quick to note that he's had the most wins on this show and with all of his experience, he can help fine-tune her vocals in a way that could lead her to the finals.
8:47:
Toneisha Harris revealed in her video reel that she was well on her way to becoming a gospel singer and had even considered auditioning for The Voice eight years ago, but her son's Leukemia diagnosis prevented her from moving forward with a career in music.
Her son beat the disease, but not before he encouraged her to go on The Voice and follow her dreams. That's why she's here right now singing a cover of "I Want to Know What Love Is" by Foreigner, and she gets a four-chair turn during her performance.
Nick says it was the most "powerful performance" he'd ever heard. Kelly says Toneisha "may have taken the time off, but your voice didn't." Blake says it's
"impossible for someone to not sing for 8 years and sound like this."
All the coaches agree, regardless of whose team Toneisha chooses, she deserves to be here.
"You don't need any of us to be on this show," John says.