'The Voice' 2020, Episode 3 Recap & Results: Which Contestants Made Teams During Blind Auditions Night 3
The Voice Season 18, Episode 3 Blind Auditions airs Monday evening. Check out our recap and results, including who made it onto the teams so far, here.
The Voice is back on Monday with the third round of blind auditions. Coaches Blake Shelton, Kelly Clarkson, John Legend and the newest member of the cast, Nick Jonas, will once again blindly hear the voices of contestants vying for a spot on one of their teams.
Under the rules of the blind auditions, the coaches will sit with their backs to each contestant as they take the stage. Only after a coach bangs his or her red buzzer during an artists' performance can they then turn around and see exactly who it is singing. However, just because a coach turns for an artist doesn't necessarily mean that contestant will end up on their team. If more than one coach turns for a performer, they'll be the ones that will have to persuade the contestant to join their team instead of going with one of the other coaches.
During the first two nights of blind auditions last week, a number of contestants received four-chair turns from the coaches, and viewers will likely see similar instances as the competition continues. So far Shelton has the most members after convincing four contestants to side with Team Blake. As for Team Kelly, Team Legend and Team Nick, they each have three artists.
As the show airs on Monday, we'll be on hand providing live blog coverage of each new contestant's performance and a recap of who ends up on whose team. Follow along with us when The Voice airs on NBC at 8 p.m. ET.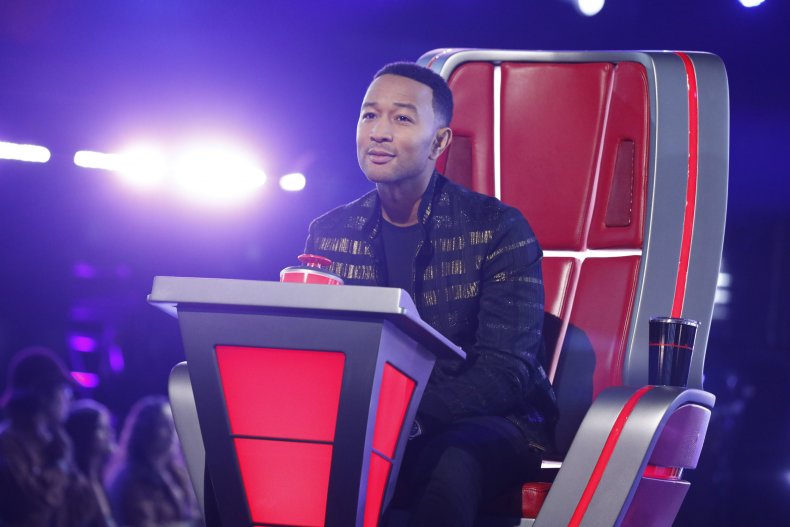 The Voice Season 16, Episode 1 Recap: Who Made the Teams So Far?
Team Blake: Joey Fulco, Jamal Corrie
Team Kelly: Sara Collins, Samantha Howell
Team Legend: Cammwes, Thunderstorm Artis
Team Nick: Allegra Miles, Samuel Wilco
The Voice Season 18, Episode 1 Live Blog
8:00:
O.K., it's go time! The first performance of the night comes from 16-year-old Allegra Miles. She's playing the keyboard as she belts out a soulful cover of Kings of Leon's "Use Somebody." Kelly is the first coach to bang her buzzer for the U.S. Virgin Islands native while a fluttery high-note convinces Nick Jonas to turn his chair for the singer just seconds before her performance wraps.
Kelly is quick to remind Allegra that she was the coach to turn first, while John admits he's kicking himself for not turning around for her. "I'm honestly shocked you're not a four-chair turn, but I will fight Nick," Kelly said.
Nick may have the upper hand when he discovers that Allegra comes from a family full of musicians and that she wrote her first song at age 12. "Given the fact that you come from a musical family, I think we can sit and talk music. We can talk life," Nick said.
Bummer, we'll have to wait for commercials to wrap before we find out who's team Allegra chooses.
8:11:
The show picks up right where we left off, with Allegra debating whose team she's going to choose. Kelly tries to persuade her with team jackets while Nick says she can take his jacket if she picks him.
In the end, she goes with Team Nick.
"It's hard going against Nick sometimes because we have the same tastes in artists," Kelly said in a confessional video.
8:13:
Twenty-one-year-old Cammwes is up next. He performs a sultry cover of The Weeknd's "Earned It." His voice is silky and sexy, and it's literally oozing with R&B flavor. No surprise when John turns around almost immediately for the singer, but no one was expecting Blake to bang his buzzer for Cammwes during the final seconds of his performance.
"Cam you came in with your own style. It just felt like you're your own artist. You're going to be a force to be reckoned with on this show," John said.
Blake says he's willing to fall on his sword for Cammwes, but the young singer says he's "so heavily influenced by John Legend" that he has no choice but to pick the R&B superstar.
Team Legend it is for Cammwes.
8:26:
Joey Fulco takes the stage with a cover of Cher's "Gypsys, Tramps and Thieves." Blake turns his chair first, followed by Nick, who, unfortunately, is blocked. That means Joey will automatically go on Blake's team, which makes sense—considering Joey has dreams to make a country-rock album.
"The Cher that's in your voice. That's what had me. The fact that you're bringing that sound to current music—that's what's going to set you apart," Blake said.
Joey's off to Team Blake.
8:34:
Annnnnddd we're back! The coaches are backstage explaining why Nick keeps getting blocked. It's like a rite of passage, according to Blake. They joke around a bit longer before going back to their red swivel chairs for the next audition. It's Sara Collins, and she's singing "Like Johnny and June" by Hiedi Newfield. Kelly is first to turn her chair and then, soon after, Nick turns.
Nick says Sara reminds him of Maren Morris and admits that some of his favorite artists to write for were country singers. "I thought it was a phenomenal performance," Nick said.
"I love country music. I know I say that every season. I won with a country music [artist], Chevel," Kelly says.
Sara chooses Team Kelly.
8:48:
Next up is cellist Clerida from Long Island, New York. She's brought her cello with her and uses it in her performance of "Put Your Records On" by Corinne Bailey Rae. Despite her upbeat and energetic performance, no coaches turn for the 30-year-old singer.
"I thought that was such a unique performance," Nick said, adding that he thought her voice was also interesting, but just not enough to convince him to turn.
Kelly also thought Clerida's performance was "really, really rad," while John said her song choice may have been what held her back.
"Clerida's performance just didn't quite gel," Blake said in a testimonial.
8:52:
Samantha Howell is up next, but we'll have to wait for her performance. Commercials are up next.
8:57:
We're back and Samantha immediately kicks it off with her cover of "Take It On the Run" by REO Speedwagon. Her wholesome country sound convinces Kelly to turn her chair around first. Blake knows he's been blocked, but he turns his chair for Samantha anyway. He's literally tearing his hair out in disappointment from being blocked. Meanwhile, Nick reminds everyone that he, too, has turned his chair for Samantha.
"You are phenomenal. I agree. It's exciting to have a country singer. But I don't think you're limited to that. Kelly's making it a singular issue," Nick pleaded.
Samantha admits that she doesn't consider herself a country singer, although she is influenced by singer and songwriter Brandi Carlisle. Nick then claimed Samantha's performance took him back to his wedding day and the first dance he had with his wife, Priyanka Chopra Jonas.
9:11:
Jamal Corrie is the next contestant, and he takes the stage with a light and airy cover of "Be Alright" by Dean Lewis. Blake is the only coach to turn for him, so he'll automatically go to Team Blake.
"I hit my button for you because I believe in you and I believe in your talent," Blake said. "I'm proud to be your coach, dude."
9:19:
New Yorker Ruby G is next, singing a cover of "Hard Place" by H.E.R. She shows off a lot of range, but it's not enough to impress the judges. No chair turns for Ruby.
9:30:
Army training recruiter Samuel Wilco will soon retire from the force in 2021, so now's the time for him to start focusing on his passion: music. He reveals that's why he's here auditioning for The Voice in his video testimonial. When he hits the stage,Wilco delivers a breathless and soulful cover of "Lately" by Stevie Wonder. It takes the coaches a minute, but finally, Kelly and Nick turn their chairs for the 39-year-old singer.
"I love your voice and honestly I sang the whole song with you back here," Kelly said.
"We need a voice like that in this competition, and you brought it with ease," Nick said.
Samuel chooses Team Nick.
9:43:
Hawk McIntyre is up next, and he's here to sing the blues. He shreds a cover of Bon Jovi's "Lie To Me," but receives no chair turns. Kelly said she did love it, but she wanted to see more of his upper range, and Nick agreed.
"The intensity was there and the pitch was there but that song—note wise as a singer—doesn't expand," Blake said before inviting Hawk to come back again next season.
9:48:
The final singer of the night is set to hit the stage. With a name like Thunderstorm Artis, he'd just better bring the house down. But we'll have to wait until after a quick commercial break to see if he does.
9:55:
Thunderstorm got started on his performance by singing "Blackbird" by the Beatles, and almost instantly gets chair turns from Kelly, Nick and John. After a few seconds, Blake turns his chair, too. It's the first four-chair turn of the night.
"Vocal control was just percent and I need you on my team," Nick said.
But he's obviously not the only one who feels that way. Kelly let him know that she can help him navigate the competition and possibly win, while Blake, who was so impressed with his vocal control, said he'd simply just be honored to have him on his team and see him win.
"Thunderstorm, I am notoriously stingy about turning around for anybody, but when I do turn I usually turn fast because I can hear in someone's tone that magic. And Thunderstorm, I can hear that magic," John said.
It's a tough decision, but Thunderstorm chose Team Legend.
Correction 3/5/20, 5:02 a.m. ET: This has been updated to correctly state that Nick Jonas is married to Priyanka Chopra, not Padma Lakshmi.