The Voice 2020 winner will be revealed tonight. Who will reign as Season 18s winner?? Who got eliminated? Find out everything you need to know about the second night of the season finale, here.
Can you believe it? The Voice Season 18 finale is finally here, and soon we'll learn which of the remaining Top 5 artists will take home the champion title as well as the ultimate grand prize: $100,000 and a record deal with Universal Music Group.
Each of the coaches—Blake Shelton, Kelly Clarkson, John Legend and Nick Jonas—still have a contestant from their team in the running, and when the live finale kicks off on NBC on Tuesday night at 9 p.m. ET, viewers will finally learn how America voted when one artist is named the winner.
Before the live finale airs though, The Voice will take fans down memory lane and recount exactly how each of the top five remaining artists got to where they are today with a Live Finale Count Down. The show's host, Carson Daly, will check in with all of the coaches and the finalists as they gear up for the results and share special clips and sweet moments of each contestant advancing in each round of the competition.
The pre-show will feature a few special performances from a few former coaches too. CeeLo Green, who was a coach on The Voice for the first five seasons, will team up with fellow former coach Shakira, Blake, Kelly, John, Nick and Season 18 advisor Bebe Rexha for a supergroup performance of Pete Townshend's "Let My Love Open the Door." Coach Nick will perform again with his brothers Kevin and Joe Jonas, who also mentored his team during Season 18. Meanwhile, Blake will perform his deut single, "Nobody But You," with girlfriend and former coach Gwen Stefani, and Kelly will treat everyone to a performance of her brand new single, "I Dare You."
As usual, we'll be on hand providing live-blogged coverage of the two-hour event as well as the final results beginning at 8 p.m. ET. If you missed the Top 5 contestants' performances during Monday's live show, catch up here.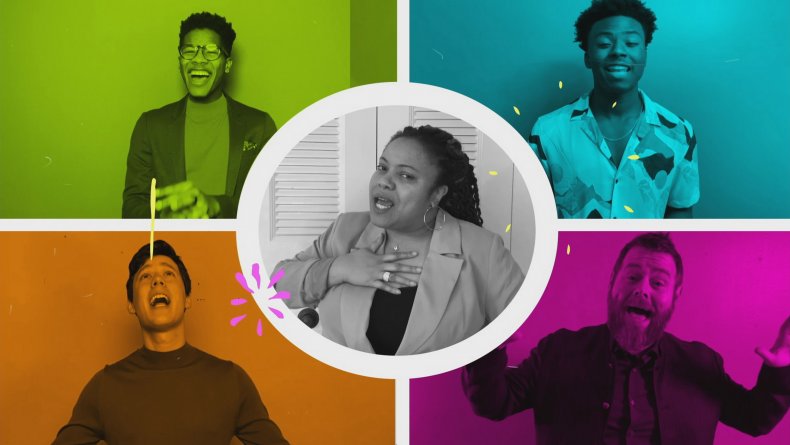 The Voice Season 18 Live Show Finale Live Blog
8:00:
Welcome to the Season 18 finale folks! The Live Show is set to kick off in one hour, but Carson, who's live at a small studio in Hollywood, says we'll first revisit some of last night's performances to give viewers a refresher.
He checks in with CammWess of Team Legend, who sang "Purple Rain" by Prince last night, before playing back his performance.
8:07:
Carson checks in with Micah Iverson, who's at home with his family for the big night. He gives a big thanks to his coach Kelly for all her help and support before Carson tosses it to a clip of Micah's performance of the original song "Butterflies."
8:11:
Next up is a recap of Todd Tilghman's performance of his original song "Long Way Home."
8:19:
Carson checks in with Team Blake's Toneisha Harris. She says she's going through a "myriad of emotions" waiting for tonight's results but she's proud to have made it this far. Then Carson introduces her performance of Journey's "Faithfully" from last night.
8:24:
Now for another look at CammWess' performance for "Save It For Tomorrow," the original song he wrote with help from Songland's Ryan Tedder.
8:31:
Carson checks in with Team Nick's Thunderstorm Artis, who says it feels "so surreal and so crazy" to know that he could actually win this thing. Viewers will get a refresher on exactly why he deserves to be here with a look at last night's performance of Thunderstorm's original song, "Sedona."
8:36:
Micah gave a chilling performance of "Chasing Cars" by Snow Patrol, and we'll get another look right now.
8:44:
Carson checks in with Todd, who says he's "super grateful" to still be in the competition and competing for the winning title at that.
Here's one of the reasons why Todd's exactly where he belongs: a replay of his cover of "I Can Only Imagine" by MercyMe.
8:49:
Now for another look at Toneisha's performance of her original song, "My Superhero."
8:55:
It's almost showtime, but before we reunite with the coaches and contestants, we'll have one more look at Thunderstorm's cover of Louis Armstrong's "What A Wonderful World."
9:00:
Whoo-hoo! It's go time! The results show kicks off with a fun and festive supergroup performance of Pete Townshend's "Let My Love Open the Door." The coaches are here, the contestants and even a few familiar faces, former The Voice coaches CeeLo Green and Shakira. What an energetic way to kick off the final show of the season and honor Pete, who's celebrating his 75th birthday today.
9:04:
Carson's back in the studio with his camera crew, who are social distancing. He introduces the coaches and their finalists.
Here's something different: the coaches are sitting in red chairs that are very reminiscent of the swivel chairs they used to sit in on The Voice's set. Well, Nick, John and Kelly are sitting in red chairs. Apparently, Nick gifted the others with a token of appreciation for his first season on The Voice. Blake got one too, except a miniature version.
9:06:
Carson tosses it to the last virtual happy hour of the season, during which John plays an updated version of the Cheers theme song that he's written to honor Season 18 of The Voice.
9:10:
Now here's a treat: a Jonas Brothers performance. Nick teams up with his brothers Kevin and Joe to sing their brand new song, "X," featuring Karol G.
9:13:
Blake and Todd are going to sing a duet next, but first, we get to see a cute pre-recorded video of the pair hanging out via web video. Although they only just met a few months ago, it seems as if they're been buddies forever. And they sound like they've performed together for years when they start rocking out together to John Mellencamp's "Authority Song."
9:18:
Carson reveals he has a big surprise for Todd before the contestant's cousin Jo Jo and best friend Eric pop up on the screen. They've been brought in to wish him good luck.
9:20:
Before heading to commercials, Carson says throughout the night we'll take a few trips down memory lane with clips from past seasons of The Voice. The first is a flashback of a Season 1 performance of CeeLo's "Crazy." He had the help of his old co-stars Blake, Adam Levine and Christina Aguilera.
9:24:
Back from break and another performance is up. This time around, it's John, who's offering a tribute to all the medical workers fighting the good fight against coronavirus. He's giving them a big thanks by performing a mini-concert of some of his biggest hits.
9:28:
We're headed to another quick break, but first a flashback of Season 4 coaches Blake, Adam, Shakira and Usher's performance of "Come Together."
9:34:
Back from break and now Lady Antebellum is blessing us with a performance of their song "Champagne Night."
9:37:
Carson introduces the next coach-contestant duet, and it's Nick and Thunderstorm. A pre-recorded video of them meeting up via Zoom to talk about their song choice. It's Phil Collins' hit song "You'll Be In My Heart," and they sound great together.
9:41:
Thunderstorm gets a little surprise too. Carson's connected the singer's cousin Bryce and best friend Jonathan, who have joined in live to cheer Thunderstorm on.
9:46:
And we're back! Before we get another performance, we get a look at Nick's first season as a coach on the show. Blake, John and Kelly definitely gave him a good hazing during his introductory season. He got teased for writing notes, they use his song "Jealous" against him and even tried to bait contestants to their teams with adorable puppies. But overall, the coaches ended up taking Nick in like the little brother they never had, and we think he still did pretty great for a first-time coach.
9:49:
Next up, Blake shows his appreciation for the Regional Food Bank of Oklahoma by giving them a special duet performance of "Nobody But You" with his girlfriend and former The Voice coach Gwen Stefani.
9:58:
Although the 2020 Olympics were postponed, a cute little pre-recorded video shows The Voice coaches tapping into their team spirit by learning some sports with the help of Olympic hopefuls.
10:02:
Carson introduces artistic swimmer Anita Alvarez and curling star John Shuster and interviews them about the changes to the Olympics schedule.
10:04:
The next team performance comes from John and CammWess. They're going to sing Elton John's "Rocketman," and as expected, they blow it out the park.
10:08:
Camm's close friends are also there to give him an extra nudge of support. Carson pings in the singer's buddies, Zan and Stephen to wish him good luck in the finals.
10:13:
Next Kelly performs her uplifting new single, "I Dare You."
10:17:
Another duet for Blake—this time he's singing with his team member Toneisha. Although they don't seem like a likely pair, the duo totally kill their performance of "Don't Stop" by Fleetwood Mac.
10:21:
Toneisha gets a surprise too. It's her sister Ashely and aunt Patricia, who've joined the feed to cheer her on.
10:25:
Up next is Kelly and Micah. A pre-recorded video of the pair depicts them discussing their song choice, Lady Antebellum's "I Run to You." They're a match made in heaven singing together.
10:29:
Two of Micah's biggest fans—his cousin Sarah and friend Rob—are also on live to wish him good luck in the results show.
10:34:
Back from a quick break and it's time for the next performance. This time it's a heartwarming video of The Voice contestants from the past 18 seasons singing the classic song, "What the World Needs Now."
10:37:
Up next, Nick performs his dedication song to the brave essential workers. He's singing his single, "Until We Meet Again."
10:44:
We're back from break! Carson gives a huge thank you to The Voice band, who have been working with the contestants and coaches from their own homes, and of course, the camera crew gets a lot of love from the show host too.
And now it's on to the performance Carson's been waiting for all night. It's Bon Jovi with their song, "Limitless."
10:49:
We're nearly at the biggest moment of the night. Carson brings the Top 5 artists of the season and asks them to say their final words to each of their coaches.
10:52:
Carson begins the countdown to the winner starting with the finalist in 5th place. It's Team Kelly member Micah. The fourth-place goes to Team Legend's CammWess.
We're headed to a quick break and when we're back we'll find out who is the winner of the competition.
10:57:
We're back from break and biting our nails. Carson turns to Blake, who has two team members in the Top 3, Todd and Toneisha. He gives them some words of encouragement and support before Nick sings his last praises to Thunderstorm.
10:59:
Carson will now reveal the winner of The Voice Season 18. It's Todd Tilghman!