'The Voice' 2020 Top 5 Final Performances & Elimination Predictions: Who Will Win Tomorrow Night?
The Top 5 will perform Monday night during The Voice Season 18, episode 16. Find out everything you need to know about tonight's finale performances, plus predictions for who may be eliminated tomorrow evening.
Well folks, we've reached the end of the road on The Voice Season 18.
The Top 5 contestants from Blake Shelton, Kelly Clarkson, John Legend and Nick Jonas' teams will belt out their last performances on Monday before the NBC singing competition crowns a champion in the season finale on Tuesday.
Like previous live shows, artists' performances were pre-recorded while singers are sheltering-in-place at their respective homes across the country. However, they'll get to connect with their coaches—who are also hunkered down at home—via web video. After each performance, polls will open The Voice's website and app allowing American viewers to cast votes for their favorite performances.
The final performance show kicks off on NBC at 8 p.m. ET. As usual, we'll be on hand providing live-blogged coverage of each contestant and we'll cast our predictions for The Voice Season 18 winner before it's all over. If you missed last week's performances and eliminations, catch up here.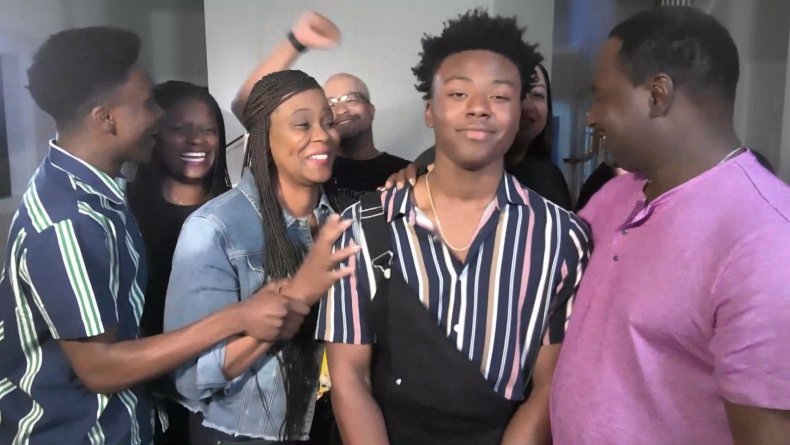 The Voice Season 18, Episode 16 Top 5 Final Performances Live Blog
8:00:
It's showtime folks, and the most important night of the season—the Top 5 final performances at that! The show opens up with Carson at the Hollywood studio by himself—although he's got a team of socially-distanced camera operators and producers there helping him out. He introduces the coaches Blake, Kelly, John and Nick, who are all appearing on camera from their respective homes.
8:02:
Carson explains how tonight's show is going to go: Each of the top five artists will sing two songs—one of which will be a new original. But first Toneisha Harris, Todd Tilghman, Thunderstorm Artis, CammWess and Micah Iverson will perform a group performance. They're singing Collective Soul's "Shine."
8:08:
Back from the first commercial break, Carson reveals CammWess of Team Legend is the first person to perform. We get a glimpse of Camm's incredible journey on the show. After being originally picked by John and then dumped in the Battles, Camm ended up right back on John's team after the coach saved him from elimination during the Knockouts.
For his final cover, Camm's going to sing Prince's classic hit "Purple Rain." It's the first time a Prince song has received clearance for a performance on The Voice from the late musician's estate.
8:11:
Camm's performance begins. He's on stage at a venue in his South Carolina hometown. He looks great surrounded by purple lights, but he sounds even better.
8:14:
Applause all around for CammWess. Kelly is full of praise for the young singer and says that Camm is "so gifted" while Nick was blown away by the production value and Camm's "incredible vocals."
"It was an amazing way to open this show tonight," Nick said.
As for John, he said he knew his team member wouldn't let him down.
"He comes with so much passion as well, so much artistry. And when the Prince estate reached out to me and asked, 'Will you vouch for this guy"' I felt very very comfortable vouching for him, and you see why because he did a beautiful job with that song. And he's done a beautiful job throughout the season," John said.
8:21:
Next up to perform is Team Blake member Todd Tilghman. A pre-recorded video offers a glimpse of Blake and Todd's time together, connecting via web video and rehearsing his chosen cover, "I Can Only Imagine" by MercyMe. It's a great song for Todd considering the fact that he is a pastor in his town of Meridian, Mississippi, and it's a choice his coach knows he will knock out the park. Blake advises him to really lose himself in the lyrics of the song and feel the performance.
8:24:
Todd quite literally takes us to church with the powerful gospel performance, which he delivers from the stage of his chapel.
8:27:
John says he's loved watching Todd's journey throughout the whole show and said the singer delivered a "wonderful performance." Kelly, who was moved to tears by Todd's performance, says she wanted to visit Todd's church not just to hear him sing but to hear him speak.
"You are so special," she said.
Meanwhile, Blake's head was cut off from the screen when he gave the singer a standing ovation. The country singer was just too tall to stand and fit in the screen at the same time, but Todd's performance simply moved him out his seat.
"You sing with so much passion, so much precision. You're just a special dude, man," Blake said.
8:33:
Team Kelly's indie-pop singer Micah Iverson will be the first to perform an original song. A pre-recorded video reveals Kelly got award-winning songwriter Shane McAnally on board to write Micah's song. He chooses a radio-friendly pop song titled "Butterflies."
8:36:
Micah's performance begins, and he appears in all black in front of a white screen that changes colors throughout the song. His clear vocals sound great riding the airy beat. The song is a summer-time cruiser, perfect for signing at the top of your lungs shamelessly while driving down the highway with the windows rolled down.
8:40:
Nick is first to give his feedback, and he is certain Micah will be on the radio regardless of what happens with the competition. Micah's coach Kelly completely agrees.
"Micah, you have made me cry on this show. You've made me laugh, you're so fun and your so intensely cool and creative," Kelly said. "I'm so proud of you."
8:46:
Thunderstorm from Team Nick is next to perform an original song. He actually wrote his new single, "Sedona," on his own but Nick connected him to songwriter Ryan Tedder, who offered some professional guidance.
8:48:
Thunderstorm begins his performance of the smooth acoustic ballad. His voice is simply mesmerizing. It's as light as a feather but as powerful as a lightning bolt, and the song is simply beautiful—it sounds exactly like something you'd expect the young artist to write.
8:51:
John praised Thunderstorm's "magical vocal tone that is raspy and angelic at the same time" while his coach Nick was incredibly proud of his team member.
"You are a true artist," Nick said.
8:57:
Performances continue with Toneisha Harris. She's the only woman still in the competition, and Blake couldn't be happier to have her on his team. In a pre-recorded video of the pair working together virtually, Blake admits how surprised he was Toneisha chose him as her coach, and he knows he's going to make him proud during her final performance. She's going to sing "Faithfully" by Journey.
9:00:
Toneisha takes center-screen and beings her cover. If we were in The Voice's Los Angeles studio, this would be the performance to literally bring the house down.
9:03:
The coaches loved Toneisha's performance. Kelly said Toneisha was her favorite singer on the show and gives her the ultimate compliment by comparing her to Chaka Khan. Blake was equally moved by Toneisha's performance, saying that she deserved to win the competition.
9:10:
Back from a quick break and it's Todd's turn to perform his original song, "Long Way Home." He got some help from Shane and fellow Songland judge Ester Dean.
9:12:
Todd's performance begins, and the song sounds exactly like something you'd expect to hear him sing.
9:15:
Carson tosses it straight to Blake for his thoughts on Todd's original.
"I've always kind of been kind of torn about how I feel about this original song part of The Voice, but you have something that is so unique about you that you can take an original song and breathe so much life into it that it just feels so familiar," Blake said. "I loved it."
9:20:
Camm's back for his original cover and John has him working with Ryan for his original song, titled, "Save It For Tomorrow."
9:22:
Camm's performance begins. It's clear that John's had a big impact on his artistry. He seems incredibly comfortably playing with his riffs—something his coach has encouraged him to do from the very start of the competition—while belting out his own lyrics.
9:25:
John was full of praise for his team member.
"He's such a great, great singer. His tone is so beautiful, and it's just a really good song. It's instantly catchy. I hear it on the radio right now," John said. "It just feels like he's ready. He's ready to be an artist. He's ready to make music that the whole world should be listening to."
9:31:
Next up is Micah. This time around he's going to perform a cover of one of Kelly's favorite songs, "Chasing Cars," by Snow Patrol. Micah's rendition of the hit song will mark the first time the band has ever cleared one of their songs for The Voice.
9:34:
Micah's cover of "Chasing Cars" begins, and, as expected, it's a chilling performance.
9:37:
Carson tries to get some feedback from Nick on Micah's performance, but he's experiencing some technical difficulties. So Kelly showers her team member with compliments.
"You make every song easy. You make it sound like it's effortless," Kelly said. "I'm just blessed to have you on my team."
9:40:
Toneisha is set to perform again. She's going to work with Shane for "Superhero," an original song she wrote with her son in mind.
9:43:
Radiating in a beautiful gold sequined dress, Toneisha begins her heartwarming ballad dedicated to her son. Toneisha has shared her son's cancer battle with viewers since she first joined the competition, and you can hear the love she has for him in every lyric of the song.
9:48:
Once again, all the coaches are deeply moved by her beautiful song. John called her performance "remarkable," while Blake was sure that viewers across the country could feel the power of Toneisha's song in their hearts.
"I don't know if you've heard Toneisha, but we're supposed to be social distancing and she literally just touched millions of people," Blake said.
9:53:
It's time for the final performance of the night. It's coming from Thunderstorm, who's planning to sing "What A Wonderful World" by Louis Armstrong.
9:57:
Thunderstorm closes out the show with his acoustic soul cover. His performance feels so timely considering everything that's happening in the world right now.
10:00:
The polls are officially open, so now it's time for America to do its job and start voting. The polls will be open until Tuesday morning at 7 a.m. ET and The Voice Season 18 winner will be revealed during the show tomorrow night.
The Voice Season 18, Episode 16 Top Five Final Performances Predictions
It's so hard to choose between five incredible artists, especially when they're as talented as the performers we've seen tonight. While each contestant is a winner just for making it this far in the competition, America can only one of them can be deemed The Voice Season 18 champion. Here's how we think the Top 5 results will turn out tomorrow.
Team Blake
Todd Tilghman—Winner
Toneisha Harris—4th place
Team Kelly
Micah Iverson—3rd place
Team Legend
CammWess—2nd place
Team Nick
Thunderstorm Artis—5th place