The Voice' 2020 Top 5 Results and Recap: Who Was Saved and Who Was Eliminated Tonight?
The Voice Season 18's contestants will be narrowed down to the Top 5 during episode 15. Check out our live-blogged recap of every performance, plus predictions for who will stay and who will be eliminated, here.
One lucky contestant is nearly at the finish line on Season 18 of The Voice.
Following Monday night's performances of the Top 9 artists of the NBC singing competition, viewers will finally learn which five contestants will go on to the finals.
It's the first time in The Voice history that five individuals will be included in the final round of the competition. During the eliminations show on Tuesday, the contestant with the highest number of America's votes on Blake Shelton, Kelly Clarkson, John Legend and Nick Jonas' respective teams will be deemed safe. The remaining artists will get the chance to fight for the final spot in the Top 5 during a Wildcard Instant Save. Once that's determined, the Top 5 artists will begin prepping for the final live shows, set to air next week.
As the show airs tonight, we'll be providing a complete rundown of the winners and the battles with our live-blogged coverage of the show beginning at 8 p.m. ET. If you missed last night's performances, you can check them out ahead of show-time here.
The Voice Season 18, Episode 15 Top 5 Results
Team Kelly
Micah Iverson— Safe
Megan Danielle— Eliminated
Team Nick
Thunderstorm Artis— Safe
Allegra Miles— Eliminated
Team Legend
CammWess— Safe
Zan Fiskum— Eliminated
Team Blake
Todd Tilghman— Safe
Toneisha Harris— Safe
Joanna Serenko— Eliminated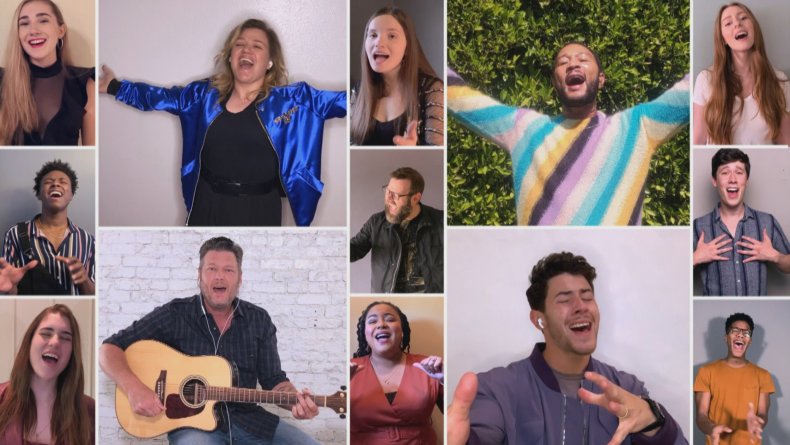 The Voice Season 18, Episode 15 Live Results Show Live Blog
8:00:
Welcome to the second live results show of the season, folks. Believe it or not, it will be the last one until the finale. Carson opens the show from a small studio in Hollywood, and then goes ahead and introduces the coaches. Blake Shelton's at home in Oklahoma with his signature styrofoam cup, while John Legend and Nick Jonas are both at home in Los Angeles. Kelly Clarkson is at her family's ranch in Montana.
8:03:
Carson asks each of the coaches how they're handling having to mentor their team members via video chat as opposed to working with them in person like past seasons. Each of the coaches notes how much of an adjustment this transition has been but they admit that their team members are really making them proud by showcasing their talents effortlessly despite the changes.
8:05:
And now we'll find out which member of Team Kelly will advance to the finals between Megan Danielle and Micah Iverson, who are both in their respective homes with their families. Kelly lets them know that whatever happens, they're both "awesome."
8:06:
America's votes are in, and the country has chosen Micah to move on to the finals.
8:07:
No breaks yet—Carson moves right over to Team Nick, where Allegra Miles and Thunderstorm Artis are awaiting the results of America's votes.
8:08:
The contestant with the majority of America's votes from Team Nick is Thunderstorm.
We'll find out the finalists from Team Legend and Team Blake after a few short messages.
8:10:
We're back from the first round of commercials. Before Carson reveals the next safe contestants, we get a sneak peek of the coaches at home during The Voice Happy Hour. Blake says he's been spending quarantine doing "manly stuff" around the house, like watering his tulips. Kelly says she's been hanging out outside, chopping wood and lassoing the horses while John's taken on some new artists: his kids Luna and Miles. Meanwhile, Nick has been perfecting the art of making lattes.
8:13:
Now on to the third finalist. It's between Team Legend's CammWess and Zan Fiskum.
8:15:
Carson reveals CammWess is headed to the finals.
When we get back from break, we'll find out which member from Team Blake will advance to the next round of the competition.
8:20:
We're back from break, but before we get back to another round of results, we'll get serenaded by John. He's singing his brand new single, "Bigger Love."
8:25:
It's time to reveal the fourth finalist, which will be one of Team Blake members—Joanna Serenko, Todd Tilghman or Toneisha Harris.
8:26:
Carson reveals Todd is the artist with the most votes from Team Blake.
8:30:
There is still one spot left in the Top 5, and it could belong to Megan, Allegra, Zan, Joanna or Toneisha. They'll all be competing in the Wildcard Instant Save for their chance to move ahead. First up to perform is Megan from Team Kelly. She's singing "Simple Man" by Lynyrd Skynyrd.
8:34:
Next up is Allegra from Team Nick. She's singing "In My Blood" by Shawn Mendes.
8:42:
Back from break and Team Legend member Zan is up with her cover of "Always Remember Us This Way" by Lady Gaga.
8:44:
John thought Zan's performance was a great final performance to show exactly why she deserves to stay in the competition.
"We have so much great talent on this show, but Zan you have completely stood out to me," John said.
8:45:
Team Blake's Joanna is next to perform. She's singing "Unaware" by Allen Stone.
8:47:
Blake was full of praise for the singer's unique and defined voice. He said he wouldn't be surprised if America voted to save Joanna from elimination once again.
"You've had a hell of a journey on this show and there's a reason for that," Blake said. "Every time there was a reason for you to go home, none of us let that happen because you're so special."
8:48:
Toneisha from Team Legend is the final artist to perform tonight. She's singing "Loving You" by Minnie Riperton.
8:50:
Blake was amazed by Toneisha's "Mariah Carey-whistle-tone" that he didn't even know she was capable of doing.
8:52:
Carson announces the polls are open. The Voice Instant Save starts now, so get to voting.
9:00:
Carson reveals Toneisha is the winner of the Wildcard Instant Save. She's headed to the finals!