'The Voice' 2021: Who Has Made the Teams During Season 20 Blind Auditions?
The 20th season of The Voice started out with a bang on Monday night.
The NBC music competition returned for its 10th consecutive year and with it came a fresh slate of talented musicians and singers, as well as a familiar face on the coach's panel. Nick Jonas is back on the show—he's taking Gwen Stefani's place—and he's already giving fellow coaches Blake Shelton, Kelly Clarkson and John Legend a run for their money. With just one night of Blind Auditions under his belt, Jonas already has the most competitors on his team.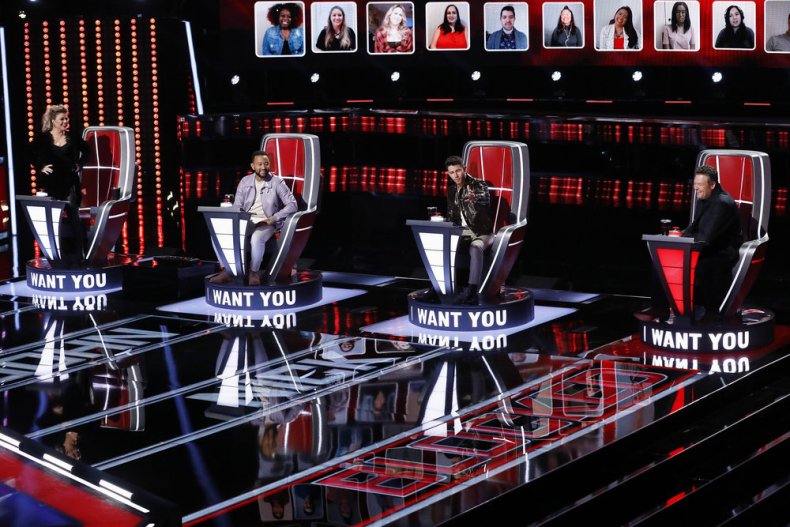 Like every other season of The Voice, the coaches sit in their red swivel chairs with their backs to the stage at the start of each performance during the Blind Auditions. Only when a performer has won them over with their talent will the coaches bang their buzzer declaring their desire to place the contestant on their team, causing their red chair to turn around and marking the first moment the coaches get to see exactly who it is they've chosen. Of course, this sometimes results in coaches having to compete with each other and convince the contestant to choose their team, and there was plenty of that during the first night of the Blinds, especially when one artist landed a four-chair turn.
Nonetheless, dozens of artists sang for the coaches in the first round of Blind Auditions on Monday, but only a few of them made the cut.
See our roundup of all the contestants that landed a spot on a Season 20 team so far. We'll continue to update this list throughout the Blind auditions.
The Voice Season 20, Episode 1 Blind Auditions Results
Team Blake
Cam Anthony
Cam Anthony, a 19-year-old singer, stunned Shelton and Legend with his cover of Sam Smith's "Lay Me Down," but in the end, he surprised everyone when he opted to go with Shelton.
A Philadelphia native, Anthony has already experienced a taste of fame after his cover of a Bruno Mars song landed him on an episode of The Ellen DeGeneres Show when he was just 12 years old. He even got to sing for President Barack Obama and first lady Michelle Obama at the White House Easter Egg Roll in 2014.
Pete Mroz
Before 45-year-old Pete Mroz landed a spot on Blake's Team with his soulful cover of Blind Faith's "Can't Find My Way Home," the country singer actually worked with his coach as a kid in a youth singing group called the Young Riders. Shelton didn't recognize his old bandmate initially, but a throwback photo and a story about Shelton stealing Mroz's bass player helped jog The Voice coach's memory.
Before landing a spot on the show, Mroz worked as a traveling golf-apparel salesman while living in Arizona with his wife and two sons. Although he had dreams of becoming the next Garth Brooks as a teen, he only recently decided to pursue music again and try out for The Voice after losing his father to a heart attack.
Team Kelly
Corey Ward
The second time really was a charm for Georgia resident Corey Ward. The 34-year-old musician tried out for The Voice back during Season 19 and never made it on a team, but he came back and won Clarkson over with a passionate performance of Robyn's "Dancing on My Own."
Ward told the coaches that the last time he appeared on the show, he wasn't really being himself. And even worse, his mother was rushed to the hospital on the same day of his audition due to complications with her cancer diagnosis. Not long after that, his father suffered a triple heart attack. While both Ward's parents are still recovering, he told the coaches he realized that he can't take second chances for granted and decided to return to The Voice to show the then what he's truly capable of.
Kenzie Wheeler
The only singer to land a four-chair turn on the first night of Blind Auditions was 22-year-old Kenzie Wheeler, whoblew the coaches away with his stunning cover of "Don't Close Your Eyes" by Keith Whitley. It was a tough fight between the coaches, and Clarkson even used her first block of the season to prevent Shelton from snagging Wheeler for his team. After compelling arguments from Jonas and Shelton, the Florida native chose to go with Team Kelly.
Wheeler has loved singing ever since he was a child, but it wasn't until he was in high school when he finally decided to pursue it professionally. He's performed gigs all over Florida and even had the chance to open for Charlie Daniels and Craig Campbell.
Team Legend
Christine Cain
California native Christine Cain had Legend and Clarkson dancing in their seats with her soulful cover of Harry Styles' "Watermelon Sugar," but ultimately Legend persuaded Cain to choose him.
"I love that song, and this is the most soulful performance I've heard of that song. I just was captured by your tone, captured by the energy of your voice and the little crackle. It was very cool. And I would love to coach you. You don't want to be on Kelly's team really," Legend said.
Although music has been a part of 27-year-old Cain's life since she was a child, the singer's fears over her autoimmune disorder and body insecurities initially led her to pursue a music career behind the scenes. It wasn't until she was forced to put a music show on as a part of a music business class assignment in college that she realized that she was meant to be on the stage.
Victor Solomon
Legend couldn't help but turn his chair during Victor Solomon's Blind Audition. The brave 22-year-old singer performed a cover of Legend's Oscar-winning song "Glory," and knocked it out of the park. Shelton also wanted Solomon for his team, but he just couldn't compete with the guy who wrote the song.
A student of North Carolina A&T State University, the country's largest historically Black university, Solomon has performed as a singer since he joined his church's choir at 6 years old. He even won his eighth-grade talent show singing Legend's hit song, "Ordinary People."
Team Nick
Dana Monique
An energetic cover of Aretha Franklin's "Freeway of Love" led Jonas and Legend to battle it out for 41-year-old Dana Monique. She shocked everyone when she chose Jonas over Legend.
The Houston native has performed for most of her life, starting with her years singing in the church as a child. She was even a member of her father's jazz band, and by the age of 15, she was touring all around her home state as a background singer. She got her first taste of stardom when she booked a headlining job on a cruise ship, but ultimately decided to try out for The Voice to help take her career to the next level.
Devan Blake Jones
Before winning Jonas over with his cover of H.E.R.'s "Hard Place," Devan Blake Jones performed in an Afrobeat band and learned how to sing in Swahili. Over the past 17 years, the Colorado native has performed in community events but has spent the majority of his adult life working as a client relations manager at a tech firm. Now he's ready to turn his attention back to his first love—music—and try his hand at leveling up his career with the help of The Voice.
Raine Stern
Jonas, Legend and Shelton wanted 22-year-old Raine Stern on their teams after her electrifying rendition of "Electric Feel" by MGMT. The Wisconsin native has the most distinctive voice of the competition so far, and Jonas convinced her that he'd be the best to help nurture her sound and develop her into a star.
Before joining Jonas' team, Stern was a member of several bands in her hometown of New Glarus when she was younger and has since held lead guitarist, singer and composer positions with bands in Madison, where she now lives with her girlfriend.
The Voice Season 20, Episode 2 Blind Auditions Results
Team Blake
Aaron Konzelman
Blake Shelton and John Legend duked it out over 39-year-old Aaron Konzelman following his raspy-voiced rendition of Duran Duran's "Ordinary World," but in the end, the Texas-born singer decided to heed Shelton's advice and "play it safe" by joining the country star's team.
Music has played a big role in Konzleman's life ever since he was a child. His parents managed a Christian music studio while he was growing up, and he studied audio engineering while in college. He also has experience performing with his wife.
Ethan Lively
A cowboy after Shelton's own heart, 17-year-old Ethan Lively shocked the coaches with his husky sound as he belted out a heartfelt cover of George Strait's "You Look So Good in Love." Shelton couldn't believe he was the only coach to turn his chair for the Tennessee native, but promised Lively that he was the coach best suited to help develop the country coroner's big voice.
Lively grew up singing in church, and after learning how to play the guitar five years ago, he started performing at local fairs and festivals in his hometown. However, it was his best friend, who is currently undergoing chemotherapy for cancer, who convinced Lively to chase his dream of performing beyond the small town where he lives and try out for The Voice.
Team Kelly
Gean Garica
Shelton wanted 19-year-old Gean Garia, Nick Jonas got blocked and Kelly Clarkson was the one to land the singer for her team, after Garcia thoroughly impressed them all with a sweet performance of Kodaline's "All I Want."
Garcia, who lives in McAllen, Texas, grew up surrounded by music. His father is a Spanish singer whose music is popular in South America. After learning to play the guitar as a kid, the contestant started performing with his dad for shows in the U.S., Colombia and Mexico. Now Garcia is ready to step out on his own and build a music career of his own.
Team Legend
Carolina Rial
Seventeen-year-old Carolina Rail moved Legend and Jonas with her powerful cover of Sam Smith's "Stay With Me," but the first-generation American—her mother is from Bolivia while her father, who died when she was three, grew up in Spain—opted for Team Legend.
Rail spent the majority of her childhood practicing dance, but she always had dreams of being a singer. She's already had a glimpse of the limelight, too, after she shared a video of herself singing on social media that former Voice coach Jennifer Hudson reposted. That led Rail to begin performing at local events in her community, before vying for a spot on an even bigger stage—The Voice.
Team Nick
Zae Romeo
All of the coaches wanted 21-year-old Zae Romeo for their teams—he was the only contestant to receive a four-chair turn on the second night of Blind Auditions, thanks to his stunning and emotional cover of Harry Styles' hit song, "Falling." But Jonas was the coach to win him over.
A Texas native, Romeo was placed in foster care at age three but was later adopted along with his siblings. Despite the difficulties he faced in his childhood, he always viewed music as a source of comfort and began performing at coffee shops in his hometown when he was a teenager. As an adult, Romeo teaches music and art in youth programs in Texas and is the praise-and-worship leader at his church.
Update, March 3, 10:21 a.m.: This article has been updated to include contestants that placed on a team during night two of Blind Auditions on the 20th season of The Voice.