Deadly Volcano Should Never Have Been Open to Tourists Says Expert Who Felt 'Distinctly Uncomfortable' When He Went There
The volcano on an island off the coast of New Zealand whose eruption has claimed at least six lives was too dangerous for tourists to visit, a prominent volcanologist has told Newsweek.
New Zealand police say that the eight people who remain missing on White Island, off the country's north-eastern coastal town of Whakatane, are likely to have died in the eruption on Monday and are considering whether to open a criminal investigation.
Emeritus professor in geosciences at Melbourne's Monash University, Raymond Cas, said he noted the dangers immediately when he had previously visited White Island, known in Maori as Whakaari.
He said the island's remote location 30 miles off the coast meant it was impossible in an emergency to get help quickly. Apart from the logistics, the nature of the volcano—one of New Zealand's most active—meant it was "not a good place to allow the general public and tourists to be roaming around."
"I have been to White Island twice and both times as soon as I landed I felt distinctly uncomfortable," he told Newsweek.
"When you are on the island, you walk into a huge amphitheatre-like crater and you are immediately confronted with many steaming gas vents exuding all kinds of noxious gases."
"A number of times, one of those crater lakes can be suddenly overflowed and you can get a torrent of boiling water down the slope," he said, which posed "a danger of significant burns."
"It is an island volcano and the magma is shallow. It can produce sudden steam-driven geothermal explosions, even when the threat level, in this case two out of five, is quite low," he said.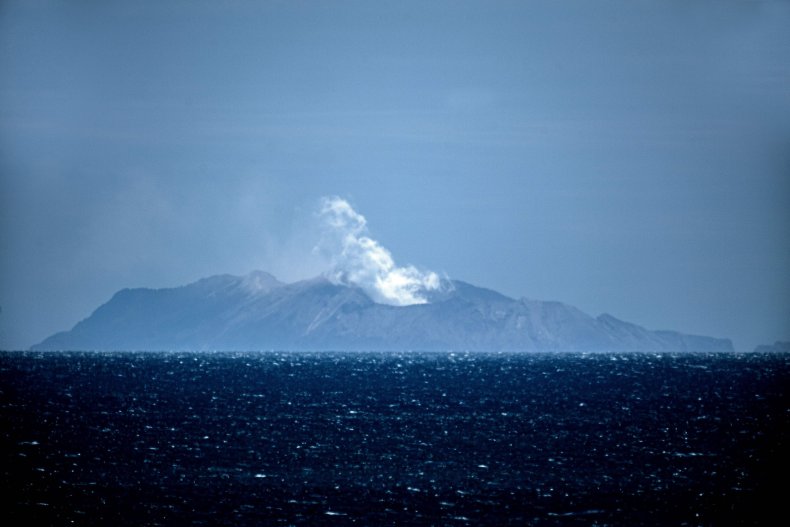 "When the pressure is released, those explosions are not easy to detect and in many cases are impossible to detect, unlike volcanic explosions driven by gases being released by erupting molten rock or magma."
"On a lot of other volcanoes, tourists can walk around the rim around the crater from a safer distance from a vent, but in this case people could walk within the actual crater, which is not very wise."
In a media briefing on Tuesday, Graham Leonard from the geological hazard monitoring group GeoNet said that there is a "50 percent chance of a smaller or a similar sized eruption to what occurred on Monday.
"We also estimate that a larger eruption is unlikely," he said, adding "there is an extremely low likelihood of any ash impact to the mainland."
GeoNet said in a separate statement that an "eruptive episode" had started on the island in 1976 and that "it was in almost continuous eruption from 1976-2000," adding that a "second eruptive episode started in 2011 and continues today."
New Zealand police have started an investigation into the "circumstances of the deaths and injuries on Whakaari/White Island," and that "the terms of reference will be developed in the coming days."
"It is too early to confirm whether there will also be a criminal investigation."
Of those who were on the island at the time of the eruption, there were 24 Australians, nine Americans, five New Zealanders, four people from Germany, two from China, two from the U.K., and one from Malaysia, according to New Zealand Police. There are 31 in hospital with injuries.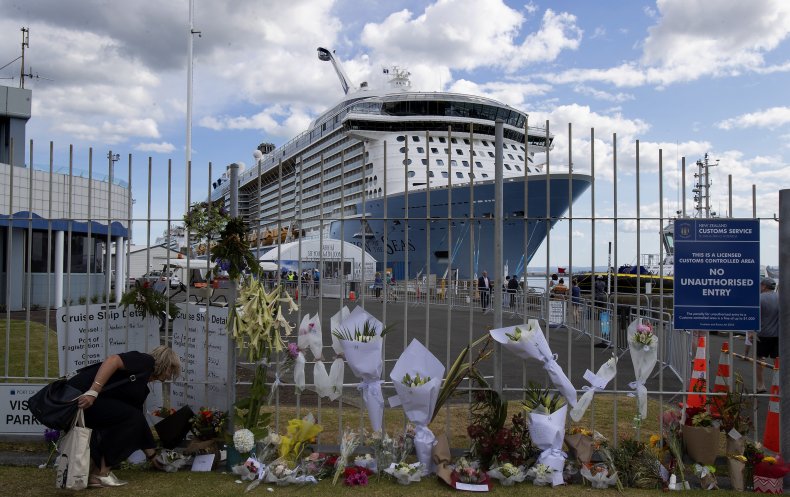 The first victim named was Hayden Marshall-Inman, who had been a tour guide to the island for several years, according to Radio New Zealand. The grocery store in the town of Whakatane where he was a regular posted on Facebook that he was "close to our hearts. Every week, he left $5 at the counter to pay for the next person.
"This has been happening for years so there will be many recipients of his kindness," the post added.
Around three dozen of those on the island were passengers on board the Royal Caribbean vessel Ovation of the Seas which had been delayed in the dock in the city of Tauranga but will leave on Wednesday morning, visiting Wellington and Picton before returning to Sydney.
In a statement to Newsweek, Royal Caribbean said: "We are working to help our guests and the authorities in the aftermath of this tragedy in any way we can. We are communicating with our guests and their families.
"We're making sure they are taken care of in terms of medical help, counselling, accommodations, and transport. Our hearts go out to them, and we want to be as supportive as we can."