Ukraine Uses Western Weapons to Take Out Nearly a Dozen Russian Ammo Depots
Ukrainian President Volodymyr Zelensky has praised the impact of weapons supplied by Western countries as data from this month shows Ukrainian forces have successfully hit a number of Russian ammunition depots with the help of those weapons.
Between June 28 and July 6, there were 11 Russian ammunition depots that had been "destroyed" according to a graphic tweeted by news outlet Nexta. It drew on data from sources including social media sites, Ukrainian and Russian officials and the think tank the Institute for the Study of War (ISW).
The most recent strikes took place on depots in the city of Kherson, the town of Makeeva in the Donetsk region and Velykyi Burluk in the Kharkiv region on Wednesday. In the preceding days, there were also strikes on facilities in the Donetsk, Zaporozhskaya and Luhansk regions, according to the data. "Western weapons at work," Nexta tweeted with the graphic. Newsweek has reached out to the Ukrainian Armed Forces and Russia's Defense Ministry for comment.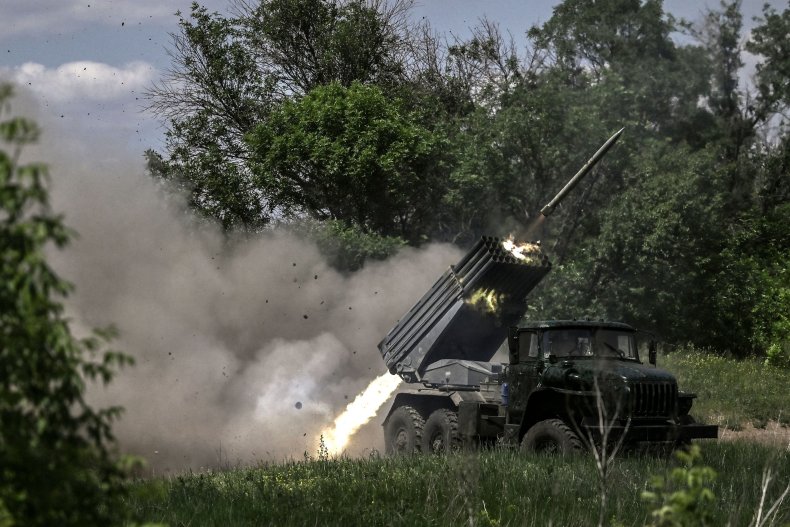 Zelensky has hailed strikes on Russian logistical targets following Kyiv's repeated calls for more Western weapons. "The weapons we received from our partners started working very powerfully," the Ukrainian president said in his nightly address on Wednesday.
There has been an increase in Ukrainian strikes on Russia's rear military facilities as Kyiv's forces used tactical missiles, aircraft, and artillery to target Russian ammunition stores, the Kyiv-backed Euro Maidan Press reported last week.
But Ukrainian officials had raised the alarm that they were running out of Soviet-era artillery and rocket ammunition and urged Western allies to boost supplies of artillery guns and shells.
The Ukrainian military has also begun to show its use of High Mobility Artillery Rocket Systems (HIMARS), U.S.-made and supplied multiple rocket launchers, on social media, and analysts said the rockets were used to target Russian forces.
Announced last month as part of a U.S. military package for Ukraine's forces, the systems are mounted on trucks with a container with six precision-guided rockets that can travel about 45 miles. The system allows Ukraine to strike Russian forces and weapons from further away with greater precision without risking Kyiv's troops.
Ukraine is expected to use the rockets in the eastern Donbas region to intercept Russian artillery and take out Russian positions in towns where fighting is intense.
Zelensky praised the accuracy of the weapons and said his forces had managed to inflict "very noticeable strikes on depots and other spots that are important for the logistics of the occupiers" which "significantly reduces the offensive potential of the Russian army."
Meanwhile, on Thursday, Russian aircraft attacked Snake Island in the Black Sea, according to both the Russian Defense Ministry and the Ukrainian armed forces. The Ukrainian military said that Russia struck the strategic island it withdrew from last week with two air-launched missiles.