Zelensky's Bodyguard: Meet The Man Protecting The Man
Ukrainian President Volodymyr Zelensky has been elevated from a beleaguered, inexperienced populist politician to a Churchillian icon by a year at war. The 45-year-old will, regardless of the outcome of Russia's ongoing invasion, almost certainly go down in history as a Ukrainian national hero and an international champion of the democratic liberal order.
As Zelensky was thrust into the international spotlight, so too was his entourage of advisers, top officials, and even bodyguards. Among them is Maksym Donets, the head of the presidential security detail who has become an unlikely celebrity.
Ever on Zelensky's shoulder—these days usually clad in fatigues, an armored vest and cradling an assault rifle—since his appointment in 2019, Donets has accompanied the president as he has sought to shape the narrative of Russia's full-scale invasion, considered by many Ukrainians to be their war of national independence.
Donets was with Zelensky as the president posted defiant videos and pictures from Kyiv's streets in the opening days of the invasion, and as Russian kill teams sought to infiltrate the capital and decapitate the executive.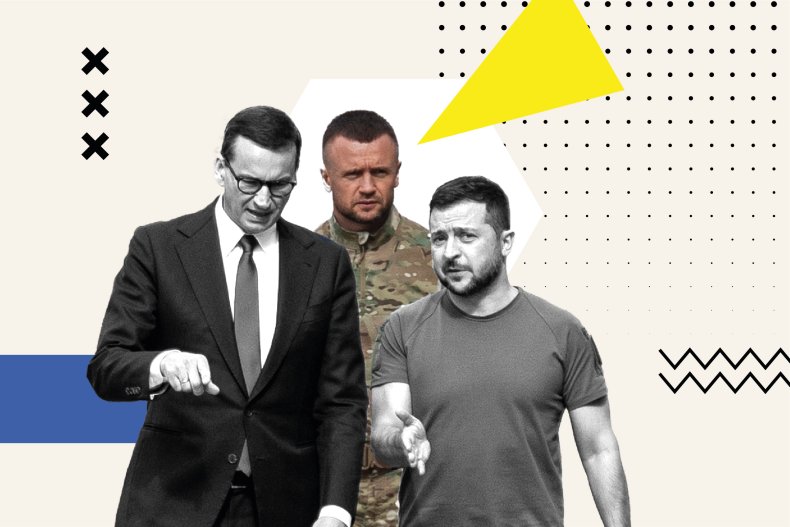 He accompanied Zelensky to the sites of Russian atrocities in Kyiv's suburbs after Moscow's forces retreated from northern Ukraine in the spring of 2022 and has since been pictured with the president in combat zones including Kharkiv, Kherson and Bakhmut.
Ever present, Donets is also involved in security arrangements for the visits of foreign leaders. Andriy Yermak, the head of Zelensky's presidential office, in December recalled the April 2022 visit of then-British Prime Minister Boris Johnson to Kyiv.
"At the end of the meeting Boris Johnson said, 'I'd like to walk'. [Zelensky] turned to the head of security and said that Mr. Johnson would like to take a walk in Kyiv," Yermak said. "And the head of security replied, 'Well, let Mr. Johnson walk.'"
Unlikely Icon
Iuliia Mendel, Zelensky's former press secretary told Newsweek the president's chief bodyguard "is fully, absolutely, completely devoted to his work; he is super hard-working, he's very devoted to the president."
"You can't really know much about bodyguards, and if you do then you can't say so," Mendel added.
Donets has become much loved and much watched by Ukrainians over the past year. Among the fan accounts dedicated to the guard is a TikTok channel liked by 6.2 million users and followed by more than 286,000.
Little is known about Donets, who has become an icon—even a sex symbol—and was recently mistaken for a supposed Zelensky body-double during the president's historic visit to the U.S.
The New Voice of Ukraine reported that Donets is 44 years old and originally from Kryvyi Rih, the city where Zelensky grew up. He graduated from the Kryvyi Rih Institute of Economics at the Vadim Getman National University of Economics, the newspaper reported.
Belarusian newspaper Nasha Niva has reported Donets has a wife, Natalya, and a son, Matvey. Donets previously worked as a bodyguard for oligarch Igor Kolomoisky, whose fortune and media empire helped Zelensky to unexpected electoral success in 2019.
Donets was appointed the head of Zelensky's security team after the latter became president in 2019, though he had been spotted with the then-presidential candidate in the run up to the election. Donets' official appointment prompted some concerns in Ukraine that Zelensky was too close to Kolomoisky.
Donets is also reported to be pursuing another degree through the University of Kyiv's Faculty of Law, recently defending his thesis (answering questions by members of the thesis committee) on the administrative responsibility of members of the state administration security forces.
High Profile, High Stakes
Ever alongside Zelensky, Donets is likely to remain in the background of historic videos and photographs as Ukraine seeks to eject Russian forces from its territory in the coming months, and perhaps years.
"He is watching the whole world around the president, everything that's happening," Mendel said. "He knows everyone and everywhere, what's going to happen, every next step, where they're going to go.
"The president is a very flexible person, he often wants to change the plans. So, for Donets it's always a challenge. He copes, and this shows he's really devoted and he's really professional."
Simon Newton, a British former close protection officer who provided security for an American oil company and the Japanese government in Iraq, plus the British government in Afghanistan, told Newsweek that the ever-present danger in Ukraine requires Donets and his team to be constantly adaptable.
"It's a dangerous place wherever they go," Newton said. "The threat is quite consistent throughout…If you're not flexible, unfortunately, you're not going to be very good at the job."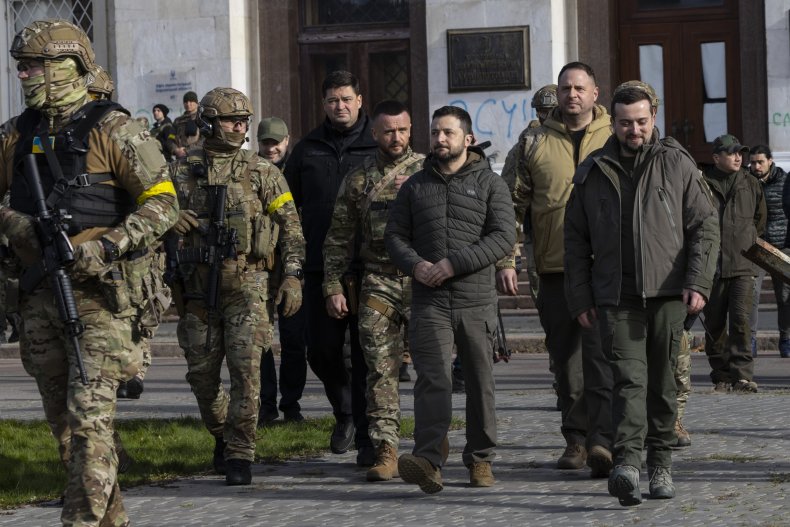 Even the best professionals cannot account for all possibilities, Newton said. "Most of it is common sense.The more your journey is planned out, using different routes, going at different times, not staying at certain places for too long, and also good intelligence.
"There is a little bit of luck and judgment in there. You can be unfortunate, of course, and turn up somewhere which maybe hadn't had an attack for the past three or four weeks, and it just so happens that something happens.
"The thing I used to do quite a lot, if we had to go to areas that weren't particularly savory, was that I insisted that we didn't spend particularly long there. We did what we needed to do and then we left. And if anytime I said we were leaving, we were leaving."
Zelensky's spontaneity might not necessarily be a problem for his protection team, Newton said.
"In the environment he's in there, it sometimes can be advantageous because he's not sticking to so much of a plan," he explained.
"Sometimes the impromptu visits are better because no one knows when you're coming, sometimes not even yourself until five minutes before," he said.
Fame, said Newton—who has himself ended up in the media spotlight while guarding high-profile celebrities—is an inevitable byproduct of such a role.
"There's nothing you can do about it; you can't stop people taking pictures, you can't stop people writing about you, putting you on the news," he said. "And it's probably amplified these days with social media.
"It goes with the job and with the person you're looking after. My argument would be that if you didn't want that, don't look after the president."