Video Fuels Conspiracy Theory About Zelensky's 'Body Double'
Last week's meeting in Eastern Europe between presidents Volodymyr Zelensky and Joe Biden has sparked conspiracy theories about the Ukrainian leader having a "body double."
Biden made a surprise visit to Kyiv one week ago, meeting with Zelensky and Ukrainian officials prior to traveling with them to Poland to deliver a speech in Warsaw.
A video clip shared on social media showing Biden and Zelensky in Poland walking up a flight of stairs was suggested by Twitter user Stew Peters to be "a glitch in the matrix."
A man dressed similarly to Zelensky is seen in the background and alleged to be the body double. The video was taken by Polish tabloid Fakt.
Shayan Sardarizadeh, a BBC journalist who reports on disinformation and conspiracy theories, replied to Peters by posting numerous other photos of Zelensky and his alleged body double, clarified as bodyguard Maksym Donets—who looks "absolutely nothing like Zelensky," according to Sardarizadeh.
"President Zelensky has a body double that looks absolutely nothing like him and walks right behind him in front of cameras," he wrote in a separate tweet to quell other claims floating around the internet, including from Twitter user The Poll Lady. "I've drawn red circles to make my point clear. I'm very smart and see right through things."
Weekly Belarusian newspaper Nasha Niva reported that prior to protecting Zelensky, Donets was a personal guard for oligarch Igor Kolomoisky. Donets entered the public spotlight when Zelensky began his election campaign, accompanying Zelensky starting about February 2019.
Donets, who reportedly has a wife, Natalya, and a son, Matvey, accompanied Zelensky and his family in Turkey in April 2019 and protected them from "annoying Russians," the publication wrote.
Upon Zelensky's election, Donets was made the head of his Security Service.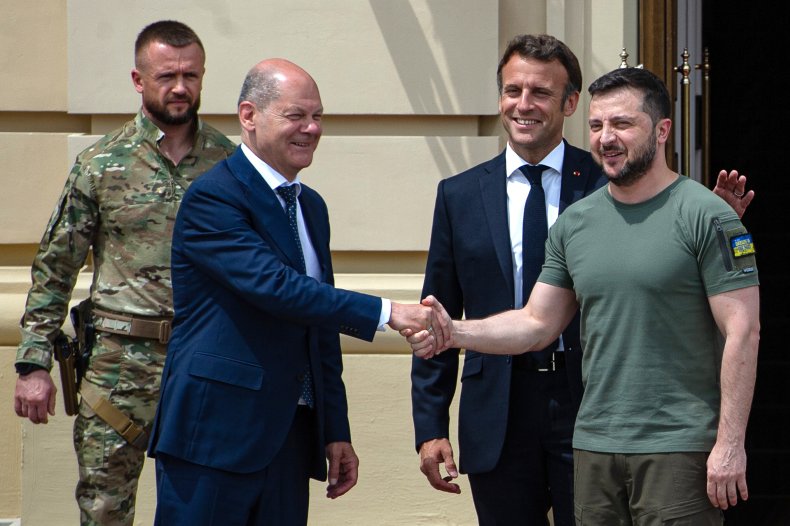 Sardarizadeh tweeted another image he referred to as "visibly doctored," showing two men alleged by some internet users to be Zelensky and his former adviser, Oleksiy Arestovych, in New York in 1999.
"You'd have thought this one was too obvious to spread, but such is the way of the world these days," he said.
In the past, there have been claims of body doubles associated with Russian President Vladimir Putin, who delivered his own speech last week to counter the narrative of the Biden-Zelensky meeting.
Reuters reported in February 2020 that Putin was asked by Russian state media outlet Tass whether he was "real," to which he replied in the affirmative. He also admitted that he had been offered the opportunity to use a body double for security purposes in public settings but declined.
"I declined these body doubles. This [the offer] was during the most difficult periods of the fight against terrorism," Putin said, referring to the early 2000s.
Zelensky has also been a frequent target of other misinformation, as Newsweek reported, including old videos being used out of context to imply there were mass protests in Ukraine.
In December, claims were made that Biden touched Zelensky's backside when the Ukrainian president visited Washington D.C. and took a picture with the president and First Lady Jill Biden. It was fact-checked by Newsweek and Reuters, among others, as an "altered image."
Similar past claims about Putin have been alleged by Ukrainian officials and others. Major General Kyrylo Budanov, the Ukrainian military intelligence chief, told the Daily Mail in October that that Putin uses at least three body doubles who have allegedly received cosmetic surgery to look like him.
Similar claims have been made by QAnon followers regarding former U.S. President Donald Trump.