Zelensky's Europe Tour Fuels Fake Protest Videos, 'Child Soldiers' Claims
A flood of misleading content, including miscontextualized videos and previously debunked claims, engulfed social media platforms in the wake of Ukraine President Volodymyr Zelensky's European trip.
As the Ukrainian leader met with allies in London, Paris and Brussels, urging them to provide more firepower to Ukraine, many of the fabrications were posted under the #ZelenskyWarCriminal umbrella, pushing the hashtag into Twitter trends.
While the posts echoed and amplified many of the familiar talking points and false narratives used by Russian state media and pro-Kremlin accounts, they were riddled with misleading, unevidenced content as well as outright disinformation that the platform failed to remove.
Newsweek Misinformation Watch reached out to Twitter for comment.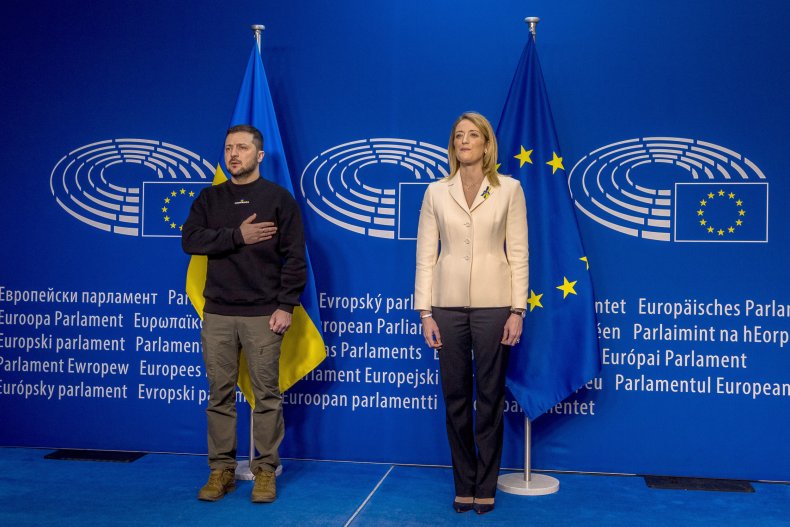 A video, clipped from TikTok and purportedly showing protests in Ukraine was shared by an unverified account "TheeGreatAwakening," with the caption "Hundreds of Thousands of #Ukrainian 's Demand #ZelenskyWarCriminal Step Down as President.."
The tweet so far received more than 170,000 views. However, as Newsweek was able to verify, the video is neither new nor is it from Ukraine.
There are a number of giveaways that the 26 second video, consisting of three separate clips spliced together with a caption "From morning to evening, hundreds of thousands of Ukrainians demand Zelensky step down as president," is taken out of context.
The Latin alphabet is clearly visible on a number of protest and street signs throughout the otherwise brief, grainy and low-fidelity footage. This already makes the videos unlikely to have been sourced from Ukraine, which uses the Cyrillic alphabet.
After studying some of the words partially visible on the banners, Newsweek found that the language is likely Slovakian. This narrowed the scope of the search significantly, and we were then able to find the provenance of the scenes depicted (if not the video itself).
The various elements of the video appear to have been taken from reports of the public demonstrations in Bratislava, the capital of Slovakia, where crowds gathered in March 2018 to protest and mourn the deaths of an investigative journalist and his wife.
Ján Kuciak, a journalist who was investigating alleged tax fraud involving businessmen connected to Slovakia's ruling party, and his fiancée Martina Kušnírová were discovered shot dead in their home in February 2018.
Thousands of protesters took to the streets in the ensuing weeks, eventually forcing then-prime minister Robert Fico to resign.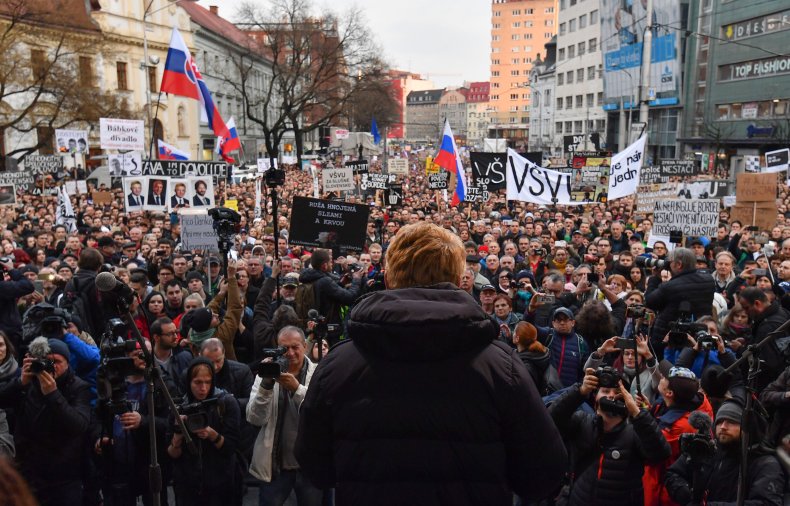 Shops seen at the 0:04 mark of the clip can be observed in other pieces of footage of the protests, including here and here (timestamp 0:35); the birds-eye view of the event matches that seen in the same RFERL footage of the Slovakian protest (timestamp 1:10).
Newsweek further geolocated the opening scenes in the video to the Námestie SNP square in central Bratislava.
While Newsweek cannot definitively attribute the video to any particular actor, it appears to have some telltale links to Russia.
The TikTok account that the watermark points to, an anonymous user with random letters used in the name, no longer exists, but Google cache shows the handle as "Serzant960," ("sergeant960" in Russian) which is tagged in a number of other anti-Ukrainian TikTok clips.
The original audio in the TikTok has been replaced with a music track, which is a remix of a song by Russian singer Yulana.
The Twitter account that shared the clip is likewise anonymous and unverified, but mentions sanctions against Russia in its bio, and its feed is filled with similarly misleading and propagandist content.
Newsweek could not find any reports of protests or demonstrations in Kyiv or other Ukrainian cities since the start of Russia's invasion, with local authorities urging people to stay inside amid almost daily shelling and barrage of missile strikes by Russian forces, including a series of attacks that hit multiple population centers this morning, Friday, February 10.
'Child Soldiers' Actually Women
Another prominent misinformation narrative that resurfaced on the back of Zelensky's trip revolved around claims that child soldiers have been used by Ukraine in the conflict.
"Fact: it's not Russia who's using Child Soldiers it's Ukraine," one tweet said, receiving more than 200,000 views since Thursday.
While most of the posts did not provide evidence for the claim, they appeared to hark back to a misinformation trope that first emerged in April 2022, and was then debunked by various outlets.
For example, a tweet purportedly by CNN's account appeared to suggest the network was reporting on underage troops fighting in Ukraine, but the post was revealed by a Reuters report to be a fabrication.
More recently, several photos and videos have been circulating online, purportedly showing children in camouflage fighting on the frontlines. However, as a France24 Observers investigation had established, the soldiers in the photos are in fact adult women, including a 23-year-old ambulance driver.
As the France 24 Observers fact check noted, recruiting children in the armed forces is against the law in Ukraine, and no studies have documented or even supported allegations that there are Ukrainian children serving on the front lines.
Newsweek has previously reported that visual content is a particularly potent misinformation tool in times of conflict, with a mistranslated clip of a Zelensky speech and miscontextualized footage of Abrams tanks among the more recent examples.
Newsweek reached out to the Armed Forces of Ukraine for comment.