Resurfaced Clip of Volodymyr Zelensky Dancing in High Heels Goes Viral
A video of Volodymyr Zelensky dancing in high heels while wearing a midriff-baring top has resurfaced online, with people widely praising the Ukrainian president.
The comedian-turned-politician has been catapulted into the international spotlight following Russia's invasion of Ukraine.
The 44-year-old hasn't had a traditional path to politics, with Zelensky previously an actor, who starred in a life-imitating-art comedy series about a teacher who becomes the country's president.
In his previous career in showbiz, the married father also voiced the character of Paddington Bear in the Ukrainian version of the film, while he also participated in his country's version of Dancing With The Stars in 2006—which he won.
But it's a video of him dancing in stilettos, while wearing a leatheresque ensemble and cropped bolera, which has caused a stir online after it resurfaced.
Zelensky, accompanied by three other men in similar attire, thrusts, twirls, and even does a headstand in the raunchy get-up. The others are thought to be fellow actors Yevgeniy Koshevoy, Stepan Kazanin and Alexander Pikalov.
The four-piece perform saucy moves in the black-and-white video, not dissimilar to Beyoncé's smash hit, "Single Ladies," released in 2009.
The spoof music video appears to have been released in 2014, with a title on a YouTube clip saying, translated to English: "Cossacks Made in Ukraine, a parody of 2014." It can be seen here.
In the video, the four men start off the routine in what appears to be traditional Cossack clothing, which they then rip off to reveal their sassy outfits.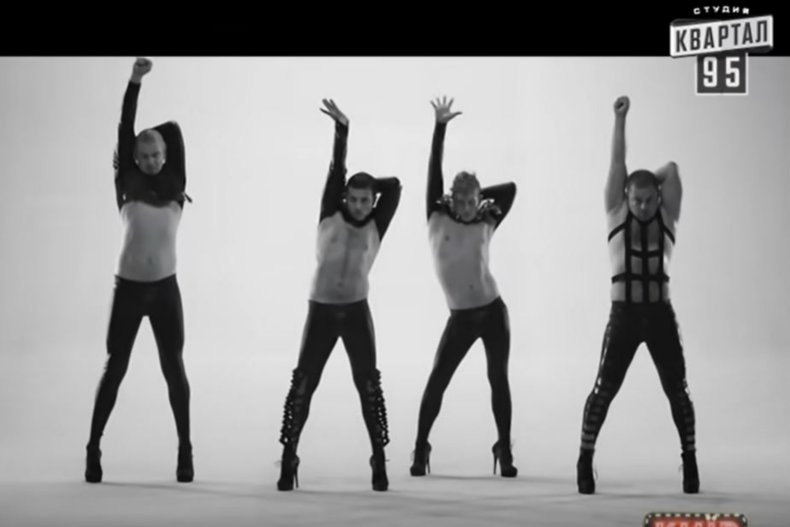 The Cossacks (from the Turkic "kazak," which means "adventurer" or "free man") began evolving in the 15th century in Ukraine's southern steppe frontier.
A clip of the video was shared to Reddit's Next F***ing Forum on Sunday, where it was captioned: "Volodymyr Zelensky (President of Ukraine) did a Beyoncé-style dance in leather pants and heels. This man is a legend and now he's fighting for his country." It was upvoted and liked more than 5,000 times.
A slice also made it into a longer video about the Ukrainian president, shared to TikTok by Krafnicak.
They posted a compilation of his recent news broadcasts, acting footage and Dancing with the Stars on Wednesday, which has been seen more than 4 million times, and can be watched here.
"With Zelenskiy reinventing it," they captioned the clip, which has received rave reviews.
Sushi Cat commented: "Putin has spent DECADES trying to craft his image & Zelenskyy used those heels to stomp all over it in a week. It must be killing Putin."
Emmawatkins2298 admitted: "Never thought I'd be in a timeline where we are all collectively thirsting over the Ukrainian president."
Cookiemunster wrote: "My bf (also Ukrainian) said he too has a small crush on him, and he is now on both of our 'free cheat list.'"
RORO raved: "He's funny, hot, can dance, understand politics and so much more. He's the whole package."
Melon asked: "... Why.. Why did he have to be secure in is sexuality, funny, brave and politically marvelous. I can never settle again."
James Nemo raved: "He literally is iconic for all these things shown here. What's nice is he refuses to believe he is. And hands that title over to the people of Ukraine."
"Now that's a leader," Erin Prescott observed.
Desperatemomontiktoc added: "He is everyone's president now."
It's thought the dancing video was part of Zelensky's Kvartal 95 Studio, owing to the logo in the corner.
The president co-founded the comedy team in 2003, and the website quotes Zelensky as saying: "Our ambitious objective, is to make the world a better place, a kinder and more joyful place with help of those tools that we have, that is humor and creativity.
"We are moving towards this goal, trying to conquer the whole world, of course."
According to Encyclopedia Britannica, in 1997, Zelensky's performance group, Kvartal 95—"Quarter 95," referring to the neighborhood in central Kryvyi Rih where he spent his childhood— appeared in the televised finals of KVN ("Klub vesyólykh i nakhódchivykh," which means "Club of the Funny and Inventive People") an improvisational comedy competition.
Zelensky and Kvartal 95 were regulars on the program until 2003.