Zelensky Delivers Blow to China's Russia-Ukraine Peace Plan
Ukrainian President Volodymyr Zelensky delivered a blow to China's plan to broker peace between Russia and Ukraine on Tuesday, just days before their war reached its one-year mark.
Chinese President Xi Jinping plans to deliver a "peace speech" before the United Nations on Friday—exactly one year after Russian President Vladimir Putin ordered the Ukraine invasion. During his speech, he is expected to propose a plan to reach peace between the two countries, which continue to fight for control over eastern Ukrainian territory.
Details about the plan from Xi, who has expressed sympathy for Russia amid widespread backlash over the war, remain limited, but it is the latest sign of China working to become a major diplomatic player, despite tense ties with other world powers including the United States.
However, Xi's plan appears to lack support from Zelensky.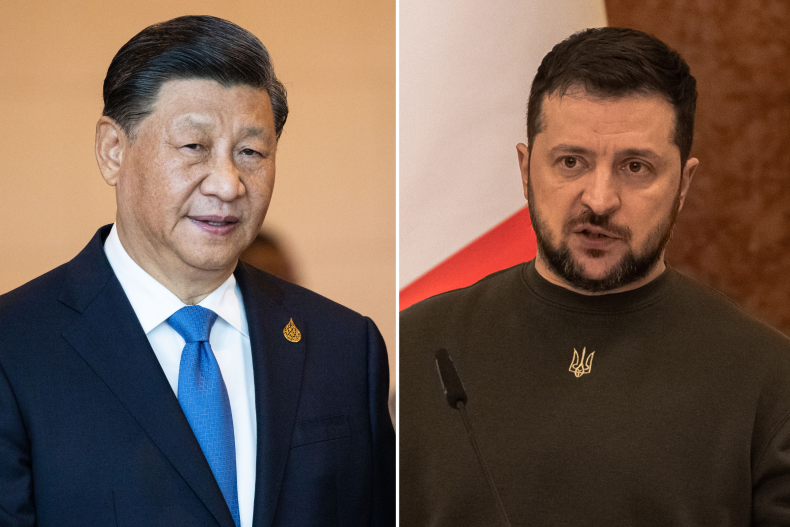 During a press conference on Tuesday, the Ukrainian president appeared to dismiss any potential peace plan from Xi, according to Ukrainian news outlet Ukrainska Pravda.
Instead, he pointed to his own peace plan, which the U.N. General Assembly is set Thursday to vote on.
"It seems to me that our document, our 'peace formula,' which has already been supported by a large number of states and we expect that they will support it on the 23rd, when there will be a meeting of the U.N. and a vote on the corresponding resolution," he said, adding that he believes it is important to "have one position" on the matter.
Ukraine Foreign Minister Dmytro Kuleba said during a Tuesday press conference that Zelensky's peace proposal "remains a top priority." He said top Chinese diplomat Wang Yi shared "some elements" of their plan with him, but that Ukraine has not yet seen the full plan.
How Do China, Ukraine's Peace Deals Differ?
Among the hallmarks of Zelensky's sweeping 10-point peace plan are the restoration of Ukraine's territory, the withdrawal of Russian troops from all of Ukraine and a special tribunal to prosecute Russian war crimes.
Zelensky's plan also includes measures to guarantee nuclear safety, ensure the export of Ukrainian grain, release all war prisoners, prevent ecocide and future conflict, and confirm the end of the war with a signed document.
China, on the other hand, has not publicly revealed its plan. Interfax Ukraine, citing Bloomberg, reported that Xi's plan could include a ceasefire. It could also include a stop on the Western supply of weapons to Ukraine that has bolstered defense efforts, which is not mentioned by Zelensky's plan.
Wang, addressing the Munich Security Conference, also noted the need to respect territorial integrity, according to The Guardian.
Russia has opposed Zelensky's plan, with Foreign Minister Sergey Lavrov in December rejecting the peace proposal based on conditions of troop withdrawal, reparations and an international tribunal.
Newsweek reached out to China's international press center for comment.