Zelensky Urges West To Pull Ukraine From 'Grey Zone'
Volodymyr Zelensky has urged the West to pull his country from the "grey area" between the European Union and Russia, at a democracy summit on Friday.
The Ukrainian president received a standing ovation as he appeared by video address at the Copenhagen Democracy Summit taking place this week in the Danish capital.
"Why are there still skeptical politicians who are hesitant whether Ukraine should be allowed to move to the European Union?" Zelensky asked, citing public support for Kyiv's membership ambitions.
"Why, if European core values imply that every nation is important and has to be equally respected, why have Ukrainian people been told for so long that they must still remain in this grey zone between the European Union and Russia?"
Zelensky's comments come shortly after the release of the Democracy Perception Index 2022, which showed broad public support across Europe and beyond for assisting Ukraine and cutting ties with Russia.
"Why, if Russia cynically violates literally all the key documents of international law, why are there still those who are hesitant whether to block any relations with such a state?" the Ukrainian leader asked. "Those questions indicate, in fact, that the European system might lose if words would not be backed with actions."
"We need to remove this grey area, which is so tempting for the Russian state," Zelensky added. "We need to move to action."
"When that happens, there will be no question of who's going to win," the president added.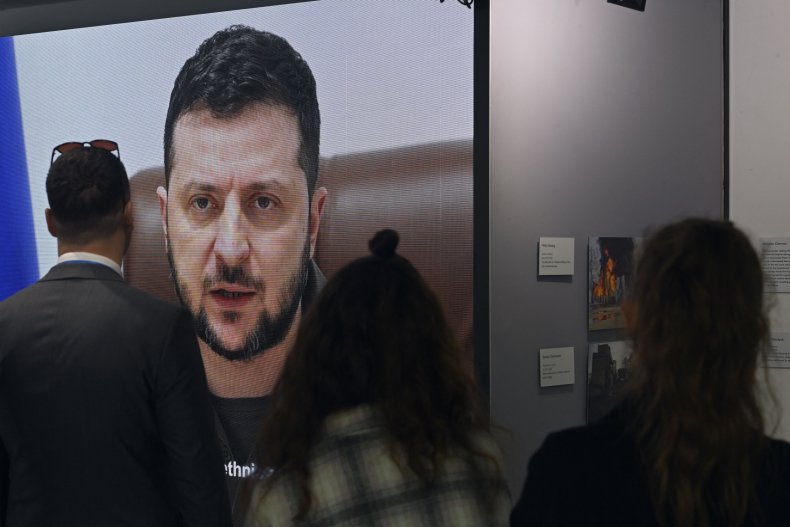 The European Commission—the EU's executive branch—is currently evaluating Ukraine's bid to join the bloc.
Later this month it is expected to give its verdict on whether Kyiv should be given candidate status; a key step on the path to full membership.
Member states—several of whom have been hesitant—will then have to decide whether to make Ukraine a candidate country.
European Parliament President Roberta Metsola spoke shortly after Zelensky's address. She told summit attendees that the parliament in Strasbourg "stands firmly behind Ukraine's bid to receive EU candidate status."
The bloc's parliament has been collectively supportive of Ukraine's EU ambitions, and has been driving European assistance to Kyiv since Russia's invasion began on February 24. But key EU member states have been less publicly committed.
French President Emmanuel Macron, for example, said last month it could take "decades" for Ukraine to achieve full membership. Macron proposed a new "European political community" through which Ukraine could build closer ties with the EU without full membership, though this proposal was not met with enthusiasm in Kyiv.
Italian Prime Minister Mario Draghi has even said that, with the exception of Rome, all major EU nations are opposed to candidate status for Ukraine.
"However, Ukraine's rapid move towards the EU cannot be ruled out," Draghi said in May. "And it seems to me that the European Commission also agrees with this view."
Zelensky on Friday said: "In the coming weeks and days, the European Union may take a historic step that will prove that words about the belonging of Ukrainian people to European faculty are not just words, and not empty words."