A doughnut shop based in Portland, Oregon, has found itself at the center of a 4chan-led conspiracy linking the establishment to Pizzagate-like allegations of child abuse.
A YouTube video promoting the claim, posted August 4, racked up nearly 80,000 views this week, fueling a wave of evidence-free hysteria on social media sites. Twitter hashtags included #DonutGate and #DoughnutGate. And some suggested that it had ties to the QAnon conspiracy theory.
YouTube channel Lift the Veil, which peddles false news, speculation and items of clothing, is spearheading criticism of the Voodoo Doughnut eatery. Host Nathan Stolpman this week posted an interview with a man called Michael Whelan, a so-called whistleblower.
Without presenting evidence, Whelan said that abuse by the shop's owners could also be linked to Pizzagate. He referenced Isaac Kappy, a conspiracy theorist who believes Hollywood actors have close links to pedophile rings. Whelan claimed to have insider knowledge of illegality.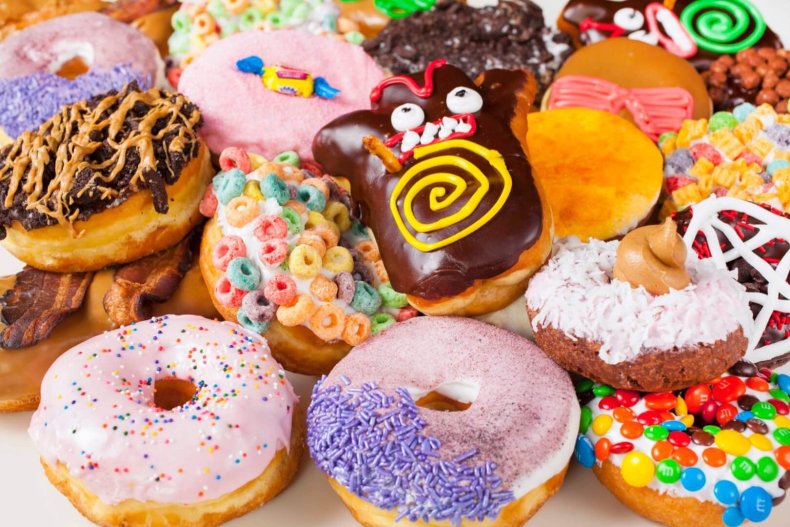 "I was eventually invited to a party at what was to later be understood was the owner of Voodoo Doughnut…and at this party there was abuse of children going on," Whelan said. "I was an eyewitness to children being taken back into areas that…areas where this was taking place."
The shop, which uses a voodoo doll doughnut as its main logo and once appeared on the popular Travel Channel show Man v. Food, did not immediately respond to a request for comment.
Stolpman claimed this week that the shop's logo contains a "known pedophile symbol." He has gone on to widen the story by linking it to actor Macaulay Culkin and neighboring restaurants.
In a Facebook review of the shop, published Monday, one woman's assessment stood out from the others. It claimed: "They abuse children. They are pedophiles. You guys can't hide from GOD."
A police spokesperson told Newsweek that local law enforcement was aware of the case. "Currently, the Police Bureau does not believe the information to be credible," he said.
As first reported by Media Matters for America, the hashtags are gaining traction online. Analysis suggests they had reached hundreds of thousands of Twitter users. On 4chan, the birthplace of many conspiracy theories, a campaign against Voodoo Doughnut is brewing, Media Matters said.
Hoaxes and false news stories can have real-world consequences. Pizzagate was a conspiracy theory that spewed from the dark corners of the internet in 2016. Briefly, it claimed that Hillary Clinton and other Democratic Party officials had ties to a child trafficking ring being managed from a Washington, D.C., restaurant called Comet Ping Pong.
In December that year, a man with a rifle entered the shop to investigate and fired three shots. Edgar Maddison. Welch, 28, who had been inspired by the online rumors, later told police he was there to rescue children.
Whelan, on his Twitter profile, is sticking to his story. "We're working on getting the rest of the information out, so far you've only gotten the tip of the iceberg," he wrote Monday. The same day, the tale was shared to a QAnon Reddit page, which claims to contain "disturbing evidence."
Included was a link to a rambling blog post. There was, of course, no evidence.