Vote-By-Mail Lawsuits Have Become 'Nuclear Arms Race' for Both Parties Ahead of 2020 Election
The coronavirus pandemic will change the way that the 2020 election is conducted and both Democrats and Republicans are fighting for a say in just how much.
"It's almost like a nuclear arms race in terms of ligation," Edward Foley, director of the election law program at Ohio State University, told Newsweek.
This year was already going to be a banner one for election-related lawsuits, but the coronavirus pandemic is "throwing the electoral process into turmoil not just for the primary season but also for states in November," Foley added.
Dozens of lawsuits dealing with vote-by-mail measures have popped up across the country since the COVID-19 outbreak became a global health crisis. Litigation has been filed in Arizona, Georgia, Michigan Nevada, Pennsylvania, Texas and South Carolina as Democrats and Republicans compete for control over how much states can change their voting rules in light of the pandemic.
The effort will cost both parties millions of dollars. The Republican National Committee announced in February they would spend at least $10 million to fight Democrats' election litigation. The Democratic National Committee hasn't put an exact price tag on the effort but has already deployed "voter protection directors" in 17 states to defend ballot access.
"The RNC is prepared to spend whatever amount of money is necessary to make sure that Democrats do not undermine the integrity of our elections," National Press Secretary Mandi Merritt told Newsweek in an email statement.
Merritt added that the RNC "will not stand idly by while Democrats try to throw election safeguards out the window and sue their way to victory in 2020."
The DNC has already filed 20 lawsuits in 14 states, according to lead attorney Marc Elias. Elias told NPR last week that the amount of election litigation could "easily double" before the end of the year.
"Trump and Republicans are engaging in these kinds of voter suppression tactics because they know their agenda, whether it's jeopardizing coverage protections for people with pre-existing conditions or losing jobs, is unpopular with Americans across the country. Democrats are fighting back and we will take all necessary steps we need to ensure that Americans can participate in our democracy. That includes everything from organization to education and advocacy and if need be litigation in the courts," David Bergstein, the DNC's battleground state communications director, told Newsweek.
The key cases to watch, according to experts, are the ones happening in 2020 swing states and where there was very little mail voting to begin with.
In Texas, the Democratic Party sued the state's Republican leadership to allow no-excuse absentee voting. Texas law required voters to provide an excuse, such as a disability or advanced age, in order to request an absentee ballot. Democrats won a ruling last week that said fear of coronavirus was a valid excuse for absentee voting. But that decision is likely to be appealed by GOP officials.
In South Carolina, the Democratic Congressional Campaign Committee has filed a lawsuit against the state election commission to allow residents to vote by mail-in elections for the rest of 2020. State law now allows all voters to request and cast absentee ballots but they must have a specific excuse that adheres to a set of established reasons for not being able to vote in-person on Election Day.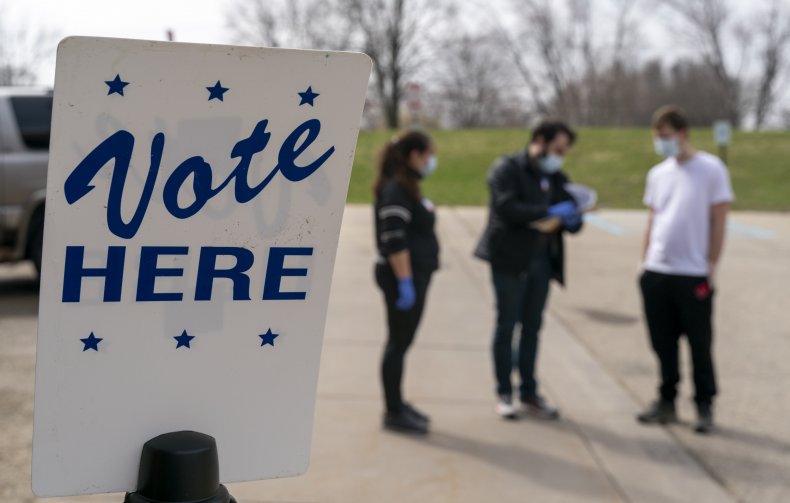 The wave of vote-by-mail litigation began after Wisconsin's disastrous primary election earlier this month. Residents were forced to vote in-person, despite the state's stay-at-home order, after the Supreme Court ruled at the final hour against extending the absentee voting deadline.
"One takeaway [from the Wisconsin election] is that unfortunately these issues are still seen as partisan and the 5-4 decision from the Supreme Court did not help the matter," said Joshua Douglas, a voting law expert from the University of Kentucky.
While both parties cite election security and integrity as reasons for their multi-million dollar efforts, experts point out that these lawsuits can also serve as a good opportunity to raise money in a contentious cycle.
"Frankly both parties fundraise off it," Foley said. "All the hyper-partisanship and polarization that you read about, that is fueling the intensity of these fights."
"What groups will do is say to supporters, 'Our ability to win this election is threatened by some action or inaction that the government is taking.' That's a way to generate energy among core supporters, even if the law doesn't successfully change," said Barry Burden, a professor of political science and director of the Elections Research Center at the University of Wisconsin-Madison.
"The parties are good at using these things strategically and this year the new item turns out to be voting by mail."