Police Investigate Voter Intimidation Over Armed Men 'Hired By Trump Campaign' At Florida Polling Station
Police are investigating possible voter intimidation in the battleground state of Florida after two men reportedly dressed as private security officers and claiming to be working for the Trump campaign set up a tent outside a polling station.
The Pinellas County Sheriff's Office launched the probe after the men—at least one of whom was armed—were reported to be stationed outside an early voting location in St Petersburg.
The pair, who had apparently erected a tent outside the 150 feet no soliciting zone, told police they worked for a private security company.
According to the Pinellas County Supervisor of Elections Julie Marcus, the pair also claimed they worked for the Trump campaign.
"These persons claimed or said that they were hired by the Trump campaign, again I'm not going to speculate," Marcus told ABC Action News. "This was a licensed security company and they were licensed security officers."
The men left the area due to poor weather conditions but said they would return on Thursday.
Marcus said: "I and the sheriff take voter intimidation very seriously. Any type of voter intimidation will not be tolerated.
"We're going to ensure that our voters feel safe going to vote and cast ballots in this election. There are very specific laws to prevent voter intimidation and it will not be tolerated. This is unacceptable. I have been here for 17 years and I have never seen this happen before."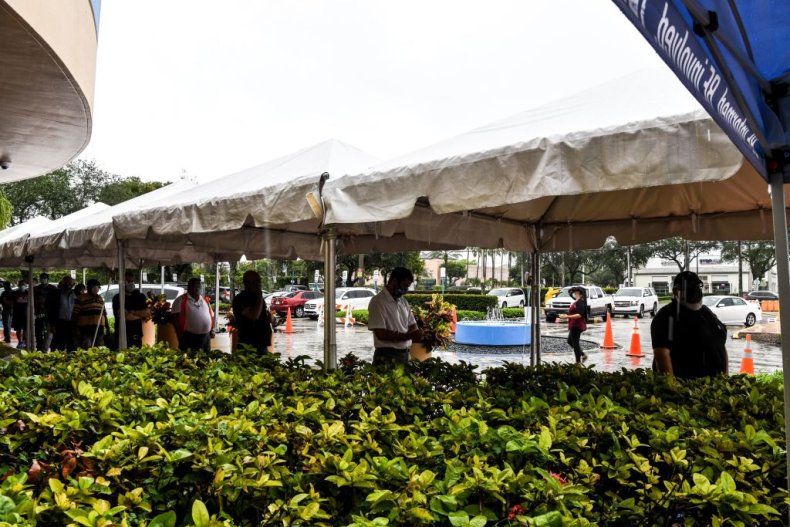 Thea McDonald, deputy national press secretary for the Trump campaign, distanced the president from the incident: "The campaign did not hire these individuals nor did the campaign direct them to go to the voting location."
During the first presidential debate, President Donald Trump urged his supporters to watch the voting stations "very carefully."
"I'm urging my supporters to go into the polls and watch very carefully because that's what has to happen. I am urging them to do it," Trump said during the September 29 event.
"Today there was a big problem. In Philadelphia, they went in to watch. They're called poll watchers, a very safe, very nice thing," he said. "They were thrown out. They weren't allowed to watch. You know why? Because bad things happen in Philadelphia."
In a statement on voter intimidation in Florida, the Joe Biden campaign said: "In the United States of America, we cannot and will not stand for any behavior that could intimidate voters from participating in our democracy. Our country stands for freedom, liberty, and democracy, and these scare tactics have no place in our state.
"It's clear that those running scared will try anything in the closing weeks of the election. There are no excuses for this behavior. We are committed to making sure every Floridian can vote and every vote is counted."