Voter Suppression: Bad for Democracy, Bad for Business, Bad for America | Opinion
Across the nation, state legislators have proposed over 300 bills to make it harder to vote. Republicans are driving these proposals, targeting voters who have voted for Democrats in the past. Sadly, voter suppression is not new in America. But it has not been quite this brazen in decades.
In Arizona, Republican legislators introduced nearly two dozen bills that, among other things, make it easier to throw registered voters off the voter rolls and restrict access to voting by mail—a program used by 80 percent of Arizona voters that has grown dramatically since it began more than 30 years ago. In Texas, Republican legislators proposed an overhaul of the way voters cast ballots in future elections, including limiting early voting hours, prohibiting drive-thru voting, and giving partisan poll watchers the ability to record voters at the polls, a classic tactic to intimidate voters. Georgia infamously moved to make it a crime to offer voters water or food while they wait in ever longer lines.
The justification for these measures rests on the Big Lie: the idea that widespread fraud kept Donald Trump from winning the 2020 election. By now, everybody knows and most acknowledge that that's false. Trump and his allies made over sixty attempts to prove the claim and could never produce any actual evidence. Trump administration officials themselves confirmed that 2020 was the cleanest election in history. The Big Lie is just that: a lie.
Yet Republicans press on. It's consistent with companion commitments to hyper-partisan gerrymandering, limitless dark money at all levels of our politics, and gimmicks like the filibuster to assure that Republicans can prevent action on a variety of measures that a majority of Americans (including their own voters) want.
Republicans are shredding any reputation America once had as a model democracy in the world. They don't seem to care. What they want is power, and they clearly do not believe they could win a fair fight.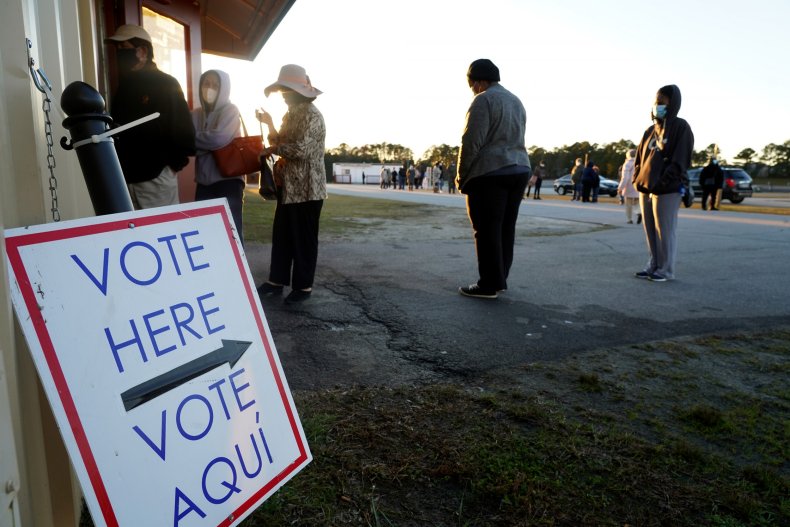 Another Republican fiction is that the GOP is good for business. Well, history shows otherwise. Economic expansion and job growth have been broader and fiscal stewardship more responsible under Democratic leaders than Republican ones, a truth Democrats rarely talk about. But it turns out that the undoing of democracy is not good for business either.
After Georgia's hastily enacted broadside on voting access, major Georgia-based companies like Delta Airlines and Coca-Cola have rightly spoken out against these efforts to disenfranchise voters of color. Even Major League Baseball moved the 2021 All-Star Game from Georgia in protest of this legislation. Some 400 business leaders and celebrities, lead by the former CEO of American Express and the CEO of Merck, have signed a statement of public objection to that measure and others like it. Faith leaders in Georgia and elsewhere are calling for boycotts of companies that remain neutral.
The retorts of Republican leaders are just crocodile tears. It's not "cancel culture" when the civic and business community object to Republican efforts to disenfranchise voters. After all, these are the same political leaders who spent decades insisting corporations have an absolute right to political speech— collecting millions in campaign contributions along the way. Now Republicans are threatening retribution against any company that dares to speak out against voter suppression.
That's not cancel culture. That's patriotism.
In a true democracy, the right to vote has nothing to do with who you vote for. Every American citizen of voting age has the constitutional right to vote and have their vote counted. Republican legislatures are on this tear because the Supreme Court gutted the mechanism that puts this kind of excess in check, naively presuming that no modern legislature would do precisely what so many are doing.
That's why Congress must act.
Passing H.R. 1, known as the For The People Act, would be an important step toward securing voting rights for all. The bill would establish automatic voter registration, guarantee same-day voter registration for federal elections, and require states to open early voting periods at least two weeks prior to an election. It would also end partisan gerrymandering and limit the corrosive influence of money in our politics.
Also pending in Congress is the John Lewis Voting Rights Advancement Act, the perfect companion to push us in the right direction nationally. This legislation, building on the landmark Voting Rights Act of 1965, requires state authorities with a history or pattern of voter suppression to get clearance from the federal government before changing state election laws. This would protect and defend the voting rights of every American, especially in Black and brown communities that are so often the targets of discriminatory voting laws.
Republican politicians clearly don't think they can win a fair fight. But the better course in a democracy is to offer better ideas, not rig the rules of the game. That's un-American, and Americans should put a decisive end to it.
Deval Patrick served as governor of Massachusetts from 2007-2015 and as the assistant attorney general for civil rights during the Clinton administration. He is now a Co-Chair of American Bridge 21st Century.
The views in this article are the writer's own.