The U.S. Capitol Police have confirmed to Newsweek that 29 people protesting in favor of voting rights legislation were arrested outside the Capitol on Tuesday for charges that will include crossing a police line and crowding, obstruction, or incommoding.
The protests who stood on the Capitol steps chanted phrases that included "go tell Sinema we shall not be moved," "go tell Manchin (we shall not be moved)," and "ain't gonna let McConnell turn me around," CNN Associate Producer Morgan Rimmer wrote on Twitter.
Rimmer tweeted that the protestors sang for roughly 10 minutes before receiving their first warning from Capitol Police. Over the following 20 minutes, the police gave two more warnings before beginning to arrest protesters, using zip ties to restrain them.
The protests came as Senate Majority Leader Chuck Schumer opened debate on the voting rights measures that include the Freedom to Vote Act and the John R. Lewis Voting Rights Advancement Act today (January 18). This is the first time the bills will be debated in the Senate.
Because the bill will likely be filibustered by Republicans, requiring 60 votes to pass, the likelihood of the bills passing rests on the Democratic majority to pass rules altering the filibuster. While both moderate Democratic Senators Joe Manchin and Kyrsten Sinema said they support the voting reforms, they oppose altering the filibuster.
In an address last Thursday, Sinema publicly declared her opposition in a speech before the Senate where she said that she could not support the measure that "worsen(s) the underlying disease of division infecting our country." Sinema has previously said that she wanted to work across the aisle to pass the legislation.
Her remarks were largely criticized by her Democratic colleagues who have argued that the issue of voting rights transcends other political issues in that it serves a vital role in "protecting democracy." Arizona Representative Ruben Gallego, who has been floated as a potential primary challenger for Sinema, spoke publicly in favor of the measure and urged Sinema to shift her stance.
"Today the House showed where it stands. We won't shrink from protecting our democracy and the voting rights of all Americans. It's past time for the U.S. Senate and Senator Sinema to do the same," Gallego said on Thursday.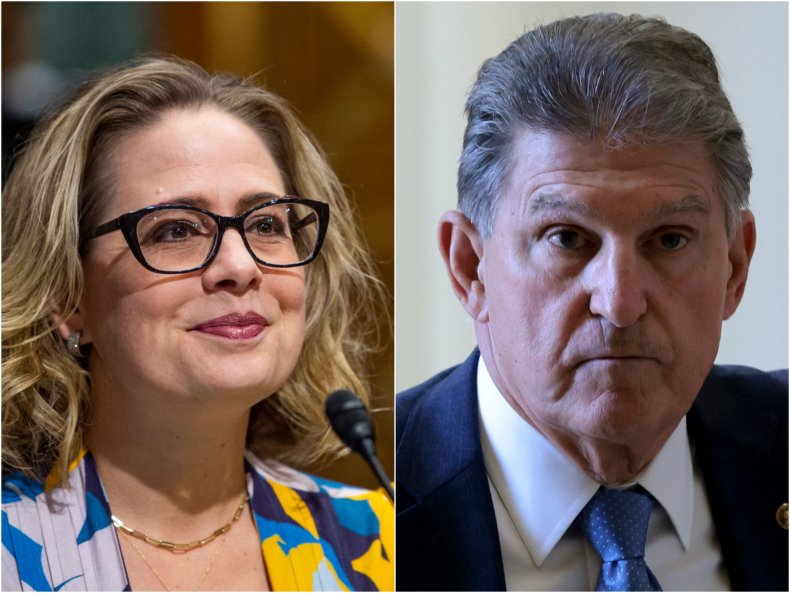 Other Democrats have also put pressure on Sinema and Manchin to shift their stance on the filibuster in order to pass the voting rights measures. President Joe Biden has hosted both lawmakers at the White House in an attempt to secure their support. And more recently, Senator Bernie Sanders of Vermont turned up the heat on Twitter, placing responsibility on his moderate colleagues.
"As the voting rights bill finally comes to the floor of the Senate, there is only one vote which will really matter. Will 50 Democrats vote to override the filibuster, protect American democracy and pass the bill, or will Manchin and Sinema vote with the GOP and let the bill die?" Sanders said in the tweet.