Waffle House Customer Cooks Own Food in Viral Video: 'Hilarious'
A viral TikTok video has wowed the internet after a customer revealed how she cooked her own food at a local Waffle House restaurant after two employees walked out.
Ashley Tha MC, a female rap artist from Texas, shared the video on TikTok under the handle theregobigmc. Posted on Tuesday, the video now has more than 147,000 views and thousands of likes.
It shows a Waffle House employee standing outside the restaurant when Ashley says he had quit and refused to make their food. It then shows footage inside the Waffle House kitchen, where Ashley and a friend proceeded to prepare their own meal.
Ashley, who also shared the video on her Instagram ashleythamc, told Newsweek: "I arrived at Waffle House around midnight after a concert to grab some food, two workers were outside arguing and told us they were not serving anybody else and they were waiting on their rides to come to leave.
"I asked the man if I could cook my own food and leave my money on the counter and he said sure."
Waffle House has 2,100 restaurants in 25 states in the U.S., mostly in the South where the chain has been a longstanding cultural icon since it was founded in 1955.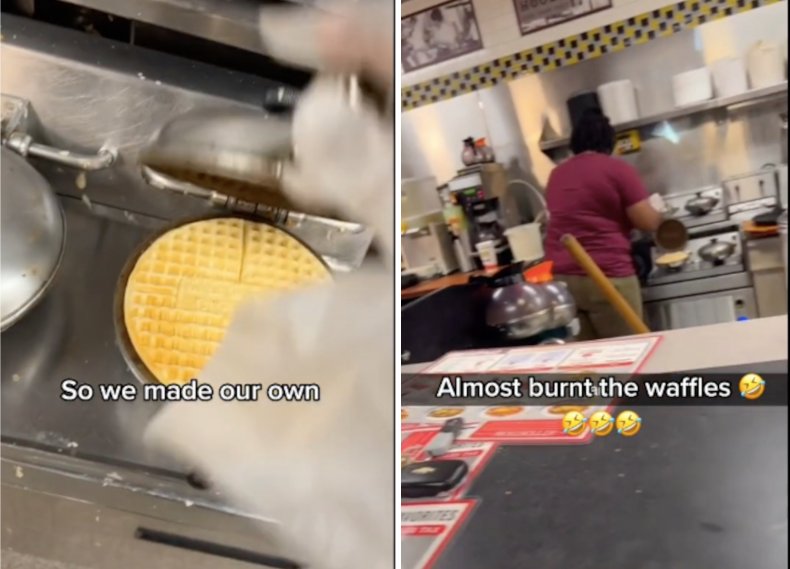 It's not the first time a customer has taken matters into their own hands in a Waffle House restaurant. In 2017 ABC News reported on a man who grilled his own sandwich after finding his local restaurant empty. In another viral TikTok video in January, a short-staffed Waffle House encouraged customers to make their own food because there were no staff available who were trained to use the grill.
Viewers of the latest viral TikTok video were left in stitches at the events. One commenter joked: "Waffle House should just rent out the kitchen… people [are] always fixing their own food."
Another TikToker wrote: "This is absolutely hilarious," and one said: "I've been to Waffle House so much I am confident enough to say I could cook my food if needed."
Later in the video, Ashley showed the results of her DIY cooking. One commenter asked: "Y'all paid for the food? Or was it on the house?,"and Ashley confirmed that the food was free.
Ashley is still a big fan of Waffle House and said: "I truly enjoy Waffle House and I don't want to discredit anything from them, I just wanted to share my story 'cause I never had anything like this happen to me."
Last year, another viral video filmed in a Waffle House sparked debate after an employee was seen apparently prepping 12 orders at once alone in the restaurant. The footage caused commenters to say that the worker was "truly amazing." In a later statement, Waffle House said: "We have investigated the TikTok video and have determined that the media portrayals and social media posts are not accurate."
Newsweek has reached out to Waffle House for comment.