Watch TikTokker TooTurntTony Burst in Sister's Room With Student Loan Cash
TikTokker TooTurntTony is going viral again—this time for a video where he barges into his sister's room and throws a bag of cash at her to pay her student loans.
The video was posted Tuesday, and has gone viral on both TikTok and Twitter. On Twitter, it's been seen over 1.1 million times, which is an impressive number dwarfed by the 24.6 million times it's been viewed on its native platform.
In the clip, Tony sits in his car with his pet duck, explaining that his first paycheck from OnlyFans had come in, and he was going to use $20,000 of it to pay off his sister's student loans.
What initially seems like it's going to be a nice, quiet clip then sees Tony and his duck walk up to his parents' house and kick open the door.
"Anthony, you're gonna break my f**king door!" his mom shouts as, undeterred, he takes his bag of cash and walks down the hall to his sister's room. He then kicks in his sister's bedroom door, lifts the bag over his head, and throws it directly at her.
"Oh my god! Oh my god! Ow! Oh my god," his sister Maria, who is on TikTok as @toomuchmariaaa, says as he chucks the money at her. "What is all this?"
"That is your student loans," Tony says, "Paid in full by my penis."
The video then cuts to Maria hugging him with tears in her eyes.
"It's really weird, but thank you," she says, trying not to cry.
The video cuts again to Tony on his parents' couch while his mom yells at him.
"Bless you for what you did for your sister, but did you ever think you should take that f**king money and buy your own f**king house!" she screams.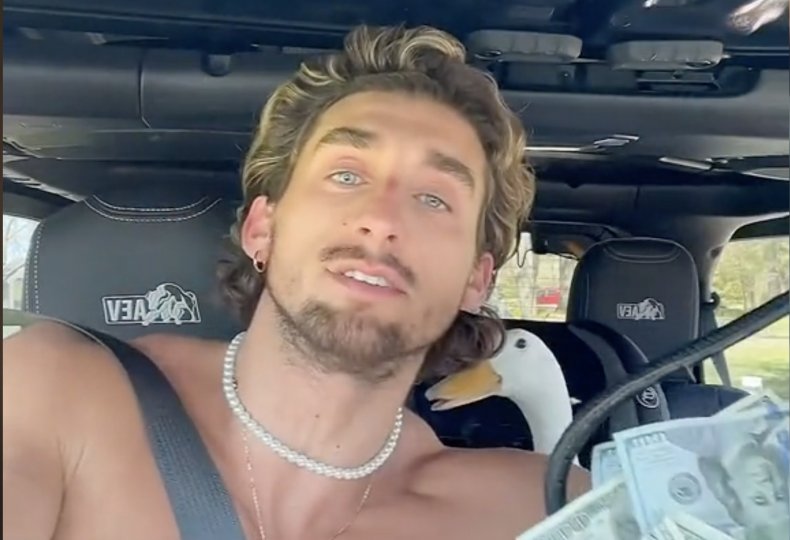 Maria posted her own video about the situation, where she jokingly dries her eyes with the money. The video is captioned on-screen "my big brother paid off my student loan."
"all jokes aside .. feeling extremely blessed," she wrote in the caption.
"With the TikTok algorithm, we really never can predict how viral a video will go so we are always trying out new video formats. My sister, creator/camera girl @toomuchmariaaa, mentioned she had some student loans so I thought to myself, I would like to give back, using the funds from my OnlyFans page, and make a video about it," TooTurntTony told Newsweek.
"We had no idea that the video would go so viral across all platforms including the front page of Reddit and Twitter and get reposted by some of the biggest meme pages in the world. Posting day was the most successful day we have had in history in terms of follower growth, OnlyFans revenue, as well as link clicks. The power of TikTok, when the algorithm plays nice, is incredible," he added.
The high cost of college has been on many people's minds since it became a talking point during the 2020 election. Candidates like Senator Bernie Sanders (I-Vt.) and Senator Elizabeth Warren (D-Mass.) made the canceling of student debt part of their platforms. Calls to forgive student loan debt only increased during the ongoing COVID-19 pandemic, when Congress put a pause on requiring repayment of loans as part of the CARES Act.
President Joe Biden has been put under increasing pressure to cancel some amount of student loan debt. While activists urge the president to follow up on Warren's promise of a $50,000 cancellation of all student debt, last month, Biden canceled the debt of 40,000 borrowers, and has pledged his support to cancel up to $10,000 of federal student debt per person. His administration has said he's considering a larger decision on debt cancellation late this summer.
Canceling student loan debt is a popular stance among voters, with a May 2022 poll finding that a 57 percent of voters who didn't go to college support the cancellation of at least "some" debt, with 23 percent wanting all debt canceled. Of voters who did go to college, 63 percent support the cancellation of at least "some" debt, and 24 percent want the cancellation of all debt.
"Student loans were never meant to be a life sentence, but it's certainly felt that way for borrowers locked out of debt relief they're eligible for, U.S. Secretary of Education Miguel Cardona said in an April statement.
TooTurntTony's fans were also invited to partake in the windfall. The TikTokker asked people to "drop the venmo" in the comments, asking for their account information, because "you know I got some left over for the squad".
Other fans praised the video.
"if my mom told me to buy my own house, I would just buy the one next door, or hers," @kassidylynn31 wrote.
"Man what you do is amazing . Having fun while changing lives. Keep on keeping on bro," @matty_iceee55 wrote.
"Bank doesn't care where it comes from so why should anyone else," @steveo414 wrote.
"Is no one else not curious about the fowl in their yard!?!?" @lauramckenziereil wrote.
Update 5/13/2022, 4:45 p.m.: This article has been updated to include comment from TooTurntTony and a screenshot from the video, used with permission.