FEMA 'Waffle House Index': What the Closure of Waffle House Says About COVID-19 Response
Waffle House is closing 418 of its locations due to the coronavirus outbreak which, according to an informal metric known as the Waffle House Index, reflects the severity of this pandemic and the impact it will have on local communities.
The Federal Emergency Management Agency (FEMA) reportedly uses the "Waffle House Index" to determine the effect of a disaster, such as a hurricane, or in this case, a pandemic. The theory is that if the Waffle House Index is green, the restaurant is serving a full menu and there is only limited damage to the area, but yellow means Waffle House is serving a limited menu, which could be due to having to use power from a generator or low food supplies because of a localized disaster.
When the Waffle House Index is red, the restaurant is closed, suggesting that the area has been affected by severe damage or unsafe conditions requiring immediate assistance.
FEMA Administrator Craig Fugate, who coined the term and index, explained to Newsweek in 2018, "If you got to an area and the Waffle House is open but there's a limited menu, you knew you had power outages that were compromising freezers. If you got to areas where the Waffle House was closed, that's not a good sign. That's probably a place you need to start going to work."
FEMA reportedly uses this metric as Waffle House has a reputation for good disaster preparedness and is known for staying open during extreme weather or reopening quickly after a storm or a hurricane. Waffle House even has alternate menus for when they have no gas or no electricity.
For example, during Hurricane Irene, Waffle House lost power at 22 of its restaurants in North Carolina, Virginia, Maryland, and Delaware, and all but one restaurant opened within days of the disaster.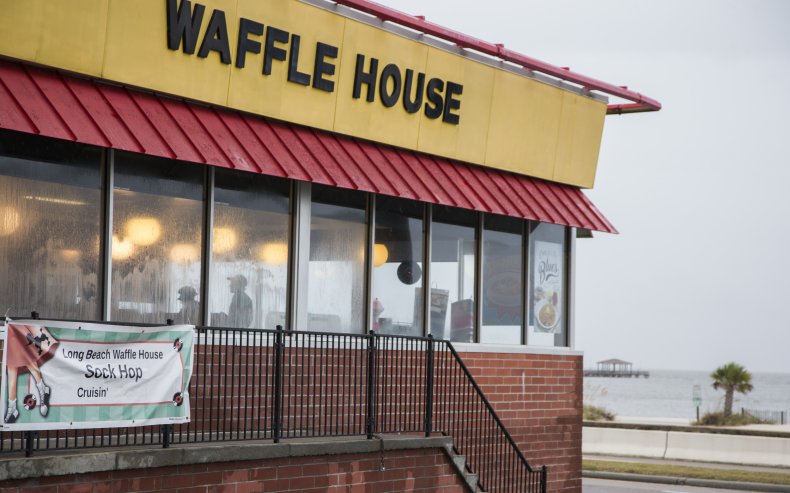 Panos Kouvelis, a professor at Olin Business School, explained to EHS Today, that Waffle House knows "immediately which stores are going to be affected and they call their employees to know who can show up and who cannot.
"They have temporary warehouses where they can store food and most importantly, they know they can operate without a full menu. This is a great example of a company that has learned from the past and developed an excellent emergency plan."
Not only does a Waffle House closure reflect how severe a situation is, but according to FEMA, a restaurant like Waffle House being able to re-open after a disaster also indicates how the wider community is doing.
In a blog post, Dan Stoneking, Director of External Affairs at FEMA, wrote, "The sooner restaurants, grocery and corner stores, or banks can re-open, the sooner local economies will start generating revenue again — signaling a stronger recovery for that community.
"The success of the private sector in preparing for and weathering disasters is essential to a community's ability to recover in the long run."
Waffle House had been planning to stay open, according to social media posts from the past couple of weeks. In a Facebook post from March 15, Waffle House said, "At Waffle House, we take great pride in being open to serve the communities where we work, live and raise our families. Our mission has been to provide an essential service in our communities during difficult times for all, including first responders and health care providers."
Then, on March 18, Waffle House posted: "All Waffle House restaurants are open right now, at least for to-go orders. Our Associates are the true heroes during this time and appreciate any order you are able place with them!"
However, on March 24, Waffle House announced that it would close 365 stores, with 1,627 remaining open. The restaurant shared the news with the caption: "Waffle House Index Red." Today, March 25, that number increased to 418 closed stores, with 1,574 open remaining open.
Multiple states have issued shelter in place orders over the past week, meaning that people should stay inside their homes at all times, except to go grocery shopping or collect medical supplies. Restaurants and bars are closed for dine-in customers, but they can stay open for pick-up and delivery orders, which Waffle House had been doing across all its stores.
However, if Waffle House is closing restaurants to prevent or delay the spread of the coronavirus, according to the Waffle House Index, the closures reflect the severity of the situation and the impact the pandemic could have on local communities.
Waffle House told Newsweek, "During significant weather events such as hurricanes, we have used a systematic approach of utilizing our available resources to help recovering communities get back to normal as quickly as possible. Out of that approach, a measuring criterion known as the Waffle House Index has been born.
"The Index typically has been used to gauge the level of impact to the communities affected by natural disasters or storms. Never has the Waffle House Index been used to track the effects of an event that was not weather-related, until now.
"This week, we posted information on the number of Waffle House closures related to COVID-19. We
referred to the Index as a way to help people understand how big of an impact this virus has had on the
restaurant industry. The reference to 'Code Red' also highlights the tremendous impacts that are being
felt by many of our Associates and their families."
A spokesperson for FEMA told Newsweek the agency's National Response Coordination Center was activated to its highest levels, enabling close coordination with federal and non-governmental partners.
This article has been updated with a comment from Waffle House.
World Health Organization advice for avoiding spread of coronavirus disease (COVID-19)
Hygiene advice
Clean hands frequently with soap and water, or alcohol-based hand rub.
Wash hands after coughing or sneezing; when caring for the sick; before; during and after food preparation; before eating; after using the toilet; when hands are visibly dirty; and after handling animals or waste.
Maintain at least 1 meter (3 feet) distance from anyone who is coughing or sneezing.Avoid touching your hands, nose and mouth. Do not spit in public.
Cover your mouth and nose with a tissue or bent elbow when coughing or sneezing. Discard the tissue immediately and clean your hands.
Medical advice
If you feel unwell (fever, cough, difficulty breathing) seek medical care early and call local health authorities in advance.
Stay up to date on COVID-19 developments issued by health authorities and follow their guidance.
Mask usage
Healthy individuals only need to wear a mask if taking care of a sick person.
Wear a mask if you are coughing or sneezing. Masks are effective when used in combination with frequent hand cleaning.
Do not touch the mask while wearing it. Clean hands if you touch the mask.
Learn how to properly put on, remove and dispose of masks. Clean hands after disposing of the mask.
Do not reuse single-use masks.