Waffle House Shooting Sees Multiple Teens Gunned Down After Fight: Police
Multiple teenagers were shot outside of a Waffle House Saturday night, according to local police.
A fight broke out just outside of the diner in downtown Atlanta—near Centennial Olympic Park—at about 10 p.m. At some point during the altercation, somebody fired shots, striking five teenagers, according to local news station WSB-TV. The victims' ages ranged from 15 years old to 19 years old.
All suffered from non-life threatening injuries and were in stable condition, according to police.
When police arrived at the scene, they initially found three of the victims, and later learned that two other victims allegedly carjacked a valet vehicle at gunpoint to take themselves to nearby Grady Hospital, local station WGCL reported.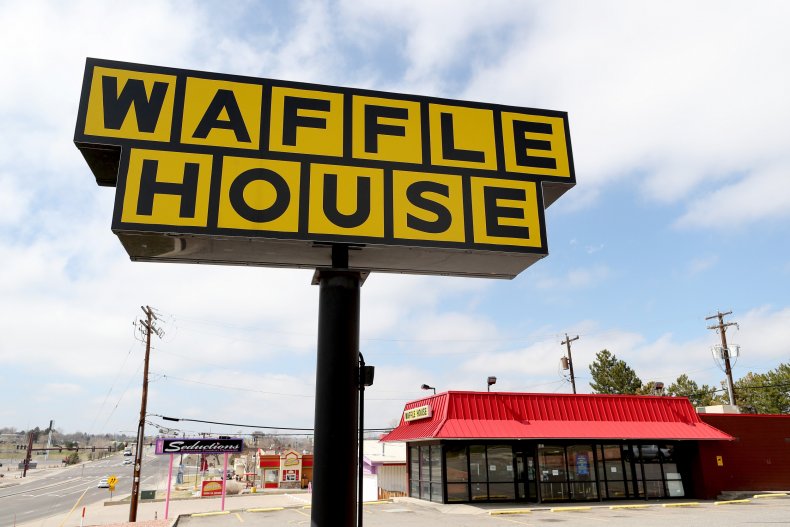 Police recovered three guns and the stolen vehicle during their investigation, which remains ongoing.
Several details about the shooting remained unclear Sunday morning. Police are yet to publicly announce any suspects in the shooting, as well as a motive or what prompted the altercation. They also received multiple 911 calls about several juveniles on scooters, who could have been involved with the shooting, WGCL reported.
Atlanta Police Deputy Chief Timothy Peek told WGCL that it would be part of the investigation, adding: "There were a number of scooters that were on scene when we got here. Now, how they got here and who was using them, we'll have to figure that piece out."
"What we'll say is that the investigators are certainly still working in turning over every leaf to determine what happened," the deputy chief added. "All individuals thus far have been identified. Of course, based off the area surveillance, we will look to see who else we can identify that may have had some involvement with this shooting."
It's the latest instance of a shooting occurring at a popular restaurant.
Last Sunday, a man was fatally shot in the parking lot of a Denny's restaurant in Houston following a fight with his ex-girlfriend's current boyfriend. The argument began inside the restaurant, prompting the manager to call the police. It eventually spilled over into the parking lot, where it eventually escalated into a shooting.
On Thursday, a Jack in the Box employee in Houston was shot in a dispute with a customer over sauce. The customer, who has not been identified, pulled into the drive-thru and asked for more buttermilk. When he was told it would come with a surcharge, an argument ensued. The customer pulled up to the front of the restaurant and argued with an off-duty employee, who tried to cross the street to get away. However, the customer allegedly shot him in the hand.
Newsweek reached out to Waffle House for comment.