Denny's Shooting Sees Woman's Current Boyfriend Kill Ex on Easter: Police
A man allegedly shot and killed his girlfriend's ex-boyfriend in a Denny's parking lot in Houston, Texas, on Easter Sunday.
The fatal shooting occurred at about 1 a.m., local television news station KPRC-TV reported. Police told the news station that the woman and her ex-boyfriend walked into the Denny's when an argument began, which prompted the restaurant manager to call the police. It was not immediately clear what the argument was about.
The woman left the building and her ex-boyfriend followed her, the news station reported. At that point, her current boyfriend showed up to the restaurant when all three began to argue.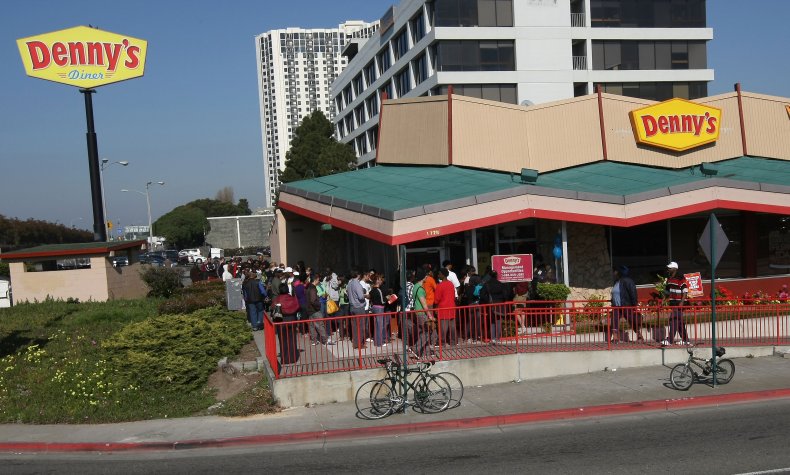 The boyfriend then pulled out a gun and shot the ex-boyfriend once, KPRC reported. He died at the scene and police detained the boyfriend to question him. The woman was not injured in the incident.
The victim was in his 20s, KHOU-TV reported. No one involved in the shooting has been identified by early Sunday afternoon as the shooting still remains under investigation.
No further details about the shooting were immediately made available and it remains unclear which charges, if any, are being filed.
Newsweek reached out to the Houston Police Department and Denny's for comment.
The fatal incident was not the only violent shooting to a rattle a community during the Easter weekend.
Hours earlier in Houston, a man was shot in the leg near a Shake Shack restaurant inside The Galleria mall—located west of where the Denny's shooting took place. However, the victim is expected to recover, KPRC reported.
In Pittsburgh, Pennsylvania, two people, who were juveniles, were killed and several others were injured in a shooting during a party at a short-term rental property, according to police. In total, at least 11 people suffered gunshot wounds. Partygoers tried to escape the shooting by jumping out of windows. More than 200 people were inside at the time.
Meanwhile, multiple people suffered injuries during a shooting at the Columbiana Centre mall in Columbia, South Carolina, on Saturday. In total, 14 people suffered injuries, with at least 10 of whom suffered gunshot wounds. Two of the victims were in critical, but stable, condition. A 22-year-old man named Jewayne M. Price was arrested for the shooting and is expected to be charged with unlawful carrying of a pistol, police announced.