'Waffles + Mochi' Creators Can't Believe They Got Michelle Obama to Star, Either
Is a tomato a fruit or a vegetable? It's a complicated question that has puzzled many. And it's also a question that Waffles and Mochi will try to get to the bottom of—that is, once they find their way out of the land of frozen food.
Newly available on Netflix, the food-friendly children's series Waffles + Mochi follows the adorable titular puppets on their journey beyond the frozen food aisle of the grocery store and into the real world. Out there, they learn about the things we eat with the help of the grocery store's gardener, Mrs. O—played by none other than former first lady Michelle Obama, who also serves as a series producer through her and President Barack Obama's production company, Higher Ground.
It might feel a little surreal to see Michelle Obama sharing the joys of food with puppets on a Netflix show, but her work on the series isn't all that far-fetched. After all, she did develop a garden with more than 50 types of vegetables on the White House's South Lawn in 2009. And during her eight years as the first lady, she initiated a number of campaigns promoting food advocacy, healthy eating and physical wellness for kids. She even championed the Healthy, Hunger-Free Kids Act, aimed at improving the nutritional value of food served as school lunches, which was eventually signed into law by her husband in 2010.
"Mrs. Obama is an icon and a leader in this space with all her work in terms of health and food accessibility and making sure that kids all across America are eating the best foods that they can have at school and other places on their plates. So [her addition on the cast] really is a match made in heaven," Erika Thormahlen, one of the show's creators and producers, told Newsweek during a recent phone interview.
Co-created by Thormahlen and Jeremy Konner, Waffles + Mochi is an educational series at its core, but through the puppets' explorations and adventures, kid viewers get a chance to learn about food beyond just talking about what's healthy to eat and what's not. The puppets travel the world to experience the way that other cultures enjoy foods that are common to them. They visit farms and restaurants, pick potatoes in the Andes and sip Miso in Japan, and they even get to cook with a few highly reputable chefs.
On the first episode of the show, José Andrés, a renowned Spanish chef who is also the founder of the food relief nonprofit World Central Kitchen, gives Waffles and Mochi a first-class lesson on all things gazpacho. Later in the season, famous friends like Rashida Jones, Common, Lionel Richie and Jack Black help the puppets discover the origins of everyday foods like rice, salt and mushrooms.
For details on how they first came up with inspiration for the show, how Michelle Obama got involved and talk of tomatoes, read Newsweek's interview with Konner and Thormahlen below.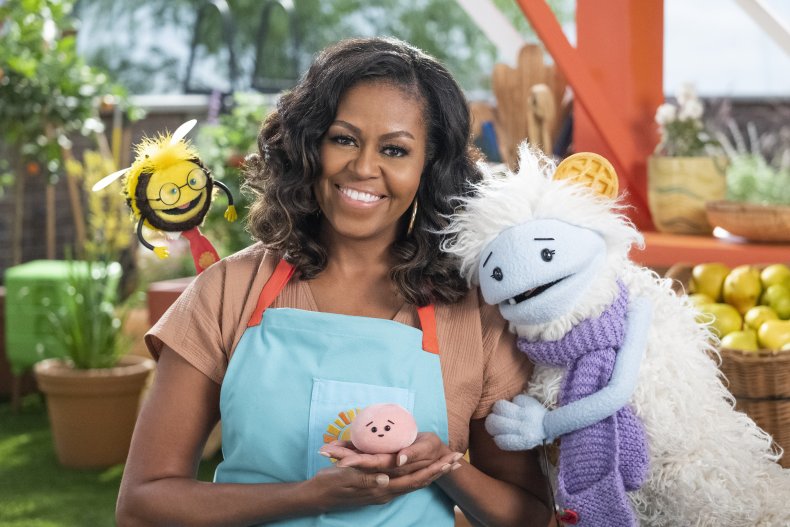 When did you guys start working on the show?
Erika Thormahlen: Waffles + Mochi has been in the works for two years, but Jeremy and I started working on a prototype of this concept over 15 years ago. So it's really just been cooking a long time.
Was the show always focused on food and nutrition?
Thormahlen: The version we did a long, long, long time ago was puppets in a kitchen, kind of blending that vintage Sesame Street, Pee-wee's Playhouse vibe with what was really popular at the time, which was Food Network cooking shows. That idea did not go anywhere because people weren't ready to see kids in the kitchen. But Jeremy and I kept in touch over the last decade-plus.
Jeremy Konner: We ran into each other at a restaurant in Los Feliz, and I had a toddler. I jokingly said, "Oh gosh, I wish that show existed now. It would really help my kid be less of a picky eater. He won't eat a tomato. If I had this show I could probably get him to eat a tomato." And we decided to explore it because since we made our first thing, there's been a huge jump in food entertainment. There Chef's Table and Salt, Fat, Acid, Heat, Ugly Delicious and all these other shows that have come out in the world. These are shows that I love—that we both love. These are shows that we watch for our entertainment, and so we thought if there was something like this for kids, we could get them as excited about food as we are.
So, basically, you guys were just trying to find a fun and interesting way to convince your kids to try new foods?
Konner: Yeah, exactly. One of the core tenants of our show is that we never talk about health. We never talk about what's good for you or what's bad for you. We don't talk about the vitamin content of food, because that's not how we experience food. I don't eat a piece of broccoli because it's good for me, I eat a piece of broccoli because it's good. We want kids to start developing a similar relationship with food like what we have and kids in other parts of the world have. It is something that's started in America and has been bleeding out all over the world, but people have really gotten obsessed with foods that are good for you and bad for you, and I think that's a weird thing to do to kids' brains. I think we should just get kids excited about food and the health aspect of it will follow.
When I was a kid, my mother couldn't pay me to eat tomatoes, but I've always loved tomato soup. I wonder what my relationship with tomatoes would have been like if I had known about gazpacho.
Konner: Exactly, and we're hoping that the kids can watch our show and go to their parents and say, "Hey, I want to try gazpacho." We want our show to feel like there's a little bit of a rebellious feel to eating all this great food.
Is there something that parents and adults can learn from watching this show with the kids in their lives?
Thormahlen: That's something that we got really excited about—building a show that works for new palates, for kids that don't know anything about the food on their plate and even hopefully surprising people who know a lot about food. I don't know how many times I've heard a person say they didn't know a tomato was a fruit because the seeds are on the inside. So Jeremy and I, from the start, always wanted to bake in mind-blowing concepts about food that will hopefully excite any audience, including grownups.
How did Michelle Obama get involved in the show?
Konner: We were separately writing a pitch of this show, collecting inspiration. There was no deadline, there was no pressure to do this. No one was asking us to create this. We were just doing this for fun. And because we were just doing this for fun, we were trying to envision the craziest, biggest, wildest show we could think of. There was nothing holding us back. And we didn't really expect this to go anywhere, even though we fell in love with it. We thought this would be amazing if it existed, but we knew it was pretty weird.
We sent this pitch deck out to a number of production companies and producers and heard crickets from everyone. No one passed. They just didn't call us back. One day, I looked at the trades and saw that a woman I knew from years ago, Priya Swaminathan, had been tapped to run the Obamas production company, Higher Ground. Mrs. Obama was always somebody that we envisioned being a guest on our show—we never imagined she would produce it, and we definitely didn't think she would star in it. But I saw Priya had been tapped to run it and I texted Erika to ask if we should send it to Higher Ground.
Thormahlen: It was one of those moonshot things where you're just thinking this is totally out of the realm of possibility, and then Priya called.
Konner: It was literally 24 hours later. Priya called and said, "We think this would be perfect." And then we met her a week later and she said, "The Obamas are in love with this. This is exactly what Michelle wants to be doing." And we are going to be the first show that Higher Ground is going to be putting out into the world.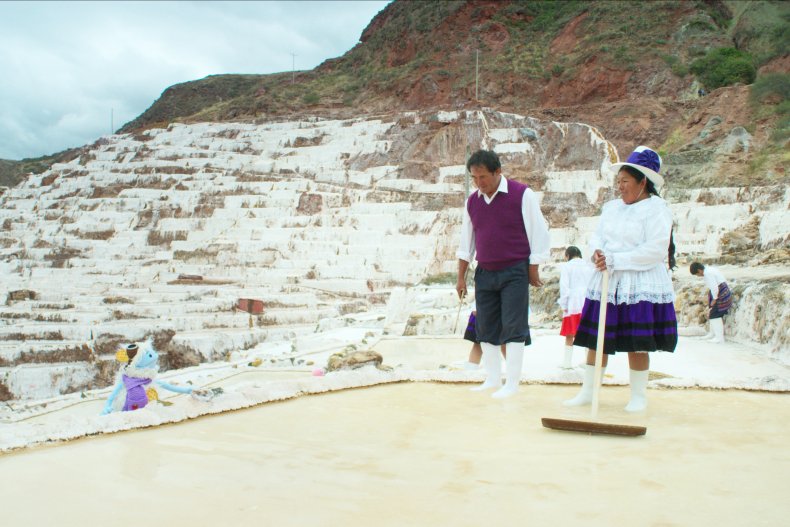 How did you land on the puppeteers for the show?
Konner: I had only worked with one puppeteer ever, and that was Michelle Zamora from [the puppet shop] Viva La Puppet. She is now the star and plays Waffles. She is somebody who has worked with every comedy person in Los Angeles. She's done a lot of cool, funky, different work. She did Black Lady Sketch Show and Garfunkel and Oates, and she was the first person we called when we sold the show. We built on that and hired a [puppet] company called Swazzle. We hired Russ Walko to do Mochi. We needed the best people in puppetry to come into this. We wanted people who would be down to get dirty, figuratively and literally, because we were traveling around the world. We were on the side of a mountain in Peru. We're in kitchens in restaurants. We're doing crazy, different stuff and we needed people who were going to get so excited about that and were going to just push puppetry in places it had never gone.
Filming puppets in restaurant kitchens sounds like a difficult shoot.
Thormahlen: We were the biggest fans and also the most naive fans of puppetry. We knew nothing. It's a crazy thing to travel puppets around the world and to shoot in a cramped kitchen or a spice shop in Venice, Italy, or on top of the Andes in Peru. It takes a village. What's really amazing when you're watching it in the shot, you can't see any of the challenges of the frame. There could be three or four puppeteers crouched down, out of the camera frame, making the magic happen so that the viewer is just engaged in this world on screen.
Was there an episode that taught you something about food that you hadn't realized before?
Konner: I think every episode we learned more than we ever imagined we would. Erika and I are the Mochi and Waffles in this process. We're the ones with unbridled enthusiasm but we're also fish out of water, just like them. We are not part of the food world, we're just really excited about it. What we decided to do early on was bring on amazing researchers, pack our writers' rooms with people from all different backgrounds, and go visit incredible chefs around the world who can tell us new stuff about food, who could blow our minds.
Is there something you hope viewers can take away from Waffles and Mochi's journey?
Thormahlen: We really want the show to start an adventure after every episode ends. As soon as the tomato episode ends, we hope a kid might turn to their grownup or their mom or dad and say, "Can we go in the kitchen and make something with tomatoes today? Can we go make that gazpacho?" We just wanted the show to be a jumping-off point for families to connect over food, whether it's in the kitchen or the dinner table. We just want everyone to get excited about food. It's really a call to action. We want folks not just to watch, but to take part.