Wagner Boss Admits 'Meat Grinder' Battle for Bakhmut Is Far From Over
Yevgeny Prigozhin, the leader of the paramilitary Wagner Group that has fought alongside the Russian military in the war in Ukraine, admitted that the "meat grinder" battle for Bakhmut is far from over.
Russian President Vladimir Putin turned to the Wagner Group as his own troops struggled to make progress after invading Ukraine last February 24. The organization is composed largely of prisoners and is known for its alleged disregard for international law. The Kremlin has denied ties to the group, whose presence has previously been noted in Crimea.
The Wagner Group has reportedly fought side-by-side with Russian troops to retake control of key cities in Eastern Ukraine, including Bakhmut, which has remained a major site of fighting. The city has been the site of intense, often brutal, combat in recent months, with Moscow claiming its troops have made some progress.
Prigozhin, a Russian businessman, told The Moscow Times, an independent newspaper based in Amsterdam, that his troops "will not be celebrating in the near future" as the battle pushes on. He said Ukraine's military has become more active in the city, pulling in "more and more new reserves" to fight to prevent a Russian breakthrough.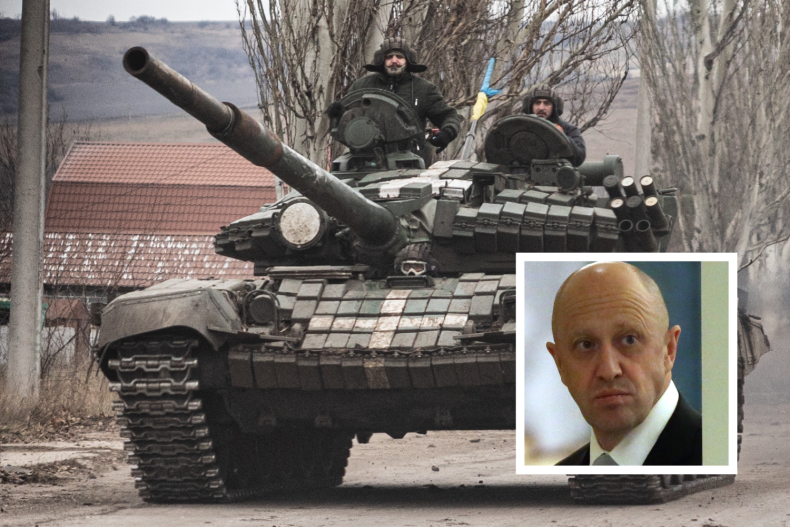 Up to 500 new fighters have become engaged in Bakhmut each day "from all directions," Prigozhin said. Meanwhile, artillery fire has continued to intensify.
"Bakhmut will not be taken tomorrow, because there is heavy resistance and grinding," Prigozhin said. "The meat grinder is working."
Bakhmut, a small industrial city in Ukraine's Donetsk region, offers little strategic or tactical importance to either side, experts have said. But Russia taking control of it would offer a symbolic victory for its troops, who have reportedly been demoralized and unmotivated amid high death rates and a lack of progress in any direction.
The Bakhmut offensive became a Russian priority in August as Ukraine began a counteroffensive in which it regained thousands of square miles of occupied territory in the eastern region of the country.
Prigozhin's admission appears to contradict recent claims from the Kremlin as he finds himself at growing odds with Putin. The Institute for the Study of War, a Washington, D.C.-based think tank and research group, said on Monday that Kremlin leaders appear to be exaggerating claims of Russian success in Bakhmut but that military bloggers are not sold on the claims.
Recent weeks have revealed a rift between Prigozhin and Putin, once close allies. The Wagner Group has not delivered on shifting the tide of the war in favor of Russia, and Prigozhin has been critical of Kremlin leadership regarding the war. The Kremlin is reportedly seeking to sideline Prigozhin.
Newsweek reached out to the Russian Ministry of Defense for comment.