Wagner Group 'Absurdly' Claims 10 Million U.S. Applicants: ISW
Wagner Group founder Yevgeny Prigozhin has "absurdly" claimed that over 10 million American citizens have applied to join his Russian mercenary organization, according to U.S. think tank Institute of the Study of War (ISW).
Prigozhin said on Thursday that the Wagner Group had "completely stopped" its practice of recruiting prisoners to fight in Ukraine, according to a statement posted to the Telegram press service page of Concord, his company. An ISW report published later notes that Prigozhin made the absurd claim about aspiring U.S. recruits on the same day.
In a statement shared on the Wagner Group's VKontakte page, Prigozhin made the claim while responding to a CNN inquiry asking why the paramilitary organization had decided to stop recruiting prisoners.
Prigozhin said that the decision was made because a recent Wagner Group recruitment ad "aimed at the American audience" had been a huge success, claiming that the ad had inspired millions of U.S. citizens to "fight against NATO."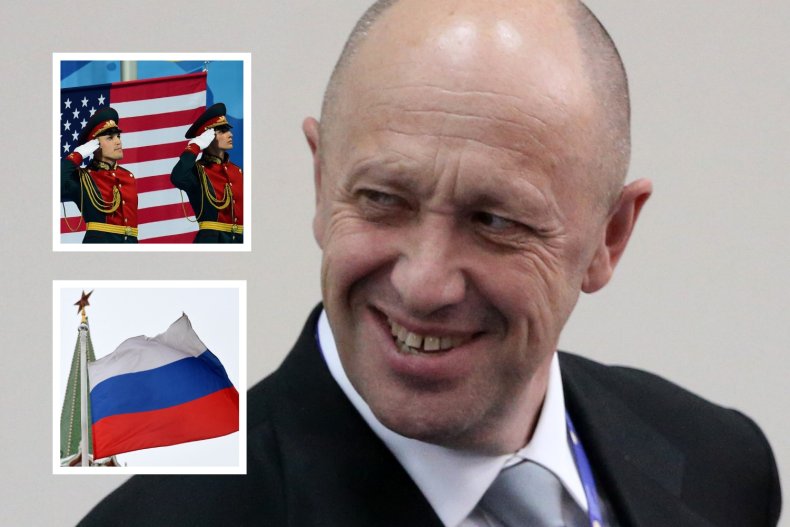 "We received more than 10 million applications from US citizens wishing to join the Wagner [Group] to fight against NATO," Prigozhin claimed. "At the moment, we are considering about a million American citizens for employment. Therefore, we temporarily suspended the recruitment of volunteers from Russian prisons."
A Thursday CNN article on the purported end of the prisoner recruitment campaign mentions Prigozhin's statement but says that he had "joked" about the American applicants claim.
A very small number of U.S. citizens are known to have fought on the side of the Russians in Ukraine, while there is no evidence that millions of Americans are eager to fight Russia's war.
However, a purported Wagner Group video aimed at recruiting sympathetic U.S. veterans did recently appear online, although it was unclear whether the clip was the same as the ad mentioned in Prigozhin's statement.
The video, narrated by a man with a heavy Russian accent, appears to be aimed at veterans who support former President Donald Trump and references his "make America great again" campaign slogan.
"You were a hero to your country, giving your best years in the army," the narrator says over stock images of U.S. soldiers. "You dreamed of defeating evil. You dreamed of doing much to make America great again."
The ad then takes on a sinister tone and evokes conspiracy theories that claim the government is secretly being controlled by powerful unnamed families that are "evil."
"In reality, you served ... the will of a bunch of families who thought they were earthly gods, deciding who would live under their rule and who would be destroyed," the narrator continues.
"You began to realize that this is the side of evil," he continues after images of January 6 Capitol rioters appear. "This is not the America the Founding Fathers dreamed of ... the only country fighting this evil is Russia."
The video ends by appealing to the "true patriot[s] of the future great America" to "join the ranks of the warriors of Russia" before it is "too late for everyone."
Prigozhin's unlikely assertion that there is an overwhelming demand from Americans hoping to join his group to fight in Ukraine comes only days after he shared a video challenging Ukrainian President Volodymyr Zelensky to a duel with fighter jets.
The video features Prigozhin, apparently inside the cockpit of a bomber, claiming that he just finished personally bombing Bakhmut before challenging Zelensky to aerial combat for control of the embattled Ukrainian city.
Newsweek has reached out to the Pentagon and the Concord press service for comment.