Wagner's 'Example' Inspiring Russia to Create Private Armies: Ukraine
A major Russian company is reportedly building its own private military force, citing the "example" set by the Wagner Group in Ukraine.
The Ukrainian Defense Ministry Intelligence Directorate on Tuesday reported that Gazprom, a state-owned monopolist energy company in Russia, is working to develop a private military company. Russian Prime Minister Mikhail Mishustin signed off on the order for the creation of the company, according to the directorate.
In a statement, the directorate claimed that Gazprom's plans were inspired by the "example" set by the Wagner Group, a private military company founded by Yevgeny Prigozhin, a Russian oligarch and restaurateur, known to be a close ally of President Vladimir Putin.
"Thus, the 'arms race' continues in the Russian Federation among the main political players, who are actively creating private armies following the example of Yevgeny Prigozhin's 'Wagner' PMC," the statement read.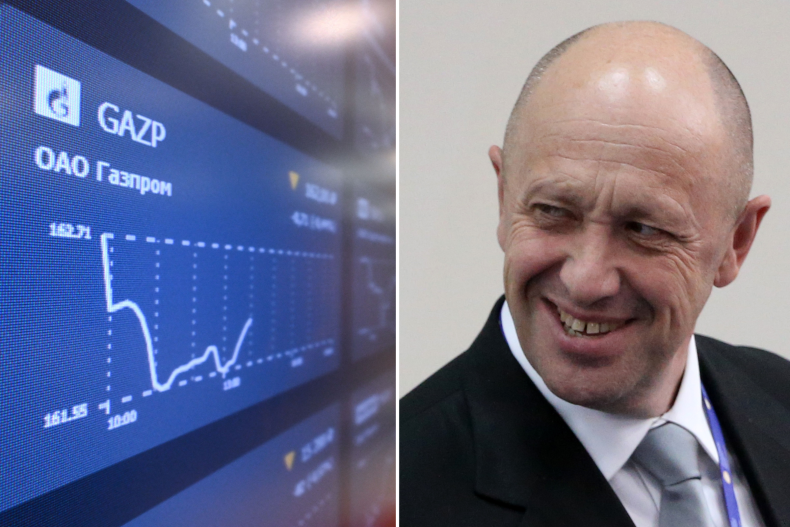 The statement also explained that the creation of the new company cited a Russian law concerning "the safety of objects of the fuel and energy complex," which gives entities like Gazprom "the right to establish a private security organization." The law also states that the entities can have no less than a 50 percent stake in the resultant private military company.
The Wagner Group is considered to be one of, and possibly the most notable, private military companies in Russia and has participated extensively in the nearly yearlong war in Ukraine. It also has established a bloody and infamous reputation for its actions on the battlefield, being accused of human rights violations in places like Ukraine, Syria, Libya, the Central African Republic, Sudan and Mozambique, including things like torture and extrajudicial killings.
Ukraine's government has formally recognized Wagner as an international criminal organization and, on Monday, called for other governments around the world to do the same.
"The purpose of adopting the resolution is to consolidate the efforts of Ukraine and the international community for the just restoration of peace, ensuring the international legal order in the world and in Ukraine, and the inevitable punishment of all persons guilty of violating international humanitarian law," the Ukrainian legislation reads.
On January 26, the U.S. Treasury Department officially designated Wagner as a "significant transnational criminal organization," resulting in sanctions being placed on the company's global support network.
"Wagner personnel have engaged in an ongoing pattern of serious criminal activity, including mass executions, rape, child abductions, and physical abuse in the Central African Republic and Mali," the Treasury said in a statement.
Newsweek reached out to Gazprom, Russian officials and foreign policy experts for comment.