Wagner Group Lands in Crosshairs of U.S. Sanctions After Bakhmut Success
The Wagner Group, which has claimed credit for Russia's recent battlefield success in Ukraine, was hit with widespread sanctions by the U.S. government on Thursday.
The U.S. Department of the Treasury and the U.S. State Department announced in statements that dozens of Wagner Group affiliates were subjected to sanctions. The private military group headed by Yevgeny Prigozhin—who was previously sanctioned by the U.S. government—was also re-designated as a "significant transnational criminal organization."
The sanctions freeze any U.S. assets for those named by the departments, and bars Americans from conducting business with those sanctioned.
"As sanctions and export controls on Russia from our international coalition continue to bite, the Kremlin is desperately searching for arms and support—including through the brutal Wagner Group—to continue its unjust war against Ukraine," Treasury Secretary Janet Yellen said in a statement.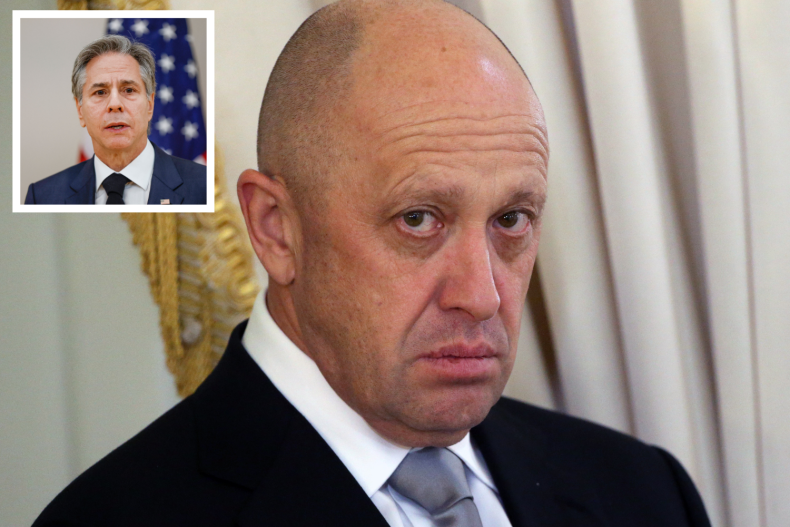 In recent weeks, Prigozhin has clashed with Russian officials after he claimed that the group was solely responsible for Russia overtaking Ukrainian forces in Soledar. Wagner is currently involved in fierce fighting in the city of Bakhmut, with Russia reportedly showing an advantage in recent days.
According to Yellen, actions like the sanctions against Wagner are designed to damage Russia's war effort in Ukraine, which began with the invasion last February 24.
"Today's expanded sanctions on Wagner, as well as new sanctions on their associates and other companies enabling the Russian military complex, will further impede [Russian President Vladimir] Putin's ability to arm and equip his war machine," she said in the statement.
Secretary of State Antony Blinken echoed Yellen's comments in a separate statement.
"This action supports our goal to degrade Moscow's capacity to wage war against Ukraine, to promote accountability for those responsible for Russia's war of aggression and associated abuses, and to place further pressure on Russia's defense sector," he said.
Among the Wagner affiliates sanctioned were Spacety China—a Chinese company that has allegedly supplied satellite imager of Ukraine to Wagner—and Kratol Aviation, a United Arab Emirates-based company that is believed to have transported Wagner members to combat zones.
Along with being sanctioned for its role in the war in Ukraine, Wagner was punished by the Treasury Department for its activities in the Central African Republic. (CAR).
The department said Wagner was "responsible for or complicit in, or having engaged in, the targeting of women, children, or any civilians through the commission of acts of violence, or abduction, forced displacement, or attacks on schools, hospitals, religious sites, or locations where civilians are seeking refuge, or through conduct that would constitute a serious abuse or violation of human rights or a violation of international humanitarian law in relation to the CAR."
"The United States is steadfast in our resolve against Russia's aggression and other destabilizing behavior worldwide. Today's designations will further impede the Kremlin's ability to arm its war-machine that is engaged in a war of aggression against Ukraine, and which has caused unconscionable death and destruction," Blinken said.
Newsweek reached out to the Russian Ministry of Foreign Affairs for comment.