In Warning to China, Janet Yellen Says West Will Punish Those Who Help Russia
The West "will not be indifferent" to attempts by other nations to help Russia circumvent sanctions on its economy, Treasury Secretary Janet Yellen told a think tank event on Wednesday in a veiled warning to China.
The Biden administration's veteran economist gave her sharpest assessment yet of what she described as countries "sitting on the fence" of Vladimir Putin's war against Ukraine, a conflict she said has "redrawn the contours of the world economic outlook" and also upended decades of UN-centered international principles.
In her opening remarks at the Atlantic Council, Yellen said countries taking a noncommittal attitude to the events in Europe were "perhaps seeing an opportunity to gain by preserving their relationship with Russia and backfilling the void left by others." Such a position would be "short-sighted," she said, citing the challenge posed to the existing security and economic order.
"And let's be clear, the unified coalition of sanctioning countries will not be indifferent to actions that undermine the sanctions we've put in place," said the head of the Treasury Department, without naming China. Washington has raised similar cautions in the past, in more direct terms.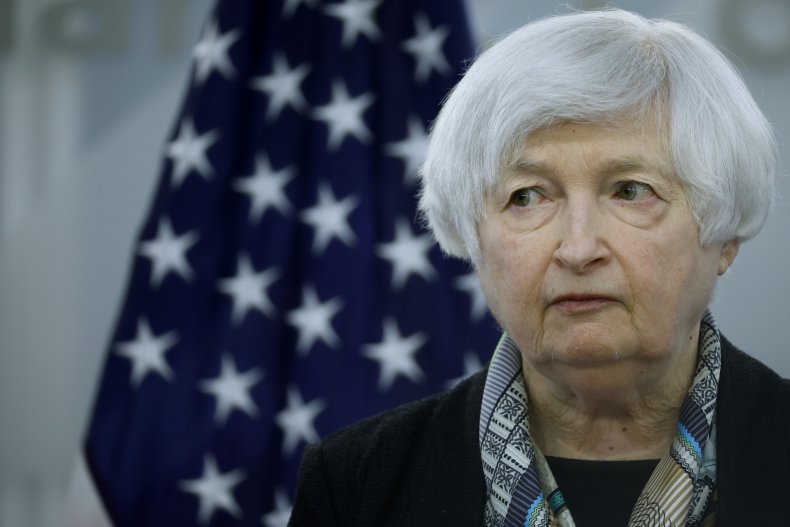 In the 50 days since the war began, Beijing has continued to voice strong opposition to the sanctions, punishment it says will spill over to affect the economies of developing nations including China, which was counting on a robust post-pandemic rebound. While Chinese officials insist the country won't materially assist Russia's war effort, they have vowed to continue mutually beneficial trade, and have also offered the Kremlin significant political cover at the UN and elsewhere.
"China has recently affirmed a special relationship with Russia. I fervently hope that China will make something positive of this relationship and help to end this war," Yellen said. The U.S. official said Beijing's choices going forward could affect its long-term trading relationships with key partners in the West, most of which had welcomed China's accession to the WTO but now find faults in its non-market practices.
"The world's attitude toward China and its willingness to embrace further economic integration may well be affected by China's reaction to our call for resolute action on Russia," she said, suggesting anything short of joining the ongoing sanctions effort could see Beijing fail to win back trust in the West. She noted economic and national security considerations would be "increasingly difficult" to separate in the future.
"China has long claimed to hold sacrosanct key international principles, including those enshrined in the UN Charter with respect to sovereignty and territorial integrity," Yellen said. "China cannot expect the global community to respect its appeals to the principles of sovereignty and territorial integrity in the future if does not respect these principles now when it counts."
It was a pointed reference to China's "historic claim" to territories in the East and South China seas, and to Taiwan, which it says is an internal matter. Others, such as Singapore Prime Minister Lee Hsien Loong, have noted this same contradiction in China's refusal to condemn Russia's actions.
At a regular press conference on Thursday, China's Foreign Ministry spokesperson Zhao Lijian suggested Yellen was distorting China's official position on the war. Ukraine's security should be respected, but so should Russia's, he said.
"China has always insisted that the sovereignty and territorial integrity of all countries should be respected and safeguarded," he said, "and we believe there should be no double standards in handling international relations."
"China's position is consistent with the positions and desires of most countries. We oppose groundless accusations and suspicions against China, and even more so any pressure and coercion. Time will ultimately prove that China's position is on the right side of history," he said.
In her remarks, Secretary Yellen said the West's united action against Russia proved "swift and sweeping sanctions can have enormous force." Punishment to Russia's economy was dealt by the U.S. and "over 30 countries, representing well over half the world's economy," she said.
"Rest assured, until Putin ends his heinous war of choice, the Biden administration will work with our partners to push Russia further towards economic, financial and strategic isolation. The Kremlin will be forced to choose between propping up its economy or funding the continuation of Putin's brutal war," Yellen said.
"When Russia made the decision to invade Ukraine, it predestined an exit from the global financial system. Russian leaders knew that we would impose severe sanctions, even if they underestimated the breadth, depth, and coordination of the actions that the United States and its allies would take," she concluded.
Since Russia's invasion of Ukraine on February 24, the West has come down hard on Putin, his government and Russian oligarchs. Measures have included a wholesale ban on transactions in dollars, euros or pounds, with the country's central bank and other major institutions cut off from assets in the U.S. and EU, among other places.
Elsewhere, holders of key technologies and regional financial hubs in the East—South Korea, Japan, Taiwan and Singapore—have agreed to export controls and financial sanctions, in decisions likely to have an impact on Russia's ability to wage modern warfare in the mid to long term.
Newsweek has contacted the Russian Foreign Ministry for comment.