Wagner Group Leader Claims Russia Captured Ukraine Village
Wagner Group boss Yevgeny Prigozhin said on Wednesday that his forces had captured the Ukrainian village of Zaliznyanskoye.
Prigozhin also said his troops had made advancements in the city of Bakhmut.
Bakhmut, which Ukrainian President Volodymyr Zelensky said is included in his military's "main focus," remains a site of intense fighting between Russian and Ukrainian forces.
Yevgeny Prigozhin, the founder and leader of the Wagner Group of Russian mercenaries, on Wednesday said his forces had captured the Ukrainian village of Zaliznyanskoye.
The Wagner boss made the announcement about the small settlement, which is located approximately 9 miles northwest of the city of Bakhmut, on the Telegram channel of his press service. Prigozhin said in the same message that his troops had also made advancements in Bakhmut. His claims could not be verified by Newsweek.
In the latter months of 2022, the Wagner Group gained international attention as it helped Russia make battlefield advances in the war in Ukraine, while Prigozhin made headlines for his alleged brutal tactics and his recruitment of convicts from prisons. In recent months, Wagner forces have reportedly been the central force in the battle for Bakhmut, which has been the site of intense fighting for months.
"Assault units are expanding the encirclement of Bakhmut. This morning, the village of Zaliznyanskoye was taken by the Wagner's assault units," Prigozhin was quoted as saying on Telegram, according to a translation by the Russian state-controlled news agency Tass.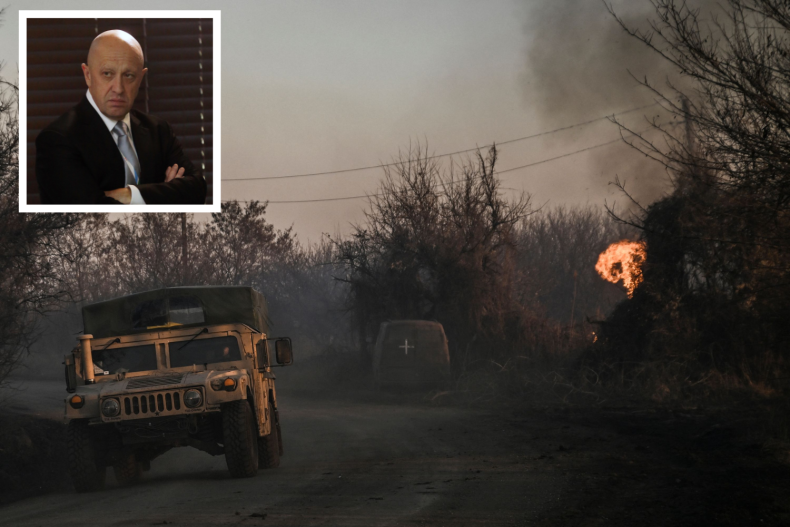 Despite his prominence in Ukraine, Prigozhin has had a contentious relationship with Russia's formal military officials. Last week, he said he had been cut off from all Russian government communication channels because of his public appeals for his troops to be given more ammunition.
Prigozhin was once said to be a close ally of Russian President Vladimir Putin. But the Institute for the Study of War (ISW), a think tank, wrote earlier this year that a rift had developed between the two because of Prigozhin's frequent criticisms of Russia's Ministry of Defense.
While Prigozhin maintains a public presence in the war with his frequent Telegram updates, the Kremlin does not often comment on him or his Wagner Group. Asked by reporters about Prigozhin last October, Kremlin spokesman Dmitry Peskov referred to the mercenary leader as "simply a Russian citizen" who "makes a big, feasible contribution" to his country.
Prigozhin has regularly reported updates from his Wagner Group's activity in Bakhmut. On March 3, he said Russia had encircled Bakhmut, but Ukraine's military immediately countered that claim by saying it had repelled attacks on the city.
The ISW wrote in a March 5 assessment that Ukraine was "likely conducting a limited tactical withdrawal in Bakhmut." But Ukrainian President Volodymyr Zelensky on Tuesday said that the "main focus" for his forces includes Bakhmut.
Newsweek reached out to the Ukrainian and Russian ministries of foreign affairs via email for comment.