Wagner Group Recruiting in Schools As Kremlin Relationship Implodes—U.K.
The Wagner Group is now resorting to hiring its fighters through recruitment hubs set up at sports centers across Russia, while representatives are targeting high school students, the British Ministry of Defense said Monday.
In its latest assessment of the conflict in Ukraine, which hit the one-year mark on February 24, the ministry observed that Yevgeny Prigozhin—founder of the paramilitary outfit—is "highly likely pivoting recruitment efforts towards free Russian citizens." He appears to have lost access to recruiting in Russian prisons due to his ongoing disputes with the country's defense ministry leadership.
The chief of the group, which provides fighters for hire and has led a months-long offensive in Bakhmut, has had increasingly public clashes with the Kremlin in recent weeks. Prigozhin has accused Russia's defense ministry of treason, alleging that government officials are intentionally withholding the ammunition the mercenary group needs to secure victory in Bakhmut.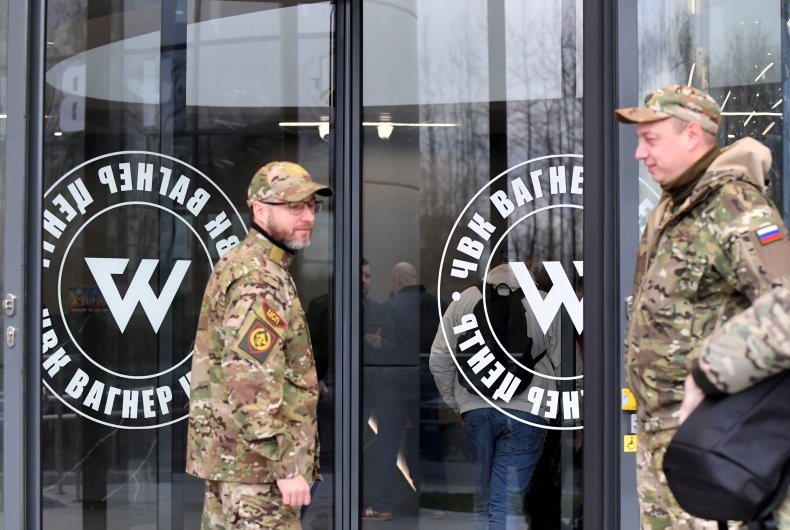 He has suggested that government officials are now preventing him from hiring from prisons. The Wagner Group had been recruiting large numbers of prisoners for Russian President Vladimir Putin's war in Ukraine, offering male prisoners commuted sentences and cash incentives in return for six months of military service in Ukraine.
In September 2022, Prigozhin was seen in a leaked video recruiting soldiers from Russia's extensive penitentiary system, amid reports that the country was facing personnel shortages in Ukraine.
The British ministry of defense noted that since the start of March, the Wagner Group has set up outreach teams based in sports centers in at least 40 locations across Russia, while school students have also been targeted.
"In recent days, masked Wagner recruiters also gave career talks in Moscow high schools, distributing questionnaires entitled 'application of a young warrior' to collect the contact details of interested pupils," the ministry said.
In a statement via the press service of Concord, which he owns, Prigozhin said on March 3 that "in order to recruit new fighters for the Private Military Company Wagner who will defend our Motherland, we have already opened recruitment centers for the PMC Wagner in a number of cities."
He said the centers are in sports clubs across the country, and those interested to join the Wagner Group "will be tested to see how strong you are physically and then told how you will get to us."
"We fully trust these centers and they are our supporters. The first center we opened was martial arts club Grusha at 2 Shmitovskiy proezd, Moscow. A special thank you to them, they are the first," Prigozhin wrote.
The U.K.'s defense ministry noted that about half of the convicts deployed by the Wagner Group in Ukraine have likely become casualties and "the new initiatives are unlikely to make up for the loss of the convict recruit pipeline."
If the prison recruitment ban endures, Prigozhin will likely be forced to reduce the scale or intensity of his Wagner Group's operations in Ukraine, it concluded.
The Institute for the Study of War (ISW), a think tank based in Washington D.C., assessed on Sunday that the conflict between the Russian defense ministry and Prigozhin has likely reached its climax against the backdrop of the battle for the small industrial city of Bakhmut.
As Prigozhin has been sidelined by the Kremlin in recent weeks, the Wagner Group is now seeming to play a less prominent role in operations around Bakhmut. He said last week his group controls the entire eastern part of the city.
On Thursday, Prigozhin published an audio clip suggesting that he has been cut off from Russia's defense ministry.
"In order for me to stop asking for ammunition, all special telephones were turned off for me in all offices, in all departments, etc. Another important thing they have done is blocked all passes to all the agencies that have to make decisions."
Newsweek has contacted Russia's defense ministry by email for comment.
Do you have a tip on a world news story that Newsweek should be covering? Do you have a question about the Russia-Ukraine war? Let us know via worldnews@newsweek.com.