Putin's Catastrophic War Against Ukraine by the Numbers
When President Vladimir Putin launched a full-scale invasion of Ukraine last February, the Kremlin hoped to seize the capital Kyiv in a matter of days.
A year later, there appears to be no end in sight. The cost of the conflict continues to mount, peace talks have stalled and both sides have suffered staggering losses, with tens of thousands of soldiers killed.
Kyiv is expecting Moscow to launch a renewed offensive in spring. In preparation, President Volodymyr Zelensky has been pulling in more aid, weapons and equipment from his Western allies.
The war has already caused catastrophic damage to Russia across many sections of society. As well as troop casualties and the loss of weapons and equipment, swathes of Russians have left the country or renounced their citizenship, and there has been a wider falling out with the international community. The economy has also taken a pummeling from Western sanctions.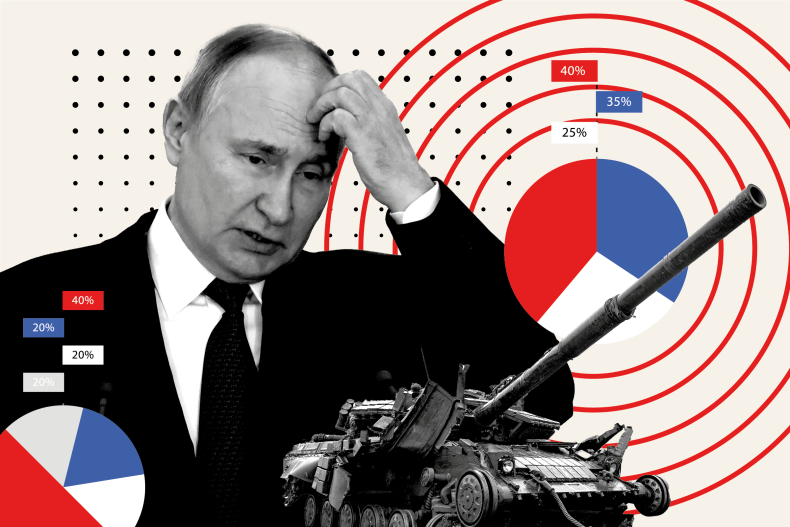 Keir Giles, a Russia expert and a senior consulting fellow at the Chatham House think tank, told Newsweek that many of the challenges the war presents to Russia are not immediate, but will make themselves felt in the longer term.
"That includes not only the economic damage, where sanctions will take time to bite and Russia can live off the fat of its foreign currency reserves for a certain period, but also the manpower losses," said Giles.
The impact of the war "will cause a major challenge in the way Russia is continuing to function as a state," he said.
Below, we look at the impact of Russia's war in Ukraine.
Military Losses
There are question marks over Moscow's war losses—the Kremlin has admitted to just 5,937 military deaths in Ukraine so far.
That figure is in contrast to the estimates from the General Staff of the Ukrainian Armed Forces, which posts daily updates on Facebook. It estimates that as of the morning of February 23, 2023, Russian military losses stand at 145,850.
The Ukrainian estimate is closer to a figure for troops killed and injured that was cited by General Mark Milley, the chairman of the Joint Chiefs of Staff, last November.
Milley, the highest-ranking officer in the U.S. military, said: "You're looking at well over 100,000 Russian soldiers killed and wounded. Same thing probably on the Ukrainian side. A lot of human suffering."
On January 22, the head of Norway's armed forces put the number of Russian soldiers killed and wounded closer to 200,000.
"Russian losses are beginning to approach around 180,000 dead or wounded soldiers," said General Eirik Kristoffersen in an interview with TV2. He did not elaborate on how the numbers had been calculated.
Chatham House expert Giles described the casualty numbers on both sides as "appalling."
The figures are "hard to discern accurately but appear by all authoritative accounts to be enormous," he said. This "will cause a major challenge in the way Russia is continuing to function as a state."
Tanks and Aircraft
The Institute for the Study of War (ISW), a think tank based in Washington, D.C., said on February 9 that Russia had likely lost half the tanks deployed in the invasion of Ukraine.
It cited data from the Dutch open-source group Oryx that shows 1,012 tanks have been destroyed and another 546 tanks have been captured by Ukrainian forces.
These losses represent roughly half the tanks that Moscow committed at the start of the invasion, the ISW said.
"The Russian military needs to quickly replenish these tank losses to maintain the ability to conduct large-scale mechanized maneuver warfare ahead of a likely increased pace of offensive operations in eastern Ukraine," the think tank said.
The International Institute for Strategic Studies (IISS), based in London, said in an assessment on February 16 that about 50 percent of Russia's T-72B and T-72B3M tanks and many of its T-80 tanks had been destroyed.
Russia has resorted to taking older equipment out of storage, the IISS added, reporting that an estimated 1,700 Russian tanks had been lost in Ukraine.
On February 16 the U.K. Ministry of Defense said Russia had lost about 130 aircraft since the full-scale invasion was launched.
Economic Damage
A year into his war against Ukraine, Putin's economic troubles appear to be growing, according to February 7 figures from Russia's Finance Ministry.
The government department said the country's budget deficit surged to 1.76 trillion rubles ($24.8 billion) in January, which by one measure puts Putin's economy back 25 years.
The numbers mark Russia's largest budget deficit for the first month of the year since at least 1998, Bloomberg reported.
The ministry said tax revenues from oil and gas had plunged 46 percent in January 2023 compared with a year ago, while there was a 59 percent increase in federal budget expenditures due to the war.
Russia was hit with a wave of international sanctions after the invasion. While the sanctions are taking a toll, the economy has been kept afloat partly because of higher prices for its main exports, gas and oil.
It had been predicted that the sanctions would cause a 10-15 percent blow to Russia's GDP, but data has shown their economy shrunk by just 2.2 percent in 2022.
Giles told Newsweek that Russia had failed in the preceding two to three decades to overhaul and modernize its economy when it had the chance to do so.
"The massive influx of energy money during the mid-2000s at a time of high oil prices could have been used to diversify and innovate with the Russian economy and make it less reliant on raw materials, particularly food and especially energy—which of course has a shelf life given the efforts of other countries to wean themselves off fossil fuels," he said.
"That opportunity was not taken, which means that the uncompetitiveness of the economy over the long term is another challenge which is going to cause Russia to slip further back in terms of relative power compared with other states," Giles added.
"Among these, the most obvious contender is China."
New Nations to Join NATO
Sweden and Finland have officially applied for NATO membership—dealing a blow to Putin's goal of using the invasion of Ukraine to deter other nations from joining the military alliance.
Their bids have been ratified by all allies except Hungary and Turkey. President Recep Tayyip Erdogan has signaled that he could ratify Finland's application while holding back on Sweden's.
On February 16 the secretary general of NATO, Jens Stoltenberg, said the "time is now" for Turkey to ratify both applications.
Global Aid to Ukraine vs Russia's Military Spending
Ukraine has received billions of dollars in aid to help in its fight against Putin's forces.
According to data released on Tuesday by the German-based Kiel Institute for the Global Economy, worldwide aid given to Ukraine throughout the war amounted to €143.6 billion ($152.7 billion) as of January 15.
The U.S. is the largest contributor to Ukraine in terms of total financial aid.
Meanwhile, Russia's expenditure on the war is rising drastically. According to the Wilson Center, a think tank in Washington, the Kremlin expected military spending to reach 3.5 trillion rubles ($46.7 billion) last year.
The think tank said it was likely that spending had actually exceeded that level by September last year.
"This is only part of military spending, which in the Russian budget is disguised as spending on health care, education, pensions, industry and so on. In 2022, military expenditures may exceed 5 percent of GDP, the maximum since the collapse of the USSR," it said.
In November 2022 Forbes Ukraine estimated that, in the first nine months of the war, Russia had spent $82 billion on the invasion.
Mysterious Deaths
A number of prominent Russians have died in unexplained or unusual circumstances since the invasion in February 2022. Here are 21 of them.
Billionaires
March 23, 2022: Vasily Melnikov, owner of medical equipment supplier company MedStom
November 25, 2022: Vyacheslav Taran, cryptocurrency entrepreneur
December 4, 2022: Dmitry Zelenov, property developer
Oil and gas tycoons

February 25, 2022: Alexander Tyulakov, executive at Gazprom
April 19, 2022: Sergey Protosenya, gas oligarch
May 8, 2022: Alexander Subbotin, former top executive at Lukoil
September 1, 2022: Ravil Maganov, chairman of Lukoil
Other businessmen
May 1, 2022: Andrei Krukovsky, manager at Gazprom
May 4, 2022: Vladimir Lyakishev, co-owner of the Bratya Karavayevi restaurant chain
July 4, 2022: Yuri Voronov, founder and general director of the Astra-Shipping transport and logistics company
September 10, 2022: Ivan Pechorin, energy executive
September 28, 2022: Pavel Pchelnikov, Russian Railways executive
December 7, 2022: Grigory Kochenov, creative director of IT company Agima
December 24, 2022: Pavel Antov, lawmaker and sausage tycoon
Military Figures and Putin Allies
April 18, 2022: Vladislav Avayev, former Kremlin official and vice president of Gazprombank
September 14, 2022: Vladimir Sungorkin, editor-in-chief of pro-Kremlin tabloid Komsomolskaya Pravda
September 21, 2022: Anatoly Gerashchenko, former head of the Moscow Aviation Institute
December 24, 2022: Alexander Buzakov, director general of Admiralty Shipyards, which fulfilled orders from Russia's defense ministry
December 25, 2022: Alexei Maslov, a former commander-in-chief of Russian ground forces
February 13, 2023: Major General Vladimir Makarov, officer who oversaw the Kremlin's crackdown on anti-war protesters
February 15, 2023: Marina Yankina, head of the Financial Support Department of the Russian Defense Ministry in St Petersburg's Western Military District.
Russians Who Fled
The invasion sparked a mass exodus of Russian citizens seeking to avoid conscription or political repression.
Putin's "partial mobilization" declaration on September 21 resulted in nationwide protests and Russians fleeing across the border to countries including Georgia, Finland, Kazakstan and Mongolia.
It is estimated that between 500,000 and 1 million Russians have left the country since the beginning of the war, the Washington Post reported in January. The newspaper added that the figure is on a par with emigration following the 1917 Bolshevik Revolution and the collapse of the Soviet Union in 1991.
Despite this, polling by the Levada Center has shown that Putin still enjoys a high approval rating among citizens in Russia.
Renounced Citizenship
Russia's Foreign Ministry said on February 8 that the number of Russian nationals who had renounced their citizenship hit a three-year high in 2022.
Last year 4,306 Russians gave up their citizenship, the ministry said.
What Next?
Anton Gerashchenko, an adviser to Ukraine's minister of internal affairs, told Newsweek on February 17 that Russia had already launched its spring offensive and Ukraine was "waiting for the supplies of Western equipment" to start its counterattack.
Ukraine needs hundreds of thousands of combat and reconnaissance drones to "win faster," Gerashchenko said.
Giles said Kyiv needed more assistance from the West to win the conflict quickly, in order that it "is not presented with the challenge of national survival, and remaining viable as a state if it drags on for too long."
He added: "The realization that Ukraine is defending the front line of the free world—and if it is not supported in this defense, that front line will move closer to home—has not sunk in properly in many Western capitals."
The weapons provided by the West are "always too little, just in time to prevent Ukraine from losing, as opposed to the war-winning capabilities that Ukraine actually needs," according to Giles.
"The restrictions on Ukraine having weapons systems that can strike into Russia itself are a ludicrous pandering to Russia's own ideas that it is not at war."
This assessment is echoed by Boris Bondarev, a former Russian diplomat who quit his position over Putin's invasion.
Bondarev told Newsweek that Ukraine must strike legitimate targets inside Russia to win the war.
"You cannot win the war if you don't hit your enemy," he said.
Ukrainian forces shouldn't target power plants or civil infrastructure in Russia, but "military facilities, military bases, like air bases, missile bases, missile launchers and warehouses. I think they are legitimate targets and they must be targeted."
Newsweek has contacted Russian government officials for comment.
Update 02/24/2023 11am: Additional information was added to this article.