Ukraine Must Strike Targets Inside Russia to Win War—Ex-Kremlin Official
Ukraine must strike legitimate targets inside Russia to win the war started by President Vladimir Putin nearly a year ago, according to former Russian diplomat Boris Bondarev.
Bondarev, 42, worked as a diplomat in the Russian ministry of foreign affairs from 2002 to 2022. He was a counsellor at the Russian Mission to the United Nations Office in Geneva before he quit in May over Putin's war in Ukraine.
He is Russia's only diplomat to publicly quit over the conflict, and said in an open resignation letter last year that the war is "not only a crime against the Ukrainian people, but also, perhaps, the most serious crime against the people of Russia."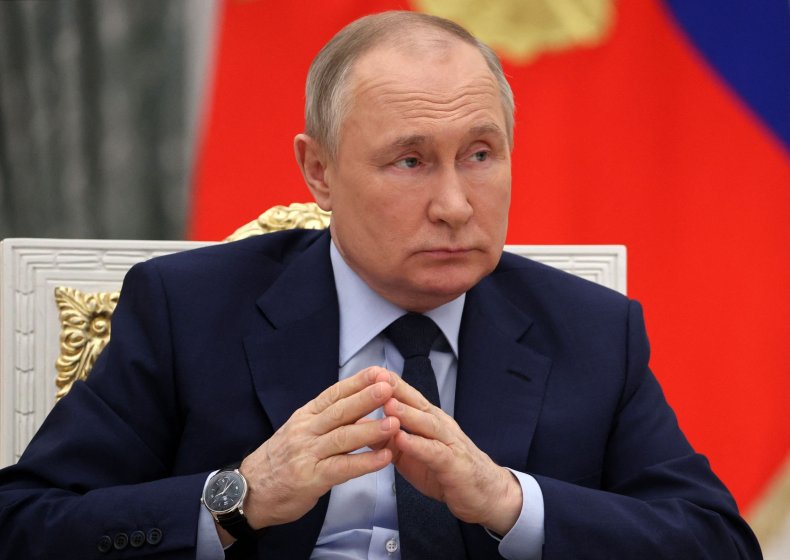 Speaking about the war in an interview with Newsweek, Bondarev said he doesn't really "understand the concerns of Western people saying that they don't want Ukraine to be able to target or to strike at mainland Russia."
"You cannot win the war if you don't hit your enemy," Bondarev said in a phone interview from Switzerland. "Of course, [Ukraine] must not hit civilian targets like Russia does in Ukraine."
Ukrainian President Volodymyr Zelensky told reporters in December that 62 percent of Russian missile strikes were on Ukrainian civilian targets, and that numerous cities, towns, villages and settlements have been heavily damaged as a result.
Moscow denies targeting civilian areas.
Russian missiles "specifically targeted civilian targets" and Putin's forces continue to kill Ukrainian civilians, Zelensky said.
Ukraine shouldn't target power plants or civil infrastructure in Russia, but "military facilities, military bases, like air bases, missile bases, missile launchers, and warehouses," Bondarev emphasized.
"I think they are legitimate targets and they must be targeted," the former diplomat said.
Bondarev's assessment comes as the war in Ukraine approaches the one-year mark, and as a fresh Russian offensive in Ukraine is reportedly underway.
Anton Gerashchenko, an adviser to Ukraine's minister of internal affairs, told Newsweek on February 17 that Ukraine is "waiting for the supplies of Western equipment" to start its own counteroffensive, and that his country needs hundreds of thousands of combat and reconnaissance drones to "win faster."
Bondarev weighed in on Gerashchenko's remarks, saying that Ukraine needs "everything that can fight."
"Drones can be very instrumental in targeting Russian bases within Russia, to the Russian logistic centers, you know, for the Russian Army," he said.
A report published by the Atlantic Council, a U.S. think tank, in November, noted that the U.S. and Ukraine's other Western allies have been "protecting Russia from Ukrainian counterattack."
"Ukraine has a legal right to hit back inside Russia, but is currently not being permitted to do so by partners whose support Kyiv cannot afford to lose. The US and others have placed limits on acceptable targets for the arms they provide, while also demanding assurances from Kyiv that these weapons will not be used inside Russia itself," the think tank said.
Russia in December accused Ukraine of strikes on Russian soil. In December, an oil tanker on an airfield in Kursk was hit. Days earlier, Russian officials said there were two explosions—one at the Engels airfield in the Saratov region and another involving an engulfed fuel truck at the Dyagilevo airfield near the city of Ryazan.
Kyiv hasn't publicly acknowledged those strikes.
Newsweek reached out to Russia's foreign ministry for comment.
Do you have a tip on a world news story that Newsweek should be covering? Do you have a question about the Russia-Ukraine war? Let us know via worldnews@newsweek.com.