Wagner Group Trying to Pay Ukrainians to Join Them in Bakhmut: Official
The Russian private military operation, Wagner Group, has allegedly begun to offer Ukrainians payment in order to fight for them as its relationship with the Kremlin worsens.
Founded and run by oligarch Yevgeny Prigozhin, Wagner is a mercenary outfit that has had a major presence in the ongoing Ukrainian conflict that has been accused in the past of working at the behest of Russian President Vladimir Putin. In recent months, its forces have been heavily involved in the battle for Bakhmut, a city in the contested Donetsk region being defended by Ukrainian soldiers against encroaching Russian control. While the strategic value of the city has been questioned by some, Ukraine maintains that its defense is of vital importance.
Lately, however, reports have emerged indicating that Wagner Group's relationship with the Russian government is straining, resulting in the outfit facing recruitment difficulties. According to a Kyiv Independent report from Monday, Wagner has allegedly begun offering payment to Ukrainian citizens to join them.
The claim originates from Ivan Federov, mayor of the Ukrainian-controlled city of Melitopol, who claimed during a recent news broadcast that he has heard about Wagner's attempts to pay residents of his city to join their fight. The offer is reportedly 200,000 Russian rubles, or around $2,600 dollars, a month to fight for the private military group. Earlier reports from Russian-controlled parts of Ukraine have mentioned similar tactics.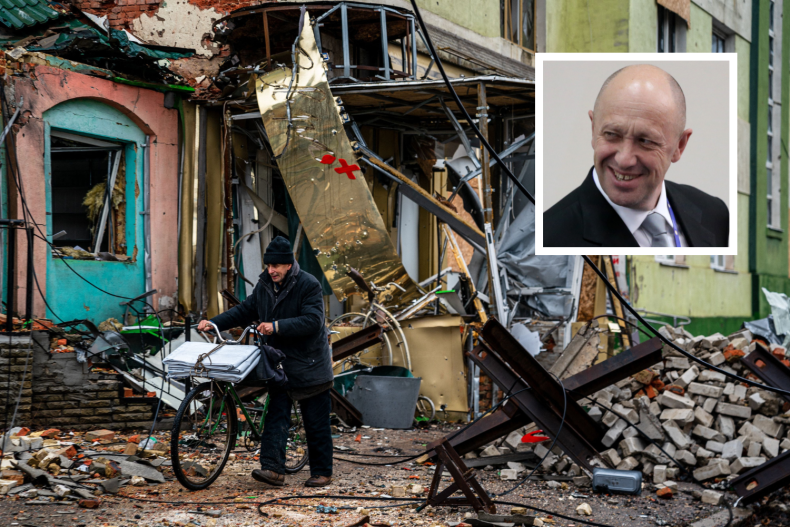 Federov's claims can not be independently confirmed at this time, though they do resemble other reports concerning Wagner's status. Newsweek reached out to the Russian Defense Ministry via email for comment.
A Monday report from the British Ministry of Defense echoed claims about Wagner's recruitment woes, claiming that the group was "highly likely pivoting recruitment efforts towards free Russian citizens." This change is allegedly due to the group's increasingly frayed relationship with defense leaders in the Kremlin, which previously allowed it to recruit from the Russian prison population, offering prisoners a commuted sentence for six months of service in Ukraine. Prigozhin previously accused the Russian defense minister of treason and claimed that they were withholding shipments of ammunition to Wagner forces fighting in Bakhmut.
These new efforts reportedly involved recruitment hubs set up in sporting venues, while Wagner representatives have allegedly been targeting high school students to join them.
"In recent days, masked Wagner recruiters also gave career talks in Moscow high schools, distributing questionnaires entitled 'application of a young warrior' to collect the contact details of interested pupils," the ministry's report explained.
Speaking with Newsweek via email, defense expert Rajan Menon said that while the rumors about Wagner recruiting are unconfirmed, they would not surprise him, citing the group's inability to keep conscripting prisoners.
"Wagner's prisoner-soldiers have suffered very high casualties in the battle for Bakhmut, and if Prigozhin wants Wagner to be in the thick of battles so as to boost his own political standing within Russia (which he evidently does) he obviously has to recruit from other places," Menon wrote. "He's already mentioned that one site would be Russian schools with students age-eligible for military service, so we ought not to be surprised if he's decided to turn to Russian-occupied parts of Ukraine as well.
"Wagner may continue to be a factor in this war, though it lacks the numbers in troops and the heavy armaments needed to become a major factor, but its effectiveness will certainly be eroded by its poisonous relationship with Russia's top brass as well as Defense Minister Sergei Shoigu. The Group standing within Russia also depends on how the fight for Bakhmut, on which Prigozhin has staked his reputation, ends."
Updated, 03/13/2023, 6:27 p.m. ET: This article was updated to include comment from Rajan Menon.