Putin's Private Army Lowers Recruiting Standards After Heavy Losses: U.K.
The notorious Russian military company Wagner Group is lowering its recruiting standards after heavy losses sustained in the war against Ukraine, the U.K.'s defense ministry said Monday.
In an intelligence update, the British defense ministry noted that Russia has used Wagner to reinforce front-line forces and to "mitigate manning shortfalls and casualties."
The mercenary group has "almost certainly" played a central role in recent fighting, including the capture of Popasna and Lysyschansk in Ukraine's eastern Donbas region, where the war is currently focused, as Russia attempts to seize the Luhansk and Donetsk regions in full, the ministry said.
"Wagner are lowering recruitment standards, hiring convicts and formerly blacklisted individuals. Very limited training is made available to new recruits," it said, adding that this will highly likely impact on the future operational effectiveness of the group.
Lowering its recruiting standards "will reduce its value as a prop to the regular Russian forces," Britain's defense ministry noted. Britain is a vocal supporter of Ukraine and has sent military equipment to help its military against Russia's forces. The ministry's intelligence update did not say where it got its information about Wagner Group.
Newsweek previously reported that investigative media outlet Important Stories found Russian prisoners in St. Petersburg are being offered freedom and money if they participate in the war.
Relatives of prisoners serving sentences in the city told the publication that the Wagner Group is offering 200,000 rubles ($3,500) and an amnesty, for six months of "voluntary" service in the Donbas region—if the prisoners return alive.
The Kremlin denies the group exists.
However, Jamie Williamson, executive director of the International Code of Conduct Association, previously told Newsweek that the Wagner Group was staffed by ex-Russian army personnel and serves as "a military contract group."
"There are clear connections to the Kremlin in terms of ownership and where the money lies," Williamson said. "But the Russian government does not recognize them as a way of plausible deniability, and a lack of attribution.
The British defense ministry said that Wagner's head, Yevgeniy Prigozhin, has recently been made a Hero of the Russian Federation for the group's performance in Ukraine's Luhansk region.
"This, at a time when a number of very senior Russian military commanders are being replaced, is likely to exacerbate grievances between the military and Wagner. It is also likely to impact negatively on Russian military morale," it said.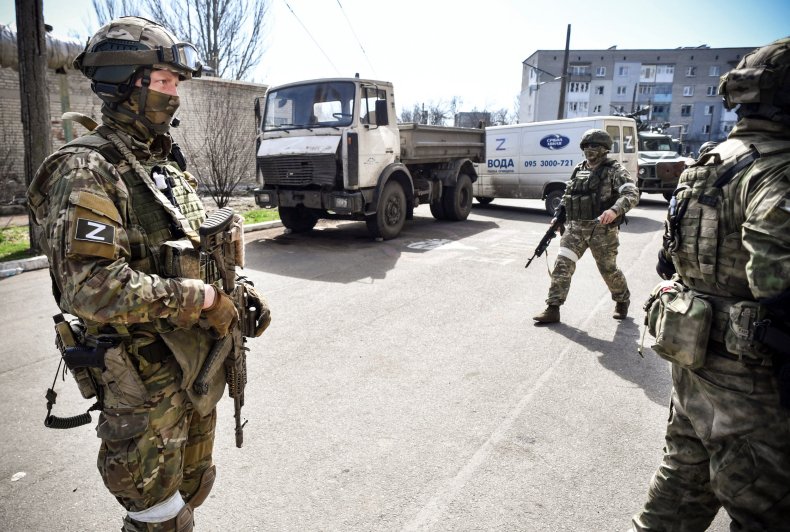 Russian authorities are separately attempting to recruit contract personnel, as Putin has not announced war mobilization, according to the Ukrainian Center for Countering Disinformation under the country's National Security and Defense Council. It found that more than 22,200 vacancies for contract servicemen have popped up in employment centers throughout Russia.
An unemployed man from Russia's Tatarstan republic told Important Stories that he was offered a salary of about 300,000 rubles ($5,126) a month to join Putin's war in Ukraine.
Ukraine's armed forces say about 38,450 Russian troops have been killed since the war began on February 24. Russia rarely discloses its war casualties, but on March 25, a Russian general told state-run news outlets that 1,351 soldiers had been killed and a further 3,825 were wounded.
Newsweek has contacted Russia's foreign ministry for comment.
Updated 07/18/22 at 6.58 a.m. ET with additional information