Wagner Troops in Bakhmut are 'Definitely' on Drugs, Ukraine Fighter Says
Ukrainian soldiers have been fighting a battle in Bakhmut against Russia's Wagner Group for months, with both sides suffering significant losses.
One Ukrainian soldier, identified as Leshiy, believes members of the Wagner Group are on drugs, as they don't seem to care about losses and are willing to work in extreme conditions.
If Russia seizes Bakhmut, it will be the first time ground has been gained on either side in months.
As fighting in Bakhmut grows bloodier, one Ukrainian soldier is certain that members of Russia's Wagner Group are using illegal substances.
Frontlines in the Russia-Ukraine war that entered its second year on February 24 shifted to Bakhmut last fall, and Russian soldiers have mostly surrounded the city, with both sides suffering heavy losses. One report by the Kyiv Post said Russian tactics are so fierce that they are losing soldiers at a rate of 7 to 1 compared to Ukraine. However, the losses doesn't seem to be deterring Russia's efforts.
Ukrainian troops have held the city for months, but recently leaders have discussed strategically retreating from Bakhmut to preserve their ranks. However, on Monday, the Kyiv Post reported that Ukrainian President Volodymyr Zelensky instructed his leaders to find "appropriate forces" to help the troops in Bakhmut, and soldiers to continue to fight.
One Ukrainian Armed Forces member described inhumane actions by members of the Wagner Group, a private Russian military company, in an exclusive interview with the Kyiv Post. The soldier said that he felt the mercenaries were using drugs to fight in such a bizarre manner.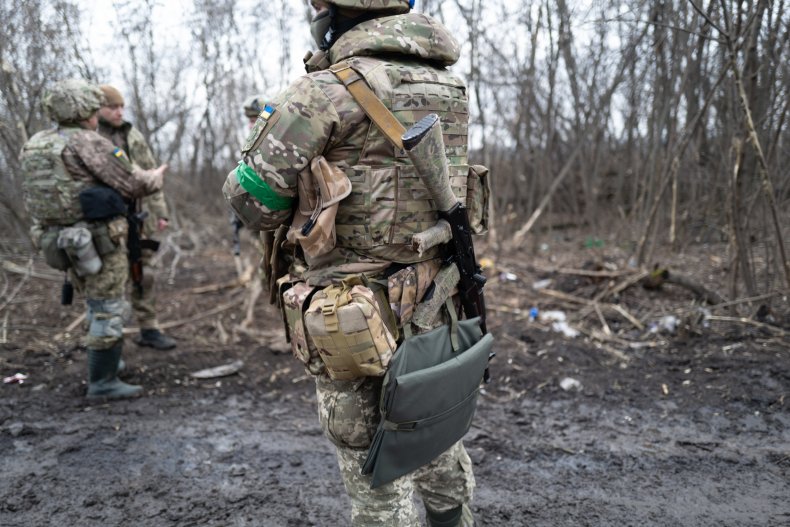 "In my opinion, they're definitely taking some sort of drugs, because people in a normal psychological state wouldn't do that," said the soldier, who is identified only as Leshiy.
Leshiy described how Wagner Group soldiers are digging trenches while under fire from Ukrainian troops. After the trench digger is killed, another takes his place.
"So they push the dead one out and the next one comes out to dig further," Leshiy said. "You kill the next one. And they can do this for three days in a row."
Leshiy doubts the Wagner Group soldiers are acting with clear minds, as he reported that some are wearing only T-shirts in frigid weather.
"They don't care about losses," Leshiy said. "Everything was covered with bodies."
Yevgeny Prigozhin—founder of the Wagner Group—has aided Russia's mission in Ukraine mostly by recruiting soldiers to fight. Many of the soldiers in the Wagner Group are Russian convicts, some personally recruited.
The Wagner Group allegedly requires strict adherence to rules, such as soldiers cannot abandon the group, have sex, use drugs or drink alcohol or they'll be executed. In exchange for their service, the soldiers are promised to be pardoned for their crimes.
Center for Strategic and International Studies senior adviser Mark Cancian told Newsweek that the Wagner Group is willing to take casualties in order to gain ground in Ukraine.
"All Russian units have a higher tolerance for casualties than NATO countries would, but Wagner, having recruited from prisons, is willing to keep attacking when other Russian units might have stopped," Cancian said. "That relentlessness puts great strain on Ukrainian defenders even if they are relatively successful."
On March 4, Prigozhin claimed Russia was close to victory and that Bakhmut was surrounded. But just few days later, he issued a desperate plea for ammunition.
War strategists have anticipated that Ukraine will complete a tactical withdrawal from Bakhmut frontlines for weeks. However, Prigozhin recently reported that Ukraine continued to supply soldiers to the area. If Russia seizes Bakhmut, it will be the first time ground has been gained on either side for months, as the war has reached a stalemate during the winter.
Update 3/7/23, 12:34 p.m. ET: This story was updated with comment from Mark Cancian.