'Wait and See': China Vows Strong Response As U.S. Prepares to Arm Taiwan
China has demanded the United States revoke a possible arms agreement with Taiwan in support of its Patriot missile systems—a deal Washington believes will improve the island's security and help maintain political stability.
The Taipei Economic and Cultural Representative Office, Taiwan's de facto embassy in Washington. D.C, requested the purchase of equipment and services worth $100 million over five years, said the Pentagon's Defense Security Cooperation Agency (DSCA).
Congress was notified of the State Department's approval on Monday.
Taiwan's armed forces operate a number of the American-made, surface-to-air and anti-ballistic missile systems, whose sole purpose is to deter and intercept Chinese aircraft and projectiles in the event of a conflict across the Taiwan Strait. The foreign military sale—the first involving Taiwan this year and the second under the Biden administration—will "sustain, maintain, and improve the Patriot Air Defense System," according to DSCA's statement.
The U.S. has no formal diplomatic relations with the democratic island but has been its staunchest international backer for decades, even after Washington and Beijing established official ties in 1979.
China has long called for an end to arms sales to the island, over which it asserts a historical claim and has vowed to seize—by force if necessary.
U.S. arms sales to Taiwan "seriously undermine China's sovereignty and security interests; seriously harm China-U.S. relations and peace and stability in the Taiwan Strait," China's Foreign Ministry spokesperson Zhao Lijian told a regular press briefing in Beijing on Tuesday.
Beijing opposes and condemns the move, he said, before demanding the arms deal be "immediately revoked."
"China will take legitimate and strong measures to resolutely defend its sovereignty and security interests," Zhao said. "As for the specific measures, please wait and see."
On August 17, 1982, the U.S. and People's Republic of China (PRC) issued a joint communique—the last of three that Beijing considers fundamental to bilateral ties—in which Washington declared an intent to gradually reduce its arms sales to Taiwan.
However, a previously classified memo by former President Ronald Reagan revealed that this intent was conditioned upon China's commitment to a peaceful resolution to cross-strait differences.
"It should be clearly understood that the linkage between these two matters is a permanent imperative of U.S. foreign policy," he wrote in the document, which was declassified by former national security adviser John Bolton in August 2019.
"In addition, it is essential that the quality and quantity of the arms provided to Taiwan be conditioned entirely on the threat posed by the PRC," Reagan said. "Both in quantitative and qualitative terms, Taiwan's defense capability relative to that of the PRC will be maintained."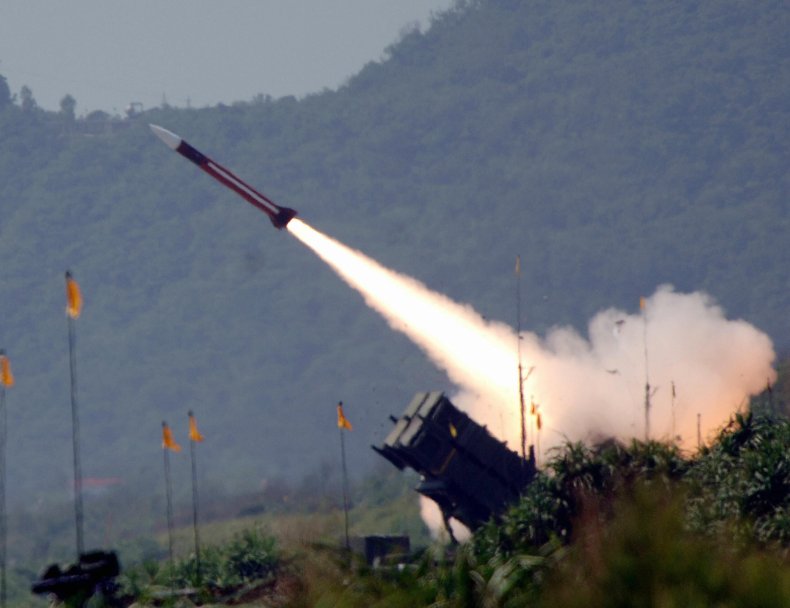 In its now a standardized arms sale announcement, the DSCA said: "This proposed sale serves U.S. national, economic, and security interests by supporting the recipient's continuing efforts to modernize its armed forces and to maintain a credible defensive capability. The proposed sale will help improve the security of the recipient and assist in maintaining political stability, military balance, and economic progress in the region."
"The recipient will use this capability as a deterrent to regional threats and to strengthen homeland defense," the agency said.
As part of the agreement, American defense contractors from Raytheon Technologies and Lockheed Martin are expected to travel to Taiwan on a semi-permanent basis.
It is the second arms package to be approved by the administration of Joe Biden, following the agreed sale of 40 M109A6 "Paladin" howitzers in August 2021, for $750 million.
In a statement released on its website on Tuesday, Taiwan's Defense Ministry thanked to the U.S., saying the decision demonstrates the importance Washington attaches to Taiwan's national security.
"Taiwan and the United States will continue to consolidate our security partnership and jointly maintain peace and stability in the Taiwan Strait and the Indo-Pacific region," it said.