'I'm Going to Pass Out': Waitress in Shock After Couple Left Massive Tip
Waitress Jennifer Vernancio was short on words when she realized how much money a couple tipped her on a routine meal. It was an act of kindness, especially in today's post-pandemic economy, that's more than welcome.
The North Providence, Rhode Island, resident received an $810 tip on an approximate $48 check at the Big Cheese & Pub in Cranston, where she has worked for about 3 1/2 years.
Vernancio, mother of a 3-year-old son and 16-year-old daughter, told local WJAR that May 4 started on a rough note. She was supposed to be at work for an 11 a.m. shift.
"I was having a terrible morning," Vernancio said. "I couldn't find a sitter. There was a kid at daycare that was sick so I couldn't bring my son....They told me to come in when I have a sitter, so my daughter was available after school. That's when I came in."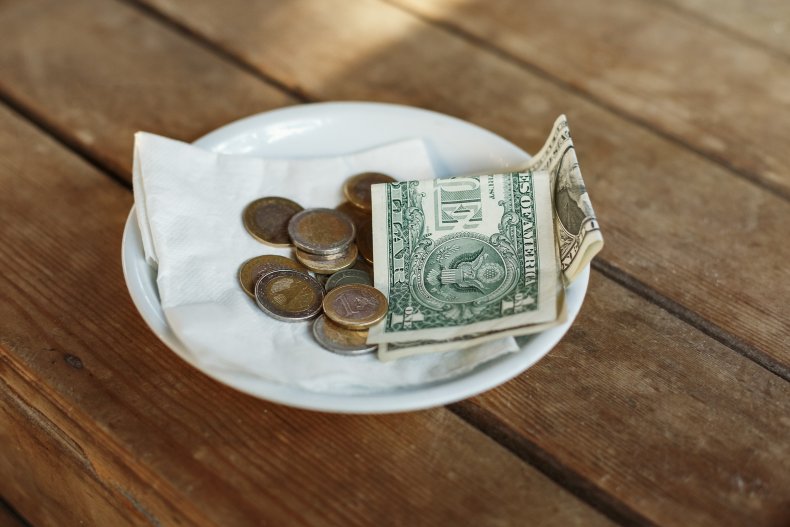 She said that when she came into work that afternoon, her first table consisted of a "super, super nice gentleman and his wife" who ordered sandwiches and paid their bill.
But as the couple left the establishment and wished Vernancio well, she noticed something astonishing.
"I go over to pick up the check, I don't even know," she said. "They left me an $810 tip. I'm like, 'Are you kidding? This can't be.' I brought it to my manager and at first I'm like, 'This can't be.' She's like, 'Oh no, that's it."'
Her manager, Kim Tierney, has been a manager at Big Cheese & Pub for the past decade. She told WJAR that Vernancio originally thought the tip was $600, likely due to how it was written on the bill. Tierney affirmed that the tip was even higher than that.
"I'm going to pass out," Vernancio told Tierney.
A Facebook post from the business showed the receipt of the bill that showed the $810 tip.
"Angels wander among us and for that we are grateful," the post said, acknowledging the longtime patrons.
The customers have become regulars, Big Cheese & Pub told Newsweek, and "they've always been generous to our staff."
The waitress, who said this was the largest tip she has received throughout her 20 years of waitressing, never obtained the names of those patrons. She plans to pay their generosity forward.
"To the gentleman and his wife that left that generous tip, I just want to say thank you so much....That money, it's more than a couple of shifts," Vernancio said. "I mean it helps out, everything helps out, but that is more than money, it's just true kindness. Honestly, I believe and spread it everywhere, I go for the law of attraction."
Money from that specific tip has already been used to purchase new shoes for her daughter, buy a toy police vehicle for her son, and pay off multiple bills.
"It was just very kind of them people don't realize what a difference it makes," Tierney said. "There are angels out there. It makes a difference in someone's life. Sometimes, the little gesture of kindness can go a long way or a lot of gesture of kindness in this aspect, but it goes a long way and you never know what someone is going through."
Working in Rhode Island
In Rhode Island, the post-pandemic economy still shows some glaring holes. Data issued by the Center for Global and Regional Economic Studies at Bryant University and the Rhode Island Public Expenditure Council has shown continued growth in the state's workforce, although Rhode Island has fewer jobs than before the pandemic.
The state is also reportedly trailing the region and nation in employment and GDP growth, according to a report by What's Up Newp.
Vernancio said the restaurant has always been "super accommodating," especially when she has issues finding a sitter. If that means swapping shifts last minute, they do it.
Tierney says the business always tries "to look out for one another and do what's best for each other.
"Everyone here works very hard, we're one big family and we work very hard to make our day-to-day operations go," she said.
Economic Data
A volatile economy has made many Americans feel like certain things are out of their control.
Inflation has affected multiple large American cities in big ways, hitting double-digit increases in housing, food, airline and vehicle prices. Even energy has increased 30 percent compared to 2021, while a 9.4 food percent increase is the biggest since 1981.
The worst of inflation may be over or has leveled off, as the rate of increase slowed in April for the first time since last August. However, it hasn't been good for President Joe Biden—who has blamed Russian President Vladimir Putin for invading Ukraine, leading to rising costs.
A poll released Monday by Investors Business Daily/TIPP showed that only 39 percent of U.S. adults approve of Biden's performance while 47 percent disapproved. Website FiveThirtyEight showed him with a 41.7 approval rating as of Wednesday.
Update 5/12/22, 12:06 p.m. ET: This article was updated with a comment from The Big Cheese & Pub. Vernancio told Newsweek she had no further comment.