Waitress Who Yelled At Tech CEO Michael Lofthouse For Racist Abuse Doesn't Buy His Apology
The waitress who stepped in to defend a family who were being racially abused by a tech CEO said she "just did what needed to be done" and that she doesn't believe he's sorry.
The incident took place while Jordan Chan was celebrating her aunt's birthday with her family at Lucia, a restaurant inside Bernardus Lodge and Spa in Carmel Valley, on the Fourth of July.
Chan's video quickly went viral after she posted it on her Instagram page—and shows waitress Gennica Cochran repeatedly telling Michael Lofthouse to "get out" after he hurled racist abuse at the family."
Cochran told KGO-TV that she wasn't the server for the family that night, but happened to be nearby when her attention was grabbed by Chan who pulled out her phone and started filming Lofthouse and asking him to "say that again."
"Trump's gonna f*** you!" Lofthouse is seen telling them in the video after giving them the finger. "You f***ers need to leave... f***ing Asian piece of s***."
Cochran jumped in and yelled: "You do not talk to our guests like that. You need to leave now. Get out of here. Get out. You do not talk to our guests like that. Get out, now!"
"Who are these f***ers?" Lofthouse then asked her.
"They are valued guests. Get out! You are not allowed here ever again!" Cochran responded.
Lofthouse, the CEO of San Francisco-based IT company Solid8, has since issued an apology for his "appalling" behavior.
In a statement, he said he had been taught to "respect people of all races" and the incident "was clearly a moment where I lost control and made incredibly hurtful and divisive comments."
Cochran told KGO-TV that she didn't believe a word of it, adding that it was the "standard issue apology that you get from racists."
"People who believe those things and they get called out for them. I don't believe a word of it," she said.
About her response, Cochran added: "It was just something that came over me and I just did what needed to be done. I did what anybody else should or would do in that situation."
Cochran added that she hadn't been serving Lofthouse that night either, but had been watching him. He had switched tables and sent food back several times and been rude to her manager, she said.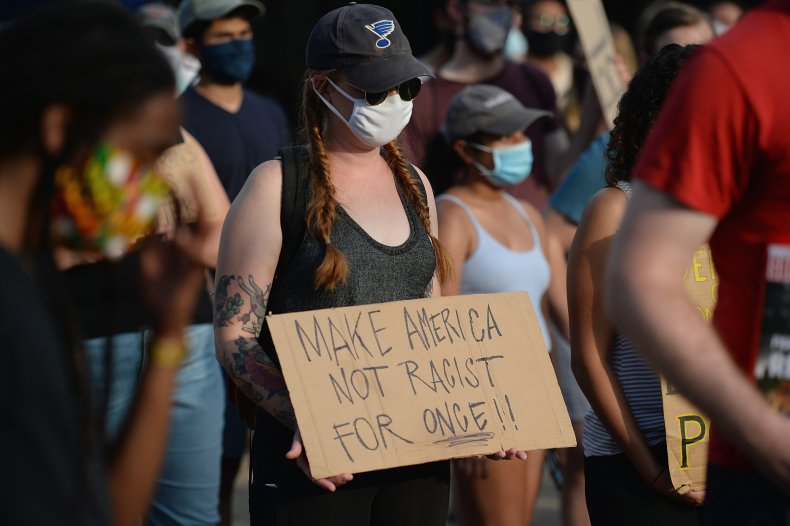 So when he started abusing Chan's family, she said she felt protective over them.
"You don't come in here and say those kinds of things to people. Especially people feel so raw coming out of quarantine," she added.
She also urged people to speak out if they ever witness racism of any kind. "Stand up against racism and hatred in any form any time you can," she said.
She also urged customers to be nice to their servers, as they have a difficult job.
Meanwhile, people all over the world want to thank her for her actions—and a number of GoFundMe pages have been set up to send her tips.
At least three fundraisers have popped up to collect donations to support Cochran in recent days, collectively amassing more than $40,000.
A spokeswoman for GoFundMe told Newsweek that its Trust and Safety team is working with the campaign organizers "to ensure that funds go directly to Gennica Cochran."
A spokesperson for Bernardus Lodge and Spa previously told Newsweek that the response from the public since the video went viral has been "overwhelming."
"We have received such overwhelming support, florals, orders, letters, a fund for the wait staff, just heartwarming," she said.
Cochran and Lofthouse have been contacted for additional comment.