After Notre Dame, Priest of Church Damaged by Arson Warns Against "Conspiracy Theories"
The curate of a Paris church targeted by a suspected arsonist last month warned against the conspiracy theories surrounding the fire that later consumed Notre Dame Cathedral.
The Basilica of St. Sulpice sustained fire damage on March 17 after midday Mass. Police said the cause of the blaze was probably arson, which caused more than a million dollars' worth of damage. But French authorities have emphasized repeatedly that despite social media posts looking for links between the two events, there was nothing to suggest that the much larger fire that almost destroyed Notre Dame on Monday had been started deliberately.
At St. Sulpice, extensive clean-up was required after soot covered the church's interior where flames had damaged the 18th-century woodwork and stained glass doors, Le Point reported last month.
And as France deals with the aftermath of the Notre Dame fire, the services scheduled for Holy Week were shifted to St. Sulpice, and began on Wednesday with a Mass attended by prominent politicians.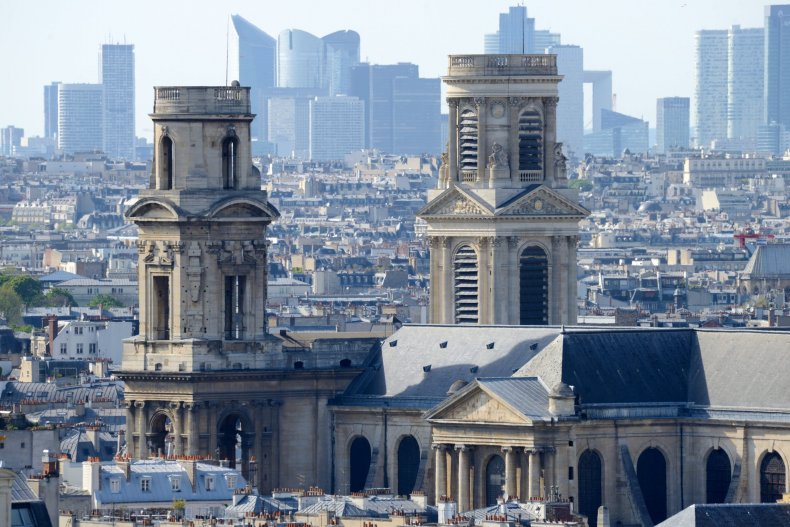 The newspaper L'Express noted in an op-ed how theories of "paranoid armies" of people got on Facebook, Instagram and Twitter to speculate that the Notre Dame fire had been deliberate, when reports now say it likely resulted from an electrical short circuit.
"Why must a catastrophe like the fire of Notre-Dame give rise to such a rain of false information? Because it is such an era," L'Express said.
On Blaze TV, conservative commentator Glenn Beck compared the devastating fire to the 9/11 attacks.
BuzzFeed reported how one Twitter account masquerading as CNN attributed the Notre Dame fire to terrorists. Another account, misrepresenting itself as Fox News, posted a fake quote from a Muslim congresswoman saying "they reap what they sow."
Fox Business host Lou Dobbs also weighed in, and said that French officials had made a "political decision" to rule out arson and suggested the event was linked to a spike in church vandalism in France.
He was referring to a spate of attacks against Catholic churches since the start of the year, including Saint Sulpice, which the Catholic church has remained tight-lipped about.
Until the fire at Notre Dame, St. Sulpice was perhaps the most prominent of the churches attacked in recent months. But the curate of the church, Jean-Loup Lacroix, told Le Parisien that there was no anti-religious motive behind the blaze at his church, and unless and until police investigations show otherwise, nor should there be one imputed to the fire at Notre Dame.
He told the newspaper: "As far as [the fire at] Saint-Sulpice, things are quite clear: it was not an anti-religious act. The fire had been started by a poor man who was homeless, according to the preliminary investigation."
Regarding the Notre Dame fire, he said: "Do not believe the conspiracy and demand a culprit at all costs.
"These fires simply remind us that we are fragile, and that many things can collapse. Stones are important, but so are hearts."