Walker Says He Doesn't Know What Pronouns Are, Hours Before Election
Republican Senate candidate Herschel Walker spent the day before Georgia's runoff election against Democratic Senator Raphael Warnock railing on pronouns being used in association with the U.S. military.
"I told you early on that they said there was peace through strength, and our strength is our great military," Walker said in a video that had viewed on Twitter over 266,000 times by late Monday afternoon. "But now they're bringing pronouns into our military, they're bringing wokeness into our military.
"I don't even know what the heck is a pronoun, I can tell you that. I'm sick and tired of this pronoun stuff. What I want our military men and women to do is to be at war fighting."
Aside from being accused of infidelity and being a pro-life candidate alleged to have paid for abortions, Walker has produced myriad soundbites.
Prior to becoming a candidate, the former University of Georgia football star blamed his wife's "awful genes" for making an "ugly" baby. That baby was Christian Walker, who has ridiculed his father relentlessly on social media for alleged abortion payments and being an absentee father.
During a Fox News interview in November, Walker misspoke and said, "This erection is about the people."
Walker recently called himself "220 pounds of twisted steel and sex appeal," quoting a phrase that was originally used by American Gladiators star Malibu.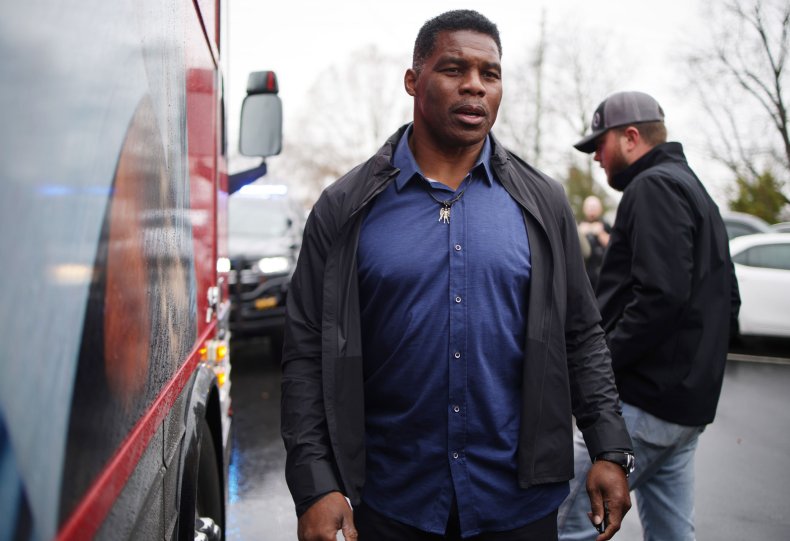 Walker has not only said that he used to babysit former President Donald Trump's children and provided them with his intelligence, but he also seemed to admit last week that walls don't always work as intended.
It was seen as a contradictory viewpoint to Trump, who endorsed Walker, after the former president ran strongly on a border wall platform in the 2016 election.
Recently, while campaigning for Democratic incumbent Raphael Warnock, former President Barack Obama made Walker the butt of jokes after his comparison of werewolves and vampires. Walker even said "vampires are cool people."
"Mr. Walker has been talking about issues that are of great importance to the people of Georgia," Obama said. "Like whether it is better to be a vampire or a werewolf. This is a debate that I must confess I once had myself. When I was 7."
While Walker's chances of defeating Warnock seem to be fading, he is still very much in the race based on numerous polls.
Reelected Georgia Governor Brian Kemp, who garnered more votes than Walker in the November due to apparent GOP ticket splitting, has campaigned for Walker and encouraged Republicans to match likely Democratic turnout in early voting.
Last Monday, on the state's first day of early voting, more than 250,000 people voted and broke the state's record for the highest number of ballots cast in a single day of early voting. Numbers continued to increase throughout the week.
Georgia's Republican lieutenant governor, Geoff Duncan, told CNN last week that he waited an hour to vote, only to enter the ballot box and then walk out without voting for either Walker or Warnock.
And while Walker received fewer votes than Warnock in the November election, he might be able to siphon some votes that went to Libertarian candidate Chase Oliver, who received more than 2 percent of the vote. Neither Oliver nor other state and national Libertarian Party officials have encouraged Libertarians to vote for a specific candidate in the runoff.
"I won't be endorsing a candidate because it's not my place to tell voters which of the lesser evils they want to pick," Oliver previously told Newsweek.
Newsweek reached out to Walker's campaign for comment.