Wall of Moms Organizer Says They're Suing Due to 'Indiscriminate' Violence by Federal Agents
A Wall of Moms organizer says the group is suing the Trump administration due to the "indiscriminate" violence of federal agents in Portland.
Nonprofit Protect Democracy filed a lawsuit in federal court in Washington, D.C. on behalf of the Wall of Moms, anti-racist organization Don't Shoot Portland and several individual protesters.
The Wall of Moms started out as a small group of mothers who sought to protect protesters from the tactics of federal agents at protests in downtown Portland. But the group's numbers have swelled in recent days—and they have repeatedly been hit with tear gas despite protesting peacefully.
Kristen Jessie-Uyanik, a mother-of-three, detailed in a Facebook post how she was struck in the face while protesting peacefully with other moms on Saturday night.
Jenni Vinson, an organizer with the Wall of Moms, told Newsweek that the action the federal government is taking against protesters is "intolerable."
She added that federal agents stationed at the Mark O. Hatfield United States Courthouse have regularly and indiscriminately targeted many who aren't there to protest, such as journalists and medics.
"What happened to Kristen illustrates the intolerable level of violence the federal government is employing against non-violent protesters right now here in Portland. That's why we're suing them," she said.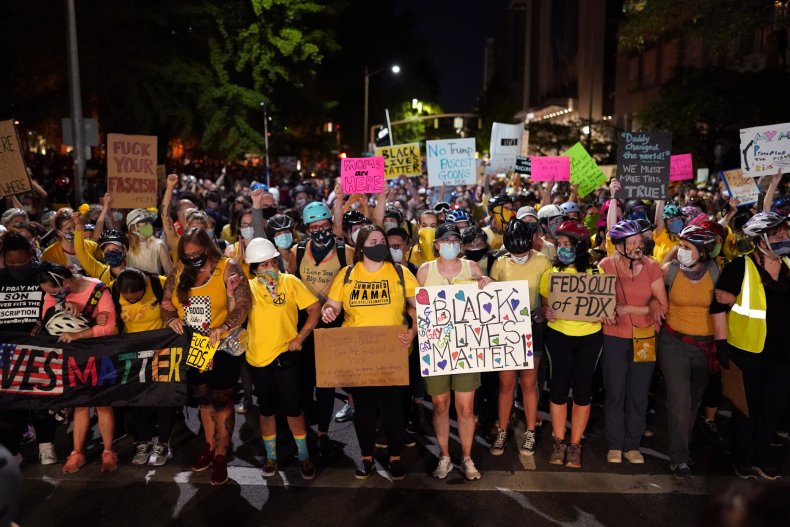 "The actions taken at the protest by the federal government are often indiscriminate. There are many non-protesters present each night—journalists, medics, legal observers, and others who have also been injured, gassed, threatened, or otherwise harmed.
She added: "Law enforcement agents are not being specific and targeted in their response, nor is it clear what agency they are from. This is clearly not only unacceptable, but we believe it's unlawful."
The lawsuit alleges that the actions of the Department of Homeland Security (DHS) agents and U.S. Marshals in Portland violates the First and Fourth Amendment rights of protesters.
It argues that federal authorities were purportedly deployed to the city to protect federal property, but have "implemented an unlawful policy to quash Plaintiffs' speech and end their protests."
The complaint adds that federal agents have tear gassed peaceful protesters, including the Plaintiffs, made unlawful arrests without probable cause and otherwise "used violence in an effort to stamp out peaceful and constitutionally protected protests."
Protesters have been tear gassed "night after night, left vomiting and unable to eat or sleep because of the toxic poison blasted at them," the complaint states.
"They have been shot over and over—with rubber bullets, bean bags, pepper spray, and a range of other projectiles fired at close range and with brutal effect. They have had flash-bang explosive devices detonated right in front of them.
"They have been forced to speak and assemble in fear of not just bodily harm, but the possibility of sudden arrest without probable cause."
The complaint also noted that the Trump administration's mobilization of federal agents against Black Lives Matter protesters is very different from its response to anti-lockdown protesters earlier this year.
"No one believes for a second that the President would deploy heavily armed federal agents to 'quell' and 'dominate' protesters if he agreed with their message," David A. O'Neil, a partner at Debevoise & Plimpton, said.
"In fact, we don't need to guess: When armed protesters occupied government buildings to oppose pandemic rules, he tweeted his support. That's viewpoint discrimination—and it's illegal."
Protect Democracy lawyer Deana El-Mallawany added: "The intent of the administration's deployment of federal agents in Portland appears to be to stifle speech the president doesn't like.
"It's important to check this unlawful administration policy now, before it is allowed to spread to other cities across the U.S."
Portland has seen protests for more than 60 consecutive nights since the death of George Floyd, a Black man, in Minneapolis police custody in May.
Trump has said that he sent federal agents to Portland to quell the unrest in the city, but state and local officials have called for them to leave, saying their presence has only exacerbated the situation.
Some protesters in recent days have shot fireworks or thrown projectiles over a fence protecting the federal courthouse.
In a tweet on Monday, Trump accused "the Fake News Media" of "trying to portray the Portland and Seattle 'protesters' as wonderful, sweet and innocent people just out for a little stroll."
He wrote: "Actually, they are sick and deranged Anarchists & Agitators who our great men & women of Law Enforcement easily control, but who...would destroy our American cities, and worse, if Sleepy Joe Biden, the puppet of the Left, ever won."
The Department of Homeland Security (DHS) said in a news release Monday: "The dangerous and vicious situation Portland has witnessed for the past eight weeks continues with violent anarchists rioting on the streets as federal law enforcement officers work diligently and honorably to enforce federal law, defend federal property, and protect the lives of their fellow officers."
The agency has been contacted for comment on the lawsuit.