Former Republican Representative Barbara Comstock said on Saturday that the "Trump operation is in sort of a meltdown," after former Vice President Mike Pence spoke out against the ex-president for claiming that he could have overturned the 2020 presidential election results.
On Friday, in a speech at a Federalist Society event in Florida, Pence said Trump was "wrong" to claim that he could have overturned the 2020 election, after Trump suggested the January 6 Committee should investigate "why Mike Pence did not send back the votes."
"This week, our former president said I had the right to 'overturn the election,'" Pence said. "President Trump is wrong. I had no right to overturn the election. The presidency belongs to the American people, and the American people alone."
In an appearance on CNN, host Jim Acosta asked Comstock about Pence's comments.
"What do you make of Pence's speech? Do you think it's too little too late? What kind of an effect can it have now?" Acosta inquired.
"Well, I think what you're seeing is sort of the Trump operation is in sort of a meltdown," Comstock, who represented Virginia in Congress between 2015 and 2019, said. "Of course Mike Pence is right, Donald Trump was wrong, and he basically also called him 'un-American.' And he did it in front of the conservative Federalist Society members who gave him a standing ovation."
Comstock also noted that Pence's staff is meeting with the committee investigating the January 6 attack on the U.S. Capitol, and that "now all the archived documents are being turned over." In December, news broke that Pence's former Chief of Staff Marc Short was cooperating with the committee, and on Tuesday, the National Archives and Records Administration said it will release Pence's records to the panel.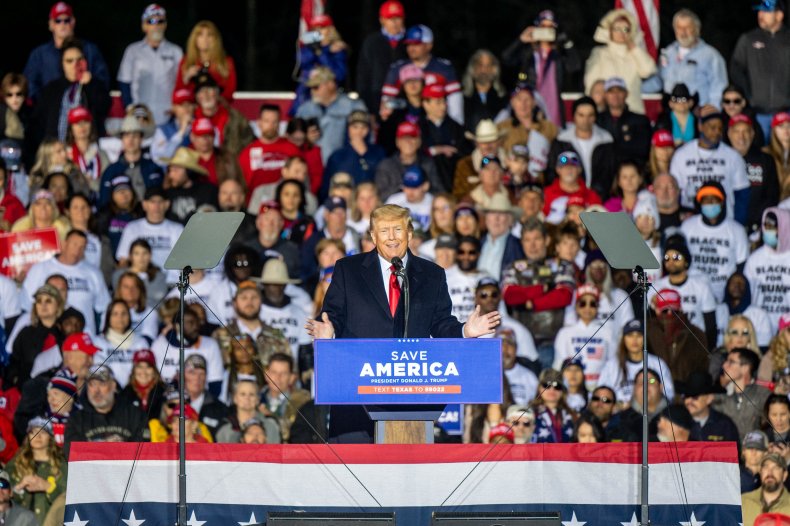 "The walls are closing in on Trump," Comstock said.
She then criticized the Republican National Committee's (RNC) decision to censure Reps. Liz Cheney and Adam Kinzinger, on Friday.
"I think this was a desperate audience-of-one resolution from the RNC. Let's not call it the Republican Party; it's 168 members who obviously are intimidated by Donald Trump."
The former GOP congresswoman said she thinks that not only Pence, but "people like" former Attorney General Bill Barr, and others at the Department of Justice will "stand up."
The Republican added that "contemporaneous documentation" related to January 6 is "going to come out, and spill out and show not only was Donald Trump wrong, he was engaged in what I think could very likely be criminal activity, but certainly unconstitutional and impeachable."
Newsweek reached out to Trump's press office for comment but did not receive a response before publication on Saturday afternoon.