Walmart Criticized as CEO Says His 'Heart Hurts' for Chesapeake Victims
Walmart is being called on to "do a better job" of taking care of its employees and workplace safety after the CEO released a statement regarding the deadly mass shooting at its store in Chesapeake, Virginia.
Seven people were killed, including the gunman, and several more injured after 31-year-old Andre Bing, who worked as the store's overnight team lead, opened fire in the employee break room late Tuesday night. According to police, Bing was found dead on the scene, believed to have died from self-inflicted wounds.
The New York Times reports that six of those killed, including Bing, worked at the Walmart location. The other five were Lorenzo Gamble, Brian Pendleton, Kellie Pyle, Randall Blevins and Tyneka Johnson. A 16-year-old boy, who has not been identified, was also killed in the shooting, although it is unclear if he was also a store employee.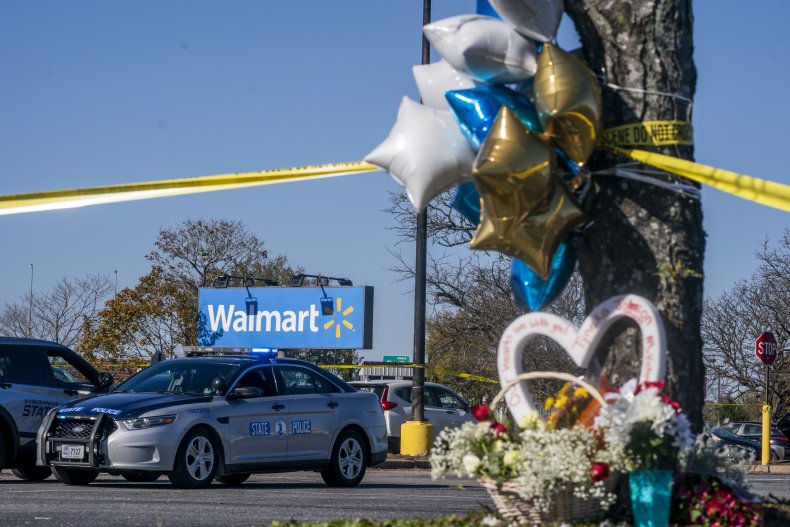 Walmart CEO Doug McMillon on Wednesday released a statement on Twitter, saying that the "devastating news of last night's shooting" has "hit our Walmart family hard."
"My heart hurts for our associates and Chesapeake community who have lost or injured loved ones," McMillon wrote. "We are here for them today and in the challenging days ahead they will have our support."
Several platform users immediately fired back at McMillon's "cheap words," including @Sambayam19, who said the mega-chain "could do a better job as far [as] how to prevent. Not how to share cheap words."
@Leprekhan369 echoed that the statement was "meaningless," and said McMillion could "help by actually caring. Your next step is to stop selling guns."
Walmart, the nation's largest retailer, has tightened restrictions on its firearm sales in recent years, such as stopping the sale of handguns and certain rifles, reported the Times.
The Times also reported that the chain is the "common site of crimes" due to its size, with more than 4,000 stores across the United States. According to the report, Walmart has taken steps to increase store security by installing cameras in parking lots and hiring off-duty police during busy shopping days at a few locations.
Other Twitter users criticized how Walmart treats its employees, including @LShawn62, who wrote, "The terrible events of Chesapeake or at any walmart is no surprise by a long time employee."
@Lacroixdaddy69 also responded to McMillon's statement by saying, "you do not appreciate us."
"This will go swept back under the rug after the holiday and you will continue to pressure your workers to meet ridiculous goals and neglect their emotional health so you can get a bigger bonus," the user wrote. "This could have been prevented if you CARED."
@Laurlehmann_ echoed that Walmart needed to "stop putting so much pressure" on its associates, adding that the corporation's "home office has no idea how a store actually operates."
"How about you work on not making a toxic and stressful work environment for your workers," read the tweet.
According to an update from the City of Chesapeake's Emergency Management Department, the Walmart store was closed to the public Wednesday to hold an associate resource center "to support Walmart associates and their families with counseling, meals and a place to connect with each other." All Walmart locations were previously scheduled to be closed Thanksgiving Day. It is unclear how the Chesapeake location will proceed into the holiday weekend.
Chesapeake employees reported that Bing had opened fire at his colleagues after workers gathered in the store's break room for a meeting ahead of their shifts. While one employee reportedly told ABC's Good Morning America that the shooter "did not say a word" while firing off his gun, another witness told WAVY-TV that Bing was heard laughing, and believed the attack was "planned and targeted."
Walmart previously confirmed in a statement to Newsweek that Bing had worked with the store since 2010, adding that they were "focused on doing everything we can to support our associates and their families at this time."
Newsweek has reached out to Walmart's media relations for comment.