Walmart Removes Gun Displays As Demand for Firearms Explodes
With five days left until the national elections, the national retailer Walmart has pulled all firearms and ammunition displays from its U.S. stores "due to the current unrest in isolated areas of the country and out of an abundance of caution," a store spokesperson said.
The retailer will still sell guns and ammunition in its roughly 2,350 U.S. stores that offer them. But the retailer said that it will remove gun displays to discourage their theft if social unrest and looting affect stores, according to the Wall Street Journal. Walmart officials haven't said how long the displays will remain removed.
Gun sales have skyrocketed this year compared to last year, with background checks for gun purchases up 72 percent from January through July 2020 compared to the same period last year, according to The National Shooting Sports Foundation. In July 2020, the foundation told NPR that 40 percent of all firearms were being sold to first-time gun owners.
In a July report, the Brookings Institute, a D.C.-based think tank, said that three million more firearms had been sold from March to June 2020 than had been sold the year before. The institute said the increase could be a possible consequence of the COVID-19 shutdown and civil unrest following the murder of Black Minneapolis resident George Floyd by a white police officer.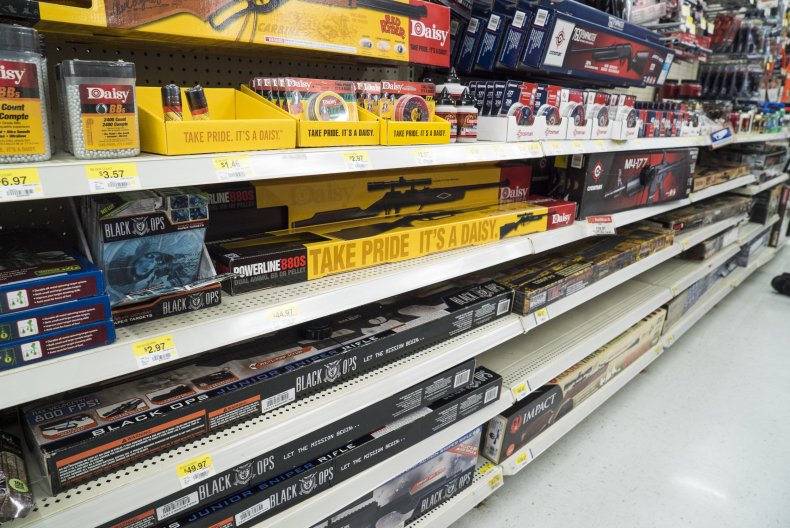 Walmart represents 2 percent of the U.S. firearms market, Walmart CEO Doug McMillon said in an August 2019 earnings call. As such, its annual firearm sales represent $600 million, just under 0.2 percent of its $332 billion annual revenue, according to AdAge.
However, its ammunition sales once represented 20 percent of the U.S. market, according to a September 2019 Washington Post article. That may have changed though considering the retailer's evolving position towards gun and ammunition sales.
Walmart ceased handgun sales in all of its stores (except Alaska) in 1993 and did the same with assault- and other military-style rifles in 2015. It raised the age for ammo sales from 18 to 21 in 2018. It also stopped selling ammunition for military-style weapons and forbade customers from openly carrying firearms in its stores in September 2019, following two deadly shootings at its stores in El Paso, Texas and Southaven, Mississippi.
The retailer still sells long-barrel deer rifles, shotguns, other firearms and bullets used in sports and hunting. It also allows customers to carry concealed firearms with a permit.
But the store videotapes all firearm and ammunition sales and also requires a "green light" on background checks. Their background checks are stricter than the mere absence of a red light currently allowed by the federal three-day waiting period for gun sales.
Newsweek contacted the National Rifle Association for comment.