Mask Guidelines for Shopping at Walmart, Sam's Club, Kroger and Kohl's
Walmart, Sam's Club, Kroger, and Kohl's have announced this week that they will require shoppers to wear face masks instore. The four grocery stores join a growing list, which includes Whole Foods, H-E-B, and Costco, as masks become more widely required by private companies.
This may not be a huge change for many people, as the majority of Walmart and Sam's Club locations already require face coverings due to local orders. But for the sake of implementing a consistent policy across all locations, Walmart and Sam's Club now require face coverings at every store, regardless of local guidelines.
On Tuesday, the Centres for Disease Control and Prevention (CDC) published a report encouraging Americans to wear face masks. CDC Director Dr. Robert R. Redfield said: "We are not defenseless against COVID-19.
"Cloth face coverings are one of the most powerful weapons we have to slow and stop the spread of the virus—particularly when used universally within a community setting. All Americans have a responsibility to protect themselves, their families, and their communities."
Walmart and Sam's Club
Around 65 percent of the 5,000 Walmart and Sam's Club stores are in areas where there is already some form of a mask mandate, but the grocery store chain has introduced a new policy for consistency across all stores.
From Monday, July 20, all Walmart and Sam's Club shoppers will be required to wear a face covering. A press release also included the measures Walmart and Sam's Club will put in place to enforce the face mask requirement, like signs outside the store and a Health Ambassador stationed near the entrance to remind shoppers without masks of the requirement.
In a joint statement, Dacona Smith, the Chief Operating Officer of Walmart U.S., and Lance de la Rosa, the Chief Operating Officer of Sam's Club said: "We know some people have differing opinions on this topic. We also recognize the role we can play to help protect the health and well-being of the communities we serve by following the evolving guidance of health officials like the CDC.
"We appreciate the understanding and cooperation of our customers and members in wearing face coverings to protect their safety and the safety of our associates."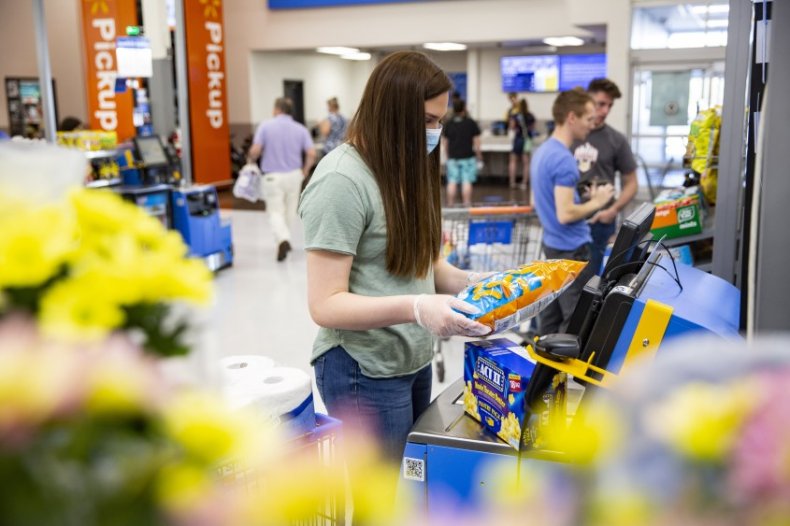 Kohl's
Similarly to Walmart and Sam's Club, Kohl's said that around 70 percent of its stores are already subject to a mask requirement due to local guidelines. But for consistency, Kohl's will also require its shoppers to wear face coverings from Monday, July 20.
There will be signs outside Kohl's stores and an associate at the entrance who will remind shoppers to wear masks. Kohl's employees are already required to wear masks and will continue to do so.
Kohl's said in its statement that customers that do not want to shop in-store can instead use Kohl's limited contact drive-up service.
Kroger
Kroger announced its new mask policy on Twitter when it said: "With the increase in COVID-19 cases across the country, we are committed to doing our part to help reduce the spread of the virus."
Kroger announced that from Wednesday, July 22, it will require all shoppers in all locations to wear a mask. If customers cannot wear a mask, they are encouraged to consider an alternative option, like a face shield or face covering. But if they do not want to wear an alternative to a mask, Kroger asks these shoppers to use pickup or delivery service instead, which is free during the pandemic.
In a statement, Kroger said: "We are taking this extra step now because we recognize additional precautions are needed to protect our country," and cited advice from the CDC regarding face masks.