Walmart Shooting Inside Store Leaves One Dead in Ohio—Police
A Walmart employee and a customer were shot by a shoplifter as they tried to stop him from leaving the store, leaving the shopper dead and the worker seriously injured.
The gunman opened fire around 8 p.m. on Thursday, May 26, as the bystander tried to block his exit at the Princeton Road location in Cincinnati, Ohio. He fled the scene, but an overnight manhunt led to the arrest of 32-year-old suspect Anthony Brown of Hamilton, Ohio.
A police report added: "According to witnesses, a Black male wearing dark clothing and a COVID-type mask was in the electronics section of the store where he attempted to steal items. A shopper intervened and the male suspect was able to pull away and run toward the front of the store where another shopper tried to stop him. The suspect pulled out a handgun and shot and killed that individual who attempted to help. An employee who was in the area also tried to help and was also struck by a bullet. The employee was transported to UC West Chester and is in serious condition."
Video footage seen by Local 12, but not shared by the channel, showed customers trying to help the Walmart employee, who was sitting down and appeared to have been shot in the stomach, while another man was said to have been shown lying face down in a pool of blood. The pair had reportedly tried to stop a thief who had been stealing phone cases.
"These people were here on a normal day shopping," Capt. Doug Lanier of Fairfield Township Police said, according to the Cincinnati Enquirer. "This stemmed from a theft. And it just evolved from there. It's a very tragic incident. I can't even begin to fathom or speak for the people that were working here, or shopping here, when this occurred."
Not Worth the Risk
Fox 19 quoted Lanier as adding: "We can all appreciate a Good Samaritan who is wanting to jump in and help. There's so many times right now where someone is getting hurt and people just sit back and turn on the recorder and just watch. This is a situation where you're talking about property, and it's just not worth it to intervene when you're talking about property."
A witness told the Enquirer: "It was the scariest situation I've ever been in and I am thankful I am home tonight and pray for the people who didn't make it home to their families."
Brown was tracked down to a hotel, and booked into the Butler County Jail on multiple felonies, including one count of aggravated robbery, one count of aggravated murder, and one count of having weapons under disability. Additional charges may be pending, police said.
Newsweek has reached out to the Fairfield Township Police Department.
Witnesses told Local 12 that panic erupted as the gunshots rang out, with shoppers scattering as they fled for safety.
The shooting inside the store comes less than two weeks after a gunman opened fire at a Tops supermarket in Buffalo, New York, killing 10 people and injuring another three. The May 14 attack was described as "racially motivated violent extremism" and police arrested 18-year-old Payton Gendron at the scene.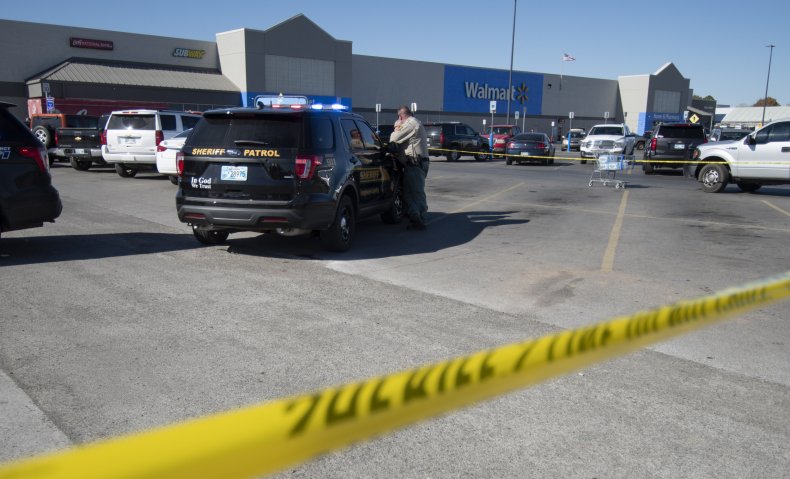 Update 05/27/22 at 4:20 a.m. ET: This article was updated to include additional information and further comments from Capt. Lanier.
Update 05/27/22 at 11:34 a.m. ET: This article was updated to include details of Brown's arrest and additional information from the police statement.